Sun Apr 12, 2020, 05:58 PM
mnhtnbb (29,603 posts)
Life in the City
I have written previously about various aspects of living in downtown Raleigh. Capital of North Carolina. Posted photos I've taken from my balcony.
While the city of Raleigh covers a lot of square miles and has a population of about 1.2 million, the downtown of Raleigh has a population of about 11,000. There has been a lot of development in the last few years (my 23 story high rise apartment building opened in 2015), increasing the downtown population. Lots of great restaurants. Marvelous performing arts center with three different stages. Lively music and bar scene. Recently redesigned four acre park across the street from my building where $13 million was spent to redo it. The main bus station is across the street from the park. Gorgeous new Amtrak station.
While all of these amenities have served to attract a growing downtown population--especially young professionals--homelessness has been rising, too.
This morning, on Easter Sunday, while Snowy and I were out on our 7 am walk, we witnessed the stark reality of violent mental illness. Homeless? I don't know, but would guess, yes.
We were in the park, at the end of our walk, heading towards the corner to cross the street to our building. I heard him before I could see him. Yelling. Angry. Louder and louder. Sounded like he was coming from the bus station towards the intersection we were approaching. I held back. Didn't want to get to the intersection at the same time as this person. (Snowy and I were attacked last summer when a homeless woman threw an outdoor chair at us, barely hitting Snowy. She was known to the police and arrested before our walk was done.) As the man came in to view--a black man-- I saw him throw something at one of the windows of the coffee place on the corner. A police car pulled up from the direction of the bus station--where there is routinely a police vehicle stationed-- just as he was throwing something at another one of the windows. Rocks? He really put his arm into whatever he was throwing. Here are the broken windows.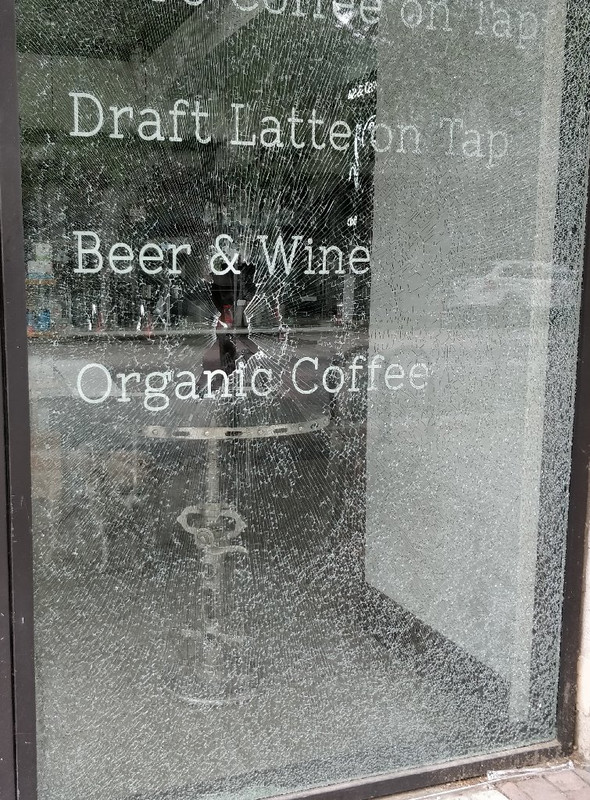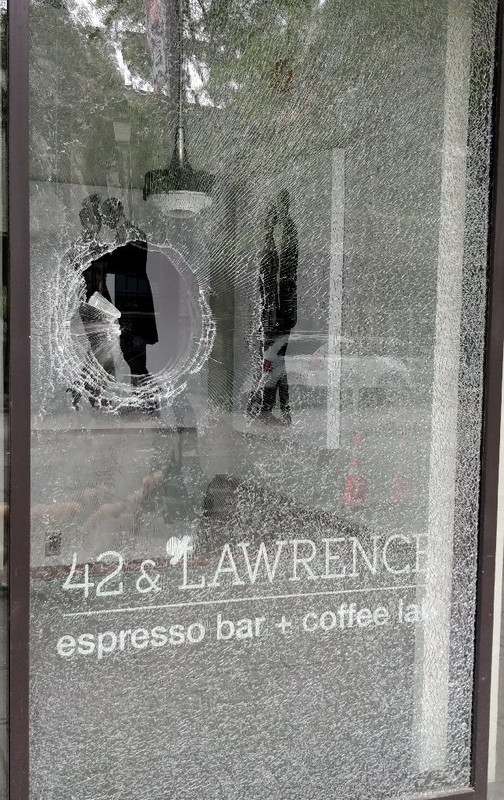 The white police officer got out of his car and put his hand on his holstered gun. At that point I started backing up with Snowy, away from the intersection. The man turned the corner, walking away from the police officer, who got back in his vehicle, and pursued the man, driving up over the curb at the entrance to our apartment driveway, blocking the man. The man just reversed direction and walked around the police car and headed back in the direction of the coffee place at the corner. Headed my direction. Then I heard the siren of another approaching police car coming fast towards the intersection and he pulled up to block any traffic that might be coming blind around the corner and turn up in the midst of this. The white police officer got out of the second vehicle. At that point, the man stopped. He stopped yelling. Unless he ran into the street, there was an officer on each side of him blocking his way. The first officer walked up to him. Took one of his arms and put it behind the man, who did not resist. Took the other arm, put it behind him and cuffed the man. Both police officers talked to the man for a bit, then he was placed in the first officer's car. Both officers pulled their vehicles in front of the now broken windows and sat there for a few minutes.
Snowy and I crossed the street towards our building. I thought about whether to volunteer to the officers that I'd seen the man break both windows, but I figured they had noticed me and if they wanted a witness, the second police officer would have approached me as we crossed the street.
Thus endeth the experience of Easter 2020.
I've been thinking about this all day. Thinking about how this coronavirus and the stay at home policy has affected the homeless. They have no homes to stay in. Nobody else is looking out for them. What are the ones who are mentally ill supposed to do? Many of them are loners, too. Nobody is looking out for them, especially if they are violent. A packed homeless shelter right now is the last place any of them should be.
I've also been thinking about how well the two officers involved handled the situation. Two white cops and a violent black man who had just hurled something with great force--twice-- to break two big store front windows. When he was cuffed, he was standing up. He wasn't thrown against the hood of the police car or forced to the ground. He didn't resist and no force was used to cuff him. No guns were drawn.
I am so disappointed in our country right now. We have so many problems, not the least of which is the lack of leadership in the White House, but so many people just don't care about anything or anybody beyond themselves. What's in it for me is priority #1 for them and they are determined to prevent tax dollars being used to benefit people they would like to just go away.
What a sad mess we are in. The coronavirus isn't going away. The homeless aren't going to disappear. The tremendous wealth inequality isn't going to magically reverse and start to equalize. Provision of health care--and particularly mental health care--tied to employment isn't going to cut it with massive numbers of people out of work. It wasn't really working before the onset of COVID-19 and now it's going to be another disaster. The system must be changed.
We need to elect representatives at all levels of government--local, state, and federal--who will implement the changes that are so badly needed. We need to have record setting voter turnout this November.
4 replies, 772 views
Replies to this discussion thread
| | | | |
| --- | --- | --- | --- |
| 4 replies | Author | Time | Post |
| Life in the City (Original post) | mnhtnbb | Apr 2020 | OP |
| | dhill926 | Apr 2020 | #1 |
| | demtenjeep | Apr 2020 | #2 |
| | Red Mountain | Apr 2020 | #3 |
| | essme | Apr 2020 | #4 |
---
Response to mnhtnbb (Original post)
Sun Apr 12, 2020, 07:32 PM
dhill926 (14,366 posts)
1. we have a fair amount of homeless in our coastal...
SoCal town. All the parks are closed, all the public bathrooms are closed. No idea what is happening with them...
---
Response to mnhtnbb (Original post)
Sun Apr 12, 2020, 07:55 PM
demtenjeep (31,623 posts)
2. we have lived downtown since 2015
We too have noticed a huge population.


Every year at Christmas, I buy gloves to hand out
---
Response to mnhtnbb (Original post)
Sun Apr 12, 2020, 08:20 PM
Red Mountain (1,176 posts)
3. Durham county here
It sounds like good policing. Happy to hear that it ended as well as it did.

Many things need to change. It's all a matter of convincing the 'me' voters to focus on what's best for all of us.

Social spending benefits all of us.


---
Response to mnhtnbb (Original post)
Sun Apr 12, 2020, 09:05 PM
essme (1,207 posts)
4. We are only about an hour and a half from you in NC
We do not live downtown; we are in one of those close to town neighborhoods with sidewalks, churches...blah blah blah. Don't get me wrong; I don't hate our neighborhood. But, I do wander all the time what is going on with folks who are homeless, or about to be homeless---

We are in a fucking mess in this country.