Tue Apr 26, 2022, 09:39 PM
hay rick (6,340 posts)
Meet the DeStapo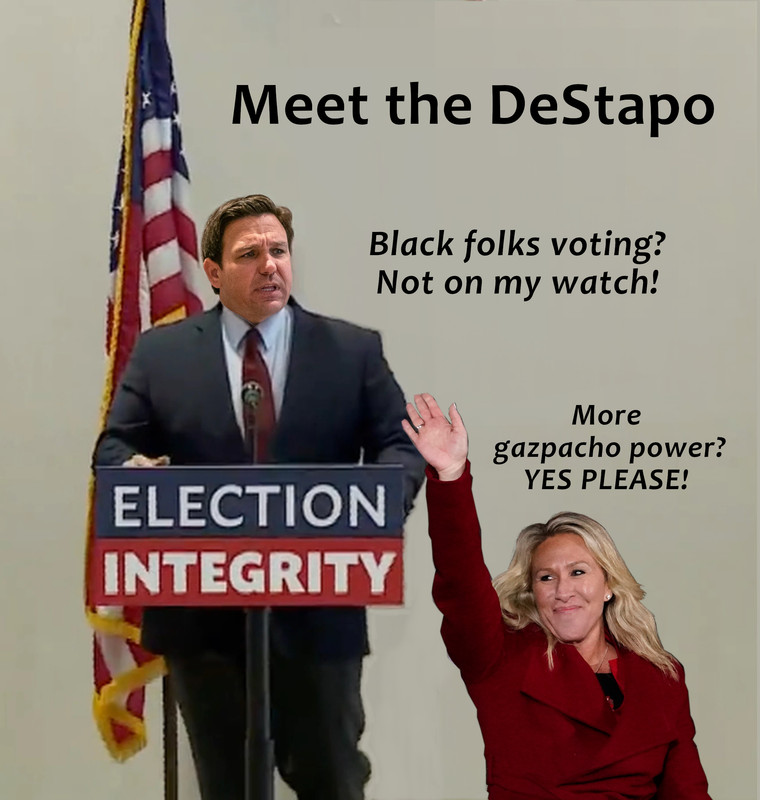 Story here:
https://www.cnbc.com/2022/04/25/florida-governor-desantis-signs-bill-creating-election-police-unit-.html

The law creates an Office of Election Crimes and Security under the Florida Department of State to review fraud allegations and conduct preliminary investigations. DeSantis is required to appoint a group of special officers from the Florida Department of Law Enforcement who would be tasked with pursuing the election law violations.

Existing state law allowed the governor to appoint officers to investigate violations of election law but did not require him to do so.

The law also increases penalties for the collection of completed ballots by a third party, often referred to as ballot harvesting, to a felony. It raises fines for certain election law violations and requires that election supervisors perform voter list maintenance on a more frequent basis.
DeSantis signed the bill days after the Florida legislature, meeting in a special session called by the governor, passed a congressional redistricting map drawn up by the governor and expected to reduce the number of districts in which Democrats are competitive- especially black candidates supported by black voters.
6 replies, 856 views
Replies to this discussion thread
| | | | |
| --- | --- | --- | --- |
| 6 replies | Author | Time | Post |
| Meet the DeStapo (Original post) | hay rick | Apr 2022 | OP |
| | GoldandSilver | Apr 2022 | #1 |
| | live love laugh | Apr 2022 | #2 |
| | Bev54 | Apr 2022 | #3 |
| | dameatball | Apr 2022 | #4 |
| | hay rick | Apr 2022 | #5 |
| | hay rick | Apr 2022 | #6 |
---
Response to hay rick (Original post)
Tue Apr 26, 2022, 10:13 PM
GoldandSilver (155 posts)
1. DeSantis is another guy that wants to be Putin.
He's very much like Trump but has a bit more sophistication in presentation. Poison ivy and poison oak..people to be avoided.
---
Response to hay rick (Original post)
Tue Apr 26, 2022, 10:48 PM
live love laugh (9,871 posts)
2. Criminalizing voting ... they will find a way to make an example to scare off voters.
---
Response to hay rick (Original post)
Tue Apr 26, 2022, 11:09 PM
Bev54 (6,957 posts)
3. I wonder if the elections in France and Slovenia give these assholes any pause
Voters are catching on to the authoritarians and have chosen democracy and hopefully the same will happen in Florida. His despot governing may not go over well with a majority. I am not talking about the villages, I am talking the rest who voted republicans because they always have or thought that the party was different. Have they noticed yet because he is by far one of he most brazen in his authoritarianism.
---
Response to Bev54 (Reply #3)
Wed Apr 27, 2022, 03:33 AM
dameatball (7,084 posts)
4. Speaking of "The Villages," putting one Barney Fife type election police officer there would pretty
much cut Florida voter fraud in half.
---
Response to dameatball (Reply #4)
Wed Apr 27, 2022, 08:13 AM
hay rick (6,340 posts)
5. The Villages would be last place they investigate, LOL.
More likely they will be looking for ways to intimidate and further suppress voting in Democratic precincts, particularly in majority-black areas. They WANT to be accused of racism- it plays well with their base.
---
Response to hay rick (Original post)
Wed Apr 27, 2022, 11:41 AM
hay rick (6,340 posts)
6. Changed the graphic. Updated version here.