Thu Apr 28, 2022, 06:57 AM
JoanofArgh (14,934 posts)
9 replies, 616 views
Replies to this discussion thread
| | | | |
| --- | --- | --- | --- |
| 9 replies | Author | Time | Post |
| Dave Wasserman on 2022 redistricting (Original post) | JoanofArgh | Apr 2022 | OP |
| | gab13by13 | Apr 2022 | #1 |
| | Kid Berwyn | Apr 2022 | #2 |
| | Celerity | Apr 2022 | #3 |
| | BumRushDaShow | Apr 2022 | #8 |
| | brooklynite | Apr 2022 | #4 |
| | gab13by13 | Apr 2022 | #5 |
| | brooklynite | Apr 2022 | #6 |
| | gab13by13 | Apr 2022 | #7 |
| | gab13by13 | Apr 2022 | #9 |
---
Response to JoanofArgh (Original post)
Thu Apr 28, 2022, 07:10 AM
gab13by13 (14,651 posts)
1. I keep hearing here,
about how Democrats made out with redistricting. I never for one second believed it. Don't come back with GOTV, I already voted.
---
Response to gab13by13 (Reply #1)
Thu Apr 28, 2022, 07:13 AM
Kid Berwyn (11,015 posts)
2. +1
Like a chorus of calm down.
---
Response to gab13by13 (Reply #1)
Thu Apr 28, 2022, 07:17 AM
Celerity (34,279 posts)
3. because many dwell on rosy old projections & fail to adjust to the new realities that are less rosy
With NY now tossed, atm the Rethugs are back to a net +9 seats gained, with 4 states including NY now, (40 total districts between the 4 states) to go
https://www.politico.com/interactives/2022/congressional-redistricting-maps-by-state-and-district/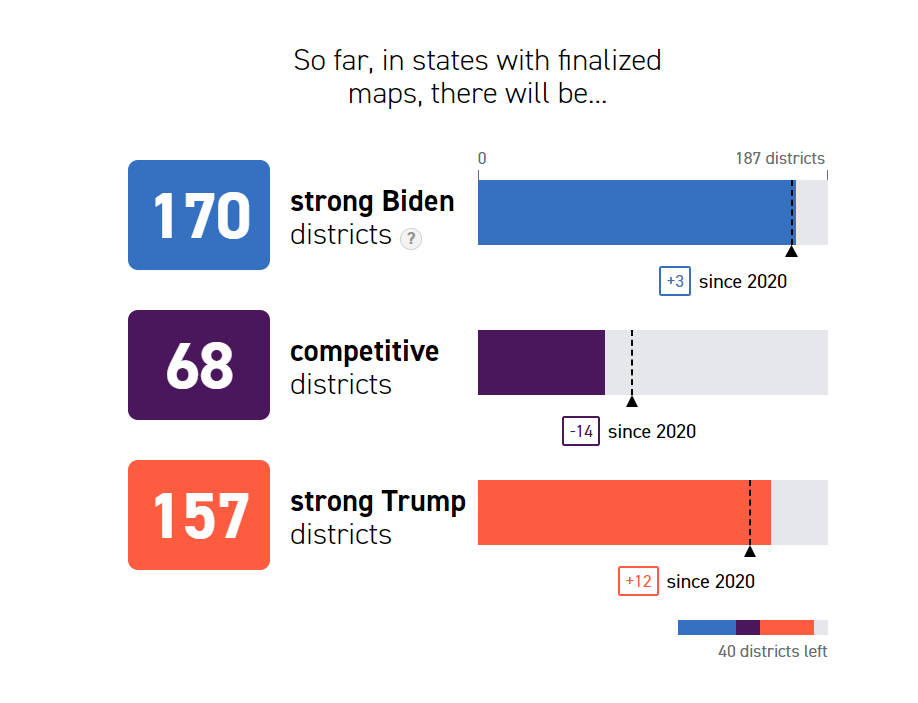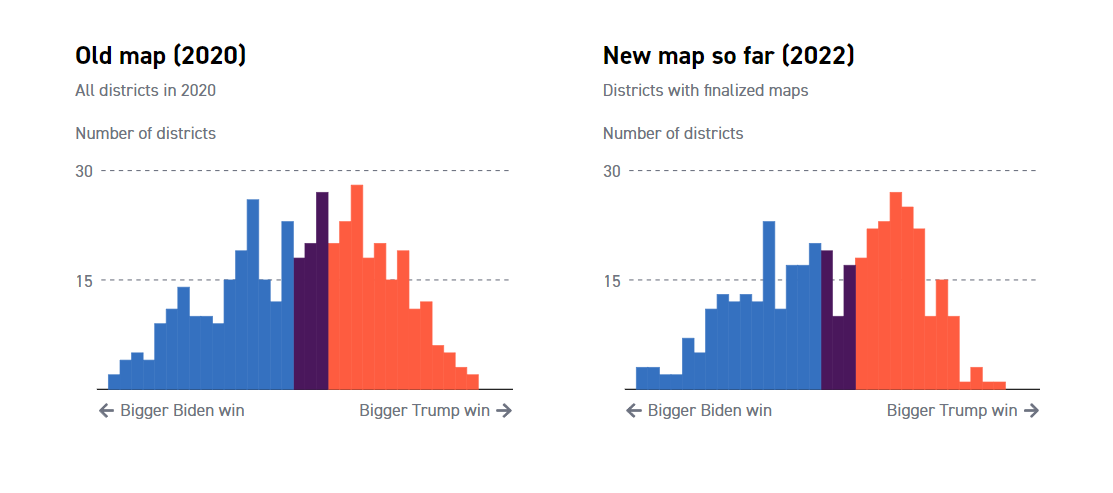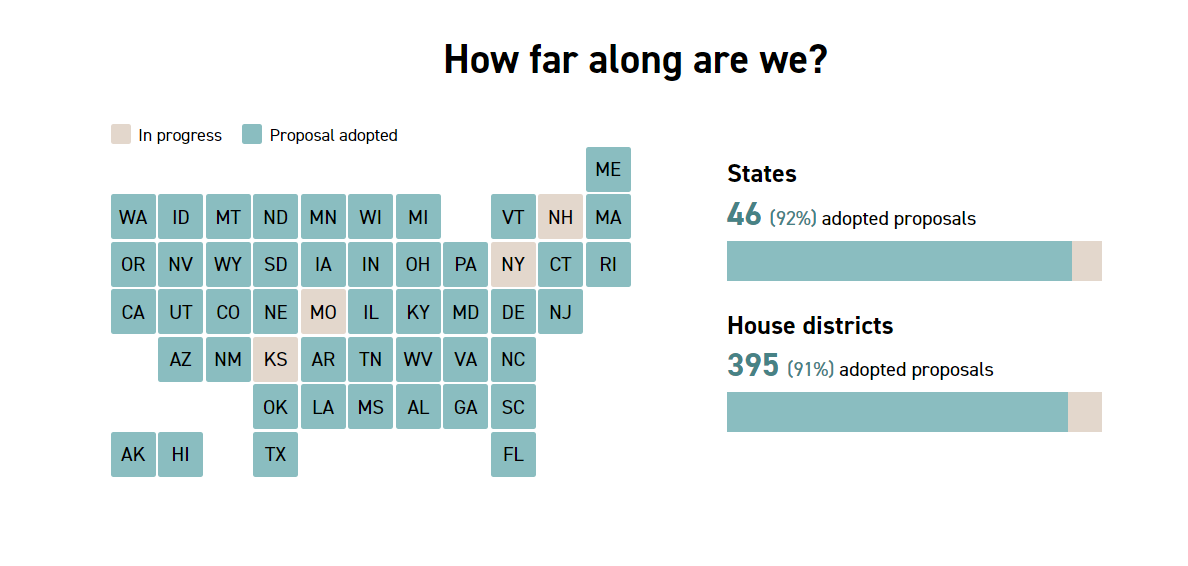 Also the US Supreme Court has been beating us down now too in the past few weeks
Democrats' redistricting gains hit a roadblock: The Supreme Court
https://www.washingtonpost.com/politics/2022/04/15/supreme-court-redistricting/
April 15, 2022
Wisconsin Democrats thought they had won the redistricting war. They took over the governor's office, competed in and won state judicial races and filed lawsuits as early as they could, determined to prevent another cycle of Republican-leaning maps. After a battle between Democratic Gov. Tony Evers and Republican legislators, a conservative judge sided with Evers, rejecting a Republican-drawn legislative map in favor of one that was better for Democrats. But Republicans
took their case to the U.S. Supreme Court
— and won. "It was a Hail Mary's Hail Mary, not something we were very focused on," said Ben Wikler, the chair of Wisconsin's Democratic Party. "But here we are."
After a redistricting cycle that initially went better than expected for Democrats, the conservative Supreme Court has bolstered Republican efforts to reverse that trend, with more cases in the wings from GOP attorneys and legislators from multiple states. Alabama Republicans persuaded the Supreme Court to
override a lower court's ruling
that would have forced the state to draw two congressional districts with large Black voting blocs. In Florida, Gov. Ron DeSantis has
laid the groundwork
for a legal battle over his desire to eliminate a district with a plurality of Black voters. Ohio Republicans, who have repeatedly lost in the state Supreme Court over gerrymandered maps, is waging a parallel legal fight in a more favorable federal court.
What worries Democrats and voting rights advocates most is the potential that the Supreme Court will validate a legal theory that state legislatures alone must draw political maps — a judgment that would give lawmakers final say over redistricting, stripping out the role that governors, judges and even independent commissions set up by voters have in the process. North Carolina Republicans have asked the court to weigh in; Republicans in other states, such as Pennsylvania and Ohio, have endorsed the idea, known colloquially as the "independent state legislature theory."
If adopted, Democrats and voting rights advocates say, state legislatures — many of them gerrymandered to maximize control — would obtain unprecedented power. "It would be Defcon 1 to democracy," said David Pepper, former Democratic state party chairman in Ohio. "They're coming up with multiple ways to get around the fact that state Supreme Courts have risen as the strongest check on these gerrymandered state legislatures," Pepper said. "Declaring statehouses beyond judicial review would be devastating to democracy. They basically are already not accountable at the polls, so the only thing we have at this point is courts to hold them into check."
snip
---
Response to Celerity (Reply #3)
Thu Apr 28, 2022, 08:47 AM
BumRushDaShow (107,602 posts)
8. "states, such as Pennsylvania..have endorsed..the "independent state legislature theory."
Except here in PA (not mentioned in that article), the SCOTUS refused to hear a challenge to the 2018 decision by the State Supreme Court related to the gerrymandering done in the past.

I.e., the requirement in the State Constitution being that legislative districts (state and federal) had to be "compact and contiguous", and when looking at the 2010 Congressional map, it was anything but. That particular map wasn't really challenged back when the lines were finalized in 2011 because the GOP had a trifecta (all branches in majority).

It was finally challenged "for real" in late 2017 (with both Executive and Judicial branches now majority Democratic), and not only did the PA State Supreme Court get involved, but they ended up redrawing the map (the one that is currently in effect).

They just did it again for the 2020 redistricting by essentially accepting what was their "old map" with the least amount of change to it (the one submitted by Eric Holder's NDRC represented by Marc Elias), which only needed enough of a tweak to adjust it for PA's loss of a Congressional seat.

What is also not mentioned is that article is that here in PA, we have elected members of the state Supreme Court and as of last year's election, we have maintained a 5(D) - R(2) advantage, with one (D) seat that will be up this fall when the current (D) Chief Justice turns 75. The others will be there with the earliest retention elections for them coming up in 2025. So even if the Chief Justice's slot gets replaced with a (R), Democrats would still have a 4(D) - 3(R) majority. IIRC, his term is up this December (2022) and I believe that the governor can appoint a replacement (of the same party - might be his last act since Wolf is a lame duck) to fill out the slot (but that person needs to be confirmed, which I expect the loons will balk at), but that individual can run for the full term at the next election.

What the GOP here has now started doing is to change the state Constitution by ramming through the changes (the process require doing such over 2 consecutive legislative sessions and their changes do not require a governor's signature) and then finishing it off with bizarrely-worded Ballot Questions that are added to Primary Election ballots (when the fewest number of people are voting) in order to trick the electorate into making the draconian changes.
---
Response to gab13by13 (Reply #1)
Thu Apr 28, 2022, 07:19 AM
brooklynite (84,390 posts)
4. Six months in advance?
Your Primary vote isn't relevant to the issue.
---
Response to brooklynite (Reply #4)
Thu Apr 28, 2022, 07:28 AM
gab13by13 (14,651 posts)
5. It is to me,
I want to disprove the notion that Democrats need to vote for the moderate candidate to win the general election.

I encourage all of my fellow Pennsylvania residents to vote for the next Senator from Pa. John Fetterman. Don't forget to vote on May 17th, it is extremely important that we elect a candidate who can win the general election.
---
Response to gab13by13 (Reply #5)
Thu Apr 28, 2022, 07:30 AM
brooklynite (84,390 posts)
6. Also not relevant to the subject...Senate races aren't impacted by redistricting.
---
Response to brooklynite (Reply #6)
Thu Apr 28, 2022, 08:12 AM
gab13by13 (14,651 posts)
7. Thanks for the reminder,
Please write in Ronnie Ray Jenkins for Representative to the Pa. 15th District. He was late in filing.
---
Response to JoanofArgh (Original post)
Thu Apr 28, 2022, 09:05 AM
gab13by13 (14,651 posts)
9. People, don't get in the bad habit of skipping the primaries.
Voting is about giving the little person the right to vote for who he/she believes will be the best candidate. Trust me, if you neglect voting in the primary you will get who the establishment wants, because the establishment is going to GOTV for its choice. If you want a say, Vote in the primary.