Sun Aug 3, 2014, 06:08 PM
4now (1,580 posts)
Outrage after third Israeli strike on a United Nations school in Gaza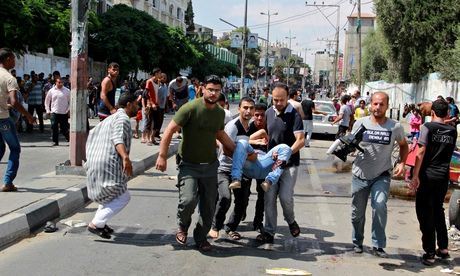 A third deadly attack on a United Nations school sheltering people fleeing bombardment in Gaza was strongly condemned by both the UN and the US on Sunday, with UN chief, Ban Ki-moon, calling it a "moral outrage and a criminal act" and pleading for an end to "this madness".
The US said it was appalled by the "disgraceful" attack, which killed at least 10 people and injured dozens just days after the shelling of two other UN schools in Gaza caused international shock and anger.
A hospital near the site of Sunday's attack, in the southern town of Rafah, was overwhelmed with the dead and injured. Children's bodies were stored in an ice-cream freezer as the morgue ran out of room.
It was, said Ban, "yet another gross violation of international humanitarian law, which clearly requires protection by both parties of Palestinian civilians, UN staff and UN premises, among other civilian facilities". He called for a swift investigation, saying "those responsible [must be] held accountable. It is a moral outrage and a criminal act."
http://www.theguardian.com/world/2014/aug/03/gaza-israel-united-nations-school-strike-ban-ki-moon
This is what the US is giving Israel money for.
4 replies, 710 views
Replies to this discussion thread
| | | | |
| --- | --- | --- | --- |
| 4 replies | Author | Time | Post |
| Outrage after third Israeli strike on a United Nations school in Gaza (Original post) | 4now | Aug 2014 | OP |
| | BillZBubb | Aug 2014 | #1 |
| | Vattel | Aug 2014 | #2 |
| | whathehell | Aug 2014 | #4 |
| | oberliner | Aug 2014 | #3 |
---
Response to 4now (Original post)
Sun Aug 3, 2014, 06:26 PM
BillZBubb (10,650 posts)
1. Netanyahu was just giving the Palestinians more "telegenic bodies".
Nothing seems to please Netanyahu more than dead Palestinian kids.
---
Response to 4now (Original post)
Sun Aug 3, 2014, 06:28 PM
Vattel (9,289 posts)
2. It is mass murder.
Mass murder should be condemned wherever it occurs. Israel's bombing of schools, the Syrian government's attacks on its own citizens, WWII population bombing, the Mongol invasion of Europe, etc.
---
Response to Vattel (Reply #2)
Sun Aug 3, 2014, 07:16 PM
whathehell (25,861 posts)
4. Talk to Congress and AIPAC, I guess, 'cause that's where the US comes into it
---
Response to 4now (Original post)
Sun Aug 3, 2014, 06:29 PM
oberliner (58,724 posts)
3. Islamic Jihad militants on motorcycles near the school
Israel is saying that is whom they were targeting - and witnesses at the scene also say that it appeared a motorcycle in the vicinity was the target.
What Israel doesn't understand is that they can't shoot at a militant when he is riding past a school filled with civilians.
Whatever moral authority they think they have is given up when there is such a callous disregard for innocent life.
Edit to add:
Citing initial reports, the strike near the U.N. school in Rafah may have been targeting someone who was riding a motorcycle, NPR's Emily Harris says — "and the hit happened just as the motorbike passed the gates of the school."
http://www.npr.org/blogs/thetwo-way/2014/08/03/337531548/gaza-deadly-attack-near-u-n-school-update-on-israeli-soldier