Sat Dec 20, 2014, 07:00 PM
eridani (51,903 posts)
Snowden's whistleblowing changed habits of over 700 million people
http://www.dailykos.com/story/2014/12/16/1352317/-Snowden-s-whistleblowing-changed-habits-of-over-700-million-people
An international survey of Internet users has found that more than 39% have taken steps to protect their online privacy and security as a result of spying revelations by one-time NSA employee Edward Snowden.
<snip>
You would think from reading those headlines that no one but a few "civil rights nuts" care about mass domestic spying. Bruce Schneier exposes just how ridiculous those headlines are.
He's having an enormous impact. I ran the actual numbers country by country, combining data on Internet penetration with data from this survey. Multiplying everything out, I calculate that 706 million people have changed their behavior on the Internet because of what the NSA and GCHQ are doing.
Note that the countries in this survey only cover 4.7 billion out of a total 7 billion world population. Taking the conservative estimates that 20% of the remaining population uses the Internet, 40% of them have heard of Snowden, and 25% of those have done something about it, that's an additional 46 million people around the world.
When have you ever heard of 3/4 of a Billion people changing their habits on anything short of an ebola pandemic?
The news media is laughably complicit here.
4 replies, 672 views
Replies to this discussion thread
| | | | |
| --- | --- | --- | --- |
| 4 replies | Author | Time | Post |
| Snowden's whistleblowing changed habits of over 700 million people (Original post) | eridani | Dec 2014 | OP |
| | frazzled | Dec 2014 | #1 |
| | Warpy | Dec 2014 | #2 |
| | arcane1 | Dec 2014 | #3 |
| | mythology | Dec 2014 | #4 |
---
Response to eridani (Original post)
Sat Dec 20, 2014, 07:11 PM
frazzled (18,222 posts)
1. I think Facebook made people change their habits
and all the other commercial intrusions, Website scams, data miners (not government, but those working for employers, universities, et al.), etc. There's no proof that people changed their habits because of the NSA. If they did, they're pretty stupid.

Oh, and hackers have made people change their habits. Target and hundreds of other companies that were hacked have raised awareness enormously. My email provider sent me notices to change my password. People are simply more aware.


I'm not afraid of the NSA spying on me. I'm sick and tired of the rest of the world "spying" on my web searches and/or hacking into companies with whom I've done business, gaining access to my records.

So no, sorry, Eddie Snowden is not responsible for the world's issues.
---
Response to eridani (Original post)
Sat Dec 20, 2014, 07:13 PM
Warpy (101,176 posts)
2. I honestly don't think there's much we can do about NSA spying
except to continue to overwhelm the system with nonsense.

However, taking steps to curtail corporate spying is a good idea, like using Ghostery to prevent corporations from installing tracking software on your computer as you surf, using Front Page or Duck Duck Go to make your searches more anonymous. Setting Firefox to delete cookies and history every time you close it is also a great idea.

Front Page and Ghostery are available as add-ons at Firefox. The newest Firefox already has Duck Duck Go as one of the default search engines.
---
Response to eridani (Original post)
Sat Dec 20, 2014, 07:20 PM
arcane1 (38,613 posts)
3. That's slightly misleading. Here is a link to the actual survey:
https://www.cigionline.org/internet-survey#online-privacy
The 39% figure appears to come from this:
Of those aware of Edward Snowden, 39% have taken steps to protect their online privacy and security as a result of his revelations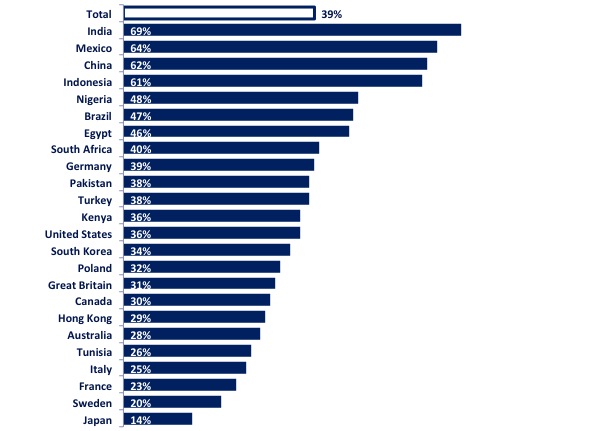 60% of users have heard about Edward Snowden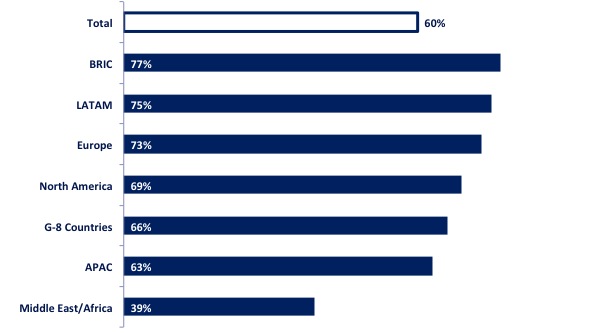 So what the survey is saying is that 60% of them have heard of him, and 39% of that 60% changed their habits. Not 39% of everyone.
If I'm misreading that, please let me know!
Minor peeve: I hate it when sites don't link to the source directly. In this case, Kos links to Computer World, and their interpretation of the survey.
---
Response to eridani (Original post)
Sat Dec 20, 2014, 07:48 PM
mythology (9,527 posts)
4. While I respect Bruce Schneier
I'm not sure why he's using this as a way to confirm that people are changing their internet habits, or at least that they are doing anything useful.

Changing your password is pretty much useless, especially if like most people, you use the same password across multiple sites.

Also changing which websites you go to is also pretty silly as a way to get out from under NSA surveillance. The PRISM program, if implemented as the original Snowden leak indicated, would make that utterly useless.

Using a VPN is a much better method and yet it's not listed.

I love how the KOS article says that the only thing that causes this much change is the Ebola outbreak, when the panic in this country was much ado about functionally nothing. I'm not sure they want to make that comparison given their gloating over the supposed changes made by internet users.

Also a survey that is self-answered, and there's no follow up to verify if those changes were both useful and truthful is pretty much worthless to "prove" anything.