Fri Jul 31, 2015, 09:59 AM
marmar (74,622 posts)
When fire can eat a rainforest in a relatively cool climate, you know the Earth is beginning to burn
By Subhankar Banerjee, an internationally exhibited photographer and writer. His most recent book is Arctic Voices: Resistance at the Tipping Point. He won a 2012 Lannan Foundation Cultural Freedom Award and has been deeply involved with the native tribes of the Arctic in trying to prevent the destruction of Arctic lands and seas. Originally published at TomDispatch
The wettest rainforest in the continental United States had gone up in flames and the smoke was so thick, so blanketing, that you could see it miles away. Deep in Washington's Olympic National Park, the aptly named Paradise Fire, undaunted by the dampness of it all, was eating the forest alive and destroying an ecological Eden. In this season of drought across the West, there have been far bigger blazes but none quite so symbolic or offering quite such grim news. It isn't the size of the fire (though it is the largest in the park's history), nor its intensity. It's something else entirely — the fact that it shouldn't have been burning at all. When fire can eat a rainforest in a relatively cool climate, you know the Earth is beginning to burn.
And here's the thing: the Olympic Peninsula is my home. Its destruction is my personal nightmare and I couldn't stay away.
Smoke Gets in My Eyes
"What a bummer! Can't even see Mount Olympus," a disappointed tourist exclaimed from the Hurricane Ridge visitor center. Still pointing his camera at the hazy mountain-scape, he added that "on a sunny day like this" he would ordinarily have gotten a "clear shot of the range." Indeed, on a good day, that vantage point guarantees you a postcard-perfect view of the Olympic Mountains and their glaciers, making Hurricane Ridge the most visited location in the park, with the Hoh rainforest coming in a close second. And a lot of people have taken photos there. With its more than three million annual visitors, the park barely trails its two more famous western cousins, Yosemite and Yellowstone, on the tourist circuit.
Days of rain had come the weekend before, soaking the rainforest without staunching the Paradise Fire. The wetness did, however, help create those massive clouds of smoke that wrecked the view miles away on that blazing hot Sunday, July 19th. Though no fire was visible from the visitor center — it was the old-growth rainforest of the Queets River Valley on the other side of Mount Olympus that was burning — massive plumes of smoke were rising from the Elwha River and Long Creek valleys.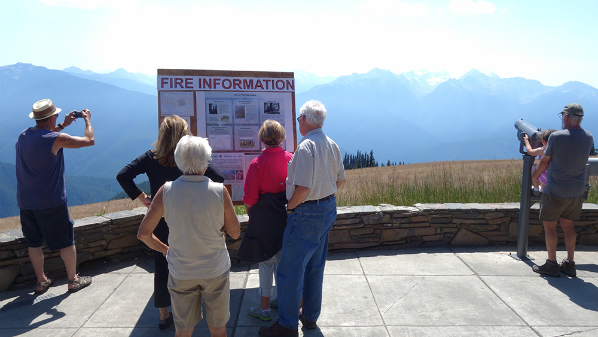 [font size="1"]
Fire Information Bulletin Board and Smoke from Fire, Hurricane Ridge Visitor Center, Olympic National Park, July 19, 2015.
[/font]
By then, I felt as if smoke had become my companion. I had first encountered it on another hot, sunny Sunday two weeks earlier. ................(more)
http://www.nakedcapitalism.com/2015/07/paradise-burning-why-we-all-need-to-learn-the-world-anthropogenic.html
2 replies, 647 views
Replies to this discussion thread
| | | | |
| --- | --- | --- | --- |
| 2 replies | Author | Time | Post |
| When fire can eat a rainforest in a relatively cool climate, you know the Earth is beginning to burn (Original post) | marmar | Jul 2015 | OP |
| | dixiegrrrrl | Jul 2015 | #1 |
| | marmar | Jul 2015 | #2 |
---
Response to marmar (Original post)
Fri Jul 31, 2015, 10:22 AM
dixiegrrrrl (59,976 posts)
1. My soul is crying over this.
We lived in the Olympic Peninsula when I was growing up, and in the Cascades.
My dad was a "bush" logger,who made cedar shakes from what was left after a timber cut. All it took was an old beat up pickup, a few mallets and froes, to split the cedar. We kids would carry the shakes to the truck until we were tired, then could go play anywhere in the forest.
My uncle collected ferns and other greens for florists, it actually paid well enough to support a family which could live off game and fish.

I honestly remember saying.." Oh no, not trout again for dinner".
This was back in the late 40's and all thru the 50's, when lots of people in the Pac. NW were living what we now call a small footprint lifestyle.
Other people called it being poor, but one could live a low expense life back then in many rural areas of the state.

It was an eden. and seemed such a normal place to live in.

Now the salmon are dying from too hot water in the Columbia, Washington is having massive fires all over the state, this has been a summer
sun and no rain, which is a mind blowing reality to those of us who know how rare sunshine is in Western Wash.
And a rain forest is actually burning.

Politics has to change in this country if we are to move towards a path of sanity.






---
Response to dixiegrrrrl (Reply #1)
Fri Jul 31, 2015, 11:01 AM
marmar (74,622 posts)
2. "Politics has to change in this country if we are to move towards a path of sanity. "
Can't say that I'm entirely hopeful dixiegrrrrl, but I'm not giving up either.