Wed Apr 9, 2014, 06:51 AM
7962 (11,841 posts)
West Africa Ebola outbreak among 'most challenging' ever: WHO
Source:
Yahoo News
Geneva (AFP) - West Africa's Ebola unprecedented outbreak is among the "most challenging" for health workers since the deadly disease emerged elsewhere in Africa four decades ago as the suspected death toll topped 100, the WHO said Tuesday.
Keiji Fukuda, assistant director-general of the World Health Organization (WHO), said the agency was concerned about the spread of the virus from its epicentre in the forests of southern Guinea.
"We have not had an Ebola outbreak in this part of Africa before," said Fukuda, whose agency has rushed scores of aid workers to the region to contain the epidemic.
"This is one of the most challenging Ebola outbreaks we have ever faced," he said.
Read more:
http://news.yahoo.com/west-africa-ebola-outbreak-among-most-chilling-ever-154200277.html
3 replies, 2387 views
Replies to this discussion thread
| | | | |
| --- | --- | --- | --- |
| 3 replies | Author | Time | Post |
| West Africa Ebola outbreak among 'most challenging' ever: WHO (Original post) | 7962 | Apr 2014 | OP |
| | dipsydoodle | Apr 2014 | #1 |
| | littlemissmartypants | Jun 2014 | #2 |
| | littlemissmartypants | Jun 2014 | #3 |
---
Response to 7962 (Original post)
Wed Apr 9, 2014, 04:18 PM
dipsydoodle (42,239 posts)
1. Ebola expected to terrorise West Africa for 'months' – WHO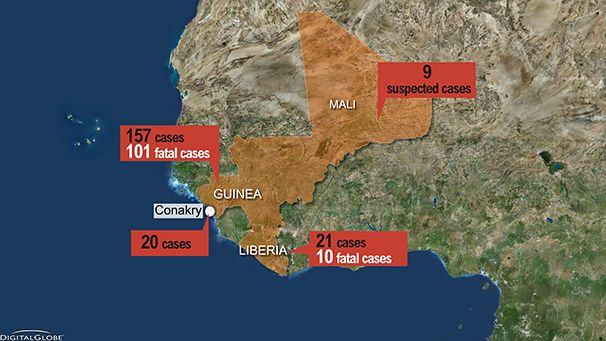 International authorities are closely involved in the outbreak of the ebola virus in Guinea, West Africa, which was officially announced on February 9th. It has been identified in remote areas and in the capital, as well as across the border.
Dr. Keiji Fukuda of the World Health Organisation said it expects to be engaged in the region for months.
"This is one of the most challenging ebola outbreaks that we have ever faced. And the reasons why this is one of the most challenging outbreaks is that, first we see a wide geographic dispersion of cases. So this has come in from a number of districts as well as a large city in Guinea, Conakry."
Of 157 cases in Guinea, 101 people have died from the virus. It began in the south and moved up to the capital, a port city, where there have been around 20 cases — in neighbouring Liberia, around the same, with ten deaths. It is suspected that nine patients in Mali have the virus.
http://www.euronews.com/2014/04/09/ebola-expected-to-terrorise-west-africa-for-months-who/
---
Response to 7962 (Original post)
Sat Jun 21, 2014, 06:27 AM
littlemissmartypants (19,820 posts)
2. Does this
Scare the sh*t out of anyone else? Or am I the only one?


---