Mon Sep 18, 2023, 03:56 PM
Celerity (39,269 posts)
What Kant can teach us about work

Freedom at work

There is always a demand for more jobs. But what makes a job good? For that, Immanuel Kant has an answer
https://aeon.co/essays/what-kant-can-teach-us-about-work-on-the-problem-with-jobs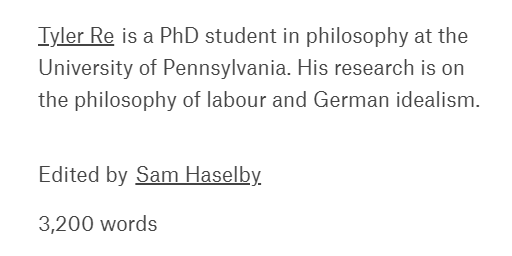 Work is no longer working for us. Or, for most of us anyway. Citing lack of pay and promotion, more people are quitting their jobs now than at any time in the past 20 years. This is no surprise, considering that 'real wages' – the average hourly rate adjusted for inflation – for non-managers just three years ago was the same as it was in the early 1970s. At the same time, the increasing prominence of gig work has turned work from a steady 'climb' of the ladder into a precarious 'hustle'. Of the growing number of people working through apps like Uber or Taskrabbit, nearly 70 per cent of them say that they do so on the side, supplementing a main income that is too low to provide for life's necessities. Even young and upwardly mobile professionals must change jobs, rather than stay in them, in order to grow in their careers. Almost perversely, the loss of stable careers is branded as a benefit. Sarah Ellis and Helen Tupper, both career consultants, argue that we ought to embrace these 'squiggly careers' as a new, more 'flexible' norm.
Politicians claim that the solution to our work problems is 'more jobs'. But simply increasing the number of bad jobs won't help us avoid the problems of
work
. What we need, it seems, is not more work, but good work. But what exactly is good work? The United States Department of Labor identifies a 'good job' as one with fair hiring practices, comprehensive benefits, formal equality of opportunity, job security and a culture in which workers are valued. In
a similar UK report
on the modern labour market called 'Good Work' (2017), Matthew Taylor and his colleagues emphasise workplace rights and fair treatment, opportunities for promotion, and 'good reward schemes'. Finally, the UN's Universal Declaration of Human Rights has two sections on work. They cite the free choice of employment and organisation, fair and equal pay, and sufficient leisure time as rights of workers.
What all three of these accounts have in common is that they focus on features of
jobs
– the agreement you make with your boss to perform labour – rather than on the labour itself. The fairness of your boss, the length of your contract, the growth of your career – these specify nothing about the quality of the labour you perform. And yet it is the labour itself that we spend all day doing. The most tedious and unpleasant work could still pay a high salary, but we might not want to call such work 'good'. (Only a brief mention is made in the Taylor report – which totals more than 100 pages – of the idea that workers ought to have some autonomy in how they perform their job, or that work ought not be tedious or repetitive.) This is not to say that the extrinsic aspects of work like pay and benefits are unimportant; of course, a good job is one that pays enough. But what about work's intrinsic goods? Is there anything about the process of working itself that we ought to include in our list of criteria, or should we all be content with a life of high-paying drudgery?

Philosophers try to answer this question by giving a definition of work. Since definitions tell us what is essential or intrinsic to a thing, a definition of work would tell us whether there is anything intrinsic to work that we want our good jobs to promote. The most common definition of work in Western thought, found in nearly every period with recorded writing on the subject, is that work is inherently disagreeable and instrumentally valuable. It is disagreeable because it is an expenditure of energy (contrast this with
leisure
), and it is instrumentally valuable because we care only about the products of our labour, not the process of labouring itself. On this view, work has little to recommend it, and we would do better to minimise our time spent doing it. A theory of work based on this definition would probably say that good jobs pay a lot (in exchange for work's disagreeableness) and are performed for as little time as possible.
snip
3 replies, 832 views
Replies to this discussion thread
| | | | |
| --- | --- | --- | --- |
| 3 replies | Author | Time | Post |
| What Kant can teach us about work (Original post) | Celerity | Sep 18 | OP |
| | rsdsharp | Sep 18 | #1 |
| | WheelWalker | Sep 18 | #2 |
| | malthaussen | Sep 19 | #3 |
---
Response to Celerity (Original post)
Mon Sep 18, 2023, 04:34 PM
rsdsharp (8,172 posts)
1. Yup, that's my position on work: Kan't.
---
Response to Celerity (Original post)
Mon Sep 18, 2023, 04:36 PM
WheelWalker (8,823 posts)
2. Kicked and recommended
---
Response to Celerity (Original post)
Tue Sep 19, 2023, 10:33 AM
malthaussen (16,483 posts)
3. But what I wanna know is how the mechanic fixed the bike.
An enjoyable essay, but the ideas would never fly in the real world, if for no other reason than that managers justify their paychecks by the decisions they make, and would be loath to let their control relax; and it would doubtless be detrimental to productivity, which is the one evaluation of the value of work on which everybody agrees.

-- Mal