Sat Jul 30, 2022, 11:04 AM
Jilly_in_VA (8,034 posts)
Let me introduce you to the darling of the stray cat jail
This is Tallulah. We've had her for several weeks since she returned from foster care at around 9 weeks old and just over 2 pounds. She was spayed at that time. The reason we still have her is that, to put it delicately, she has digestive problems. She's currently on Hill's Science Diet I/D and doing better, but still not perfectly enough to suit our animal care manager. In my opinion, she may have celiac disease rather than IBS...cats apparently do get it, though it's rare...and would need grain-free food for the rest of her life, which could be done. but would be more expensive. A potential adopter already rejected her because of her digestive troubles and the diet she's currently on ("too expensive and too much trouble&quot
.
Tallulah is the sweetest, most adorable kitten I've met in a long time. Of course, I have a preference for torties, but she is exceptional. She's tiny, energetic, and a complete love bug. She's in the top front kennel by the door, and whenever that door opens, she runs to the front of her kennel, hoping for attention, which she always gets. When that kennel door is opened, she'll crawl into your arms for a snuggle and purr her little heart out. But she's content to play with her toys, too, and doesn't scream for attention the way some do. I'd take her home in a hot minute if only I could have an indoor cat. Expenses be damned! Yesterday I finally got her to sit still for a portrait. Sorry it's a bit dark though.
[url=
https://postimg.cc/NykndjZG
][img]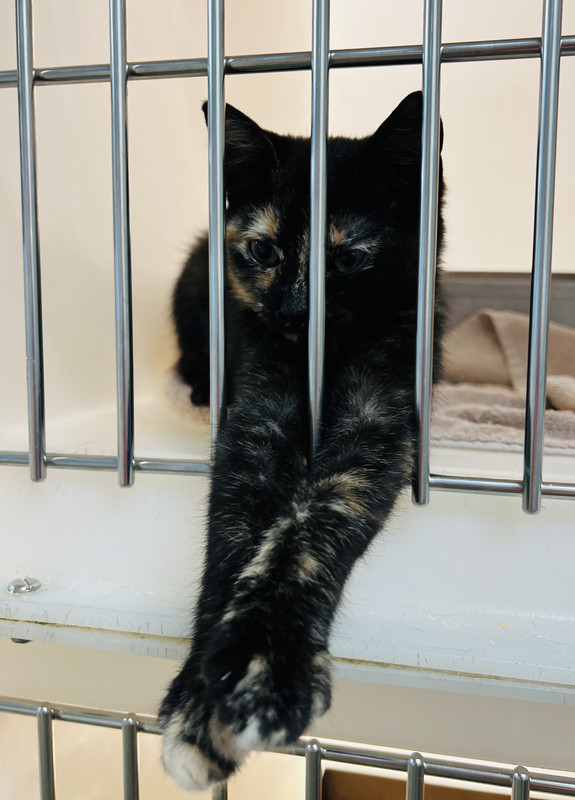 [/img][/url]
10 replies, 1620 views
Replies to this discussion thread
| | | | |
| --- | --- | --- | --- |
| 10 replies | Author | Time | Post |
| Let me introduce you to the darling of the stray cat jail (Original post) | Jilly_in_VA | Jul 2022 | OP |
| | zanana1 | Jul 2022 | #1 |
| | 2naSalit | Jul 2022 | #2 |
| | PittBlue | Jul 2022 | #3 |
| | Karadeniz | Jul 2022 | #4 |
| | Jilly_in_VA | Jul 2022 | #5 |
| | LoCo Cat Lady | Jul 2022 | #6 |
| | Jilly_in_VA | Jul 2022 | #8 |
| | Ocelot II | Jul 2022 | #9 |
| | LoCo Cat Lady | Jul 2022 | #10 |
| | mchill | Jul 2022 | #7 |
---
Response to Jilly_in_VA (Original post)
Sat Jul 30, 2022, 11:10 AM
zanana1 (5,644 posts)
1. I wish, I wish, I wish...
---
Response to zanana1 (Reply #1)
Sat Jul 30, 2022, 11:19 AM
2naSalit (73,487 posts)
2. +1
---
Response to Jilly_in_VA (Original post)
Sat Jul 30, 2022, 11:25 AM
PittBlue (4,132 posts)
3. Our beautiful Tortie lived to be 21!
---
Response to Jilly_in_VA (Original post)
Sat Jul 30, 2022, 11:41 AM
Karadeniz (20,274 posts)
4. I'd definitely put her on canned food only... Not the junk from grocery stores. If you can get to a
Tractor Supply, their 4health brand is good. Also, try mixing a half teaspoon of ground psyllium into the food. Then there's the old slippery elm trick... google slippery elm for cats recipe. Good luck! I had a cat with inflammatory bowel...I can't remember what the name is... the vet said his intestines felt like rope. He needed a homemade food... I used the Dr Pitcairn/A. Frasier recipe. No commercial brand worked.
---
Response to Jilly_in_VA (Original post)
Sat Jul 30, 2022, 12:46 PM
Jilly_in_VA (8,034 posts)
5. Just in case
anyone is interested, she is at the Rockingham County SPCA in Harrisonburg VA. She's not officially adoptable but can be seen through the window of the stray room, where she's highly visible.....
---
Response to Jilly_in_VA (Original post)
Sat Jul 30, 2022, 01:42 PM
LoCo Cat Lady (25 posts)
6. Torties Rule!
My very first rescue was a tortie and we loved her so. Her tongue would stick out and it was adorable.

Our 14 year female orange tabby rescue has IBD and the smells are atrocious so I can relate.
We use no-carb dry food from youngagainpetfood.com. Yes, it's pricey but truly some of the better kibbles if you're giving them dry.
We use Weruva's BFF for wet and have included probiotics into her diet. It seems to have helped (along with the prescription).
It's not a cheap endeavor to treat so I hope you find a loving home for her.

Good luck and thank you for sharing! Torties can be some of the sweetest kitties.

---
Response to LoCo Cat Lady (Reply #6)
Sat Jul 30, 2022, 03:14 PM
Jilly_in_VA (8,034 posts)
8. There is another tortie in adoptables
A big girl, with white paws and some other white on her, named Luna. When she came in, she was the cat from hell and we despaired of her, but Natalie (keeper of the stray room) was able to work with her after awhile. Apparently she was the "property" of a family who had allowed their toddler to terrorize her and then, when returning her, reported that "he was the only one who could touch her, he even could pull her ears". ARGH!!!!!!!! We even called her "Lucretia McEvil" at first. She had terrible "cage rage" and spit and swore at anyone even passing by. After about a week, she was placed in the Barn Cat playroom, which is what we sometimes do for that, and that settled her down a lot. She too has IBS and is on the C/D food, which suits her just fine. She's now mellowed out completely, but her kennel card reads "older children only" and "no other cats". She would probably do best in an adults only home.

I am pitching the idea of having a Special Needs Adoption Event for all our assorted special needs pets. Some are like Luna and Tallulah, but we have senior pets, some pets who are blind or deaf, badly scarred, perhaps missing a limb, or neurologically impaired (a kitten named Clementine, who's currently in foster care, comes to mind, who if she were human might be diagnosed with mild cerebral palsy). There are people who aren't averse to adopting these pets if they see them and get acquainted with them. So far Shannon, the animal care manager is semi-warm to the idea. The new med team manager, however, seems enthusiastic, so maybe we can gang up on Shannon....
---
Response to Jilly_in_VA (Reply #8)
Sat Jul 30, 2022, 04:04 PM
Ocelot II (108,808 posts)
9. Clementine probably has cerebellar hypoplasia.
There is a cat rescue in Ohio that has a bunch of CH cats, they sort of specialize in caring for them. More info about CH here:
https://www.fofrescue.org/ch/
---
Response to Jilly_in_VA (Reply #8)
Sat Jul 30, 2022, 04:31 PM
LoCo Cat Lady (25 posts)
10. Yes!
I've seen some cage rage! These poor kitties get subjected to who-knows-what and then get blamed for bad behavior.

The Humane Society of Loudoun County and Loudoun Community Cat Coalition both do a good job working to get the special needs/seniors adopted. Their efforts include tracking members/volunteers who are more open to fostering these types of cats.

We adopted an incredibly aggressive Russian Blue from a semi-feral colony and it took a full two years to socialize him. The good thing is our orange tabby is the alpha and she lets the Russian know about himself. But, it definitely takes a certain type of adopter who has the time/patience/willingness to work with whatever issues the kitty has.

I think a special needs adoption event is a great idea--with promotion on social media, email, and website prior. Introduce the kitties and invite folks to a meet and greet. My guess is you'll have some success. And, you can also keep tabs as to who may be interested in a special needs/senior in the future. Shannon needs to jump on board!!



---
Response to Jilly_in_VA (Original post)
Sat Jul 30, 2022, 02:09 PM
mchill (937 posts)
7. Torn between
Potential pet owners who think the cost of pet ownership is as simple as a bag of dry food and water and what it might end up being (quality food, routine and emergency Vet care) versus finding these sweet babies homes.

I have not added up my expenses for two iterations of cat combos (I currently have three, five over last 15 yesrs), but I know medical expenses alone have been probably $10,000–including a 3 day trip to an out of town Vet school. One of my cats is currently on Atopica —that costs $110 a month (for the rest of his life). And someone is worried about the cost of cat food?

Spay/neuter.