Fri Jun 24, 2022, 08:00 AM
Emrys (5,973 posts)
Tory Party co-chairman resigns after by-election drubbings
This is one of the relatively few times when "after" in a headline does signify causality:
Link to tweet
Oliver Dowden
@OliverDowden
My letter of resignation to the Prime Minister.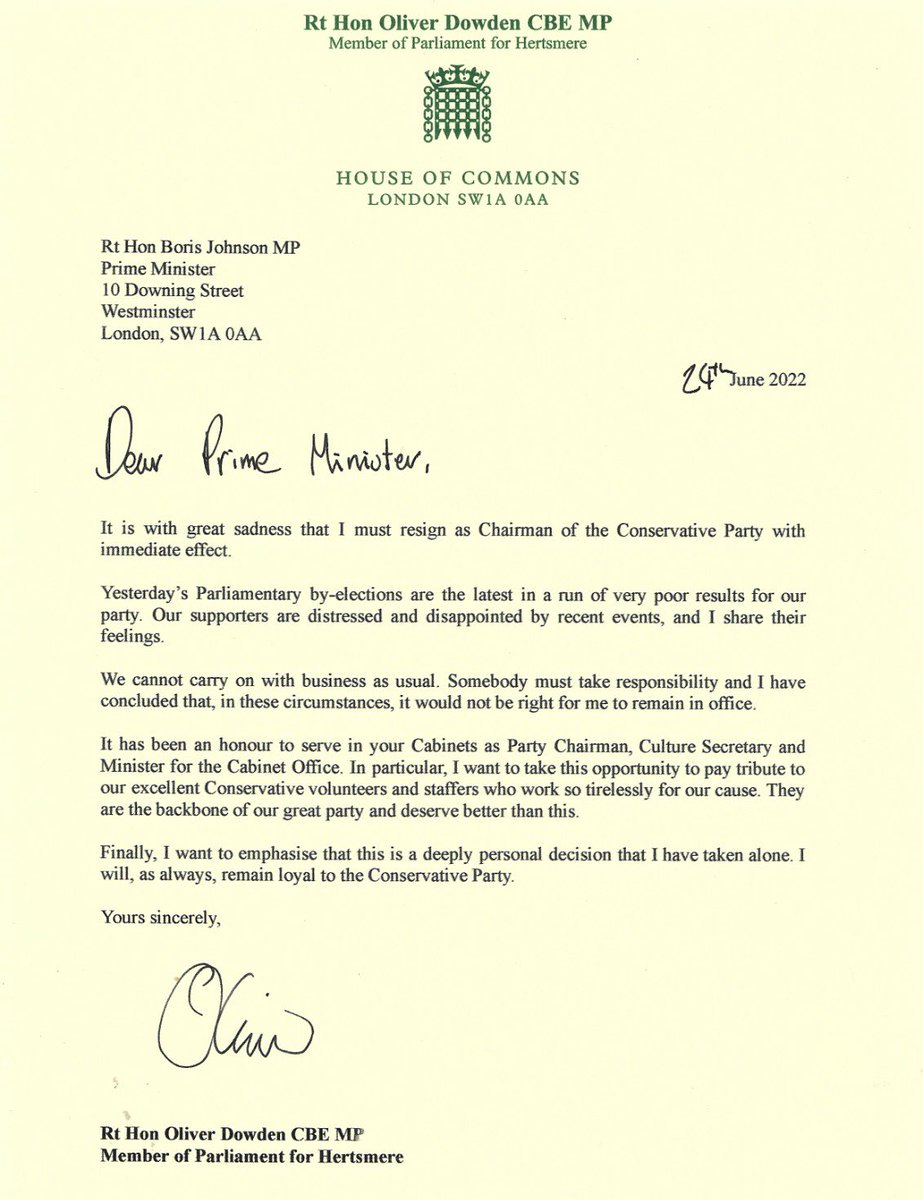 The Tories' spare co-chair is businessman, nephew of Prince Charles, and Russian donor-shepherd Ben Elliot, who was already on shaky ground of his own before these election results, this from back in March:
Conservative MPs call for party to oust Ben Elliot as co-chairman over 'contaminating' Russian links
* During a meeting last week, it was suggested the party was "contaminated" by Russian donations.

* Bernard Jenkin told Insider the role should be held by a member of government for accountability.
Conservative MPs have criticised Ben Elliot and called for the party to oust him as co-chairman over his links with Russian donors and his luxury concierge business Quintessentially.
At a meeting of the backbench 1922 committee last week, several Tories spoke out about Elliot, who was appointed as co-chairman by Prime Minister Boris Johnson just as he took the reins in July 2019.
The Conservatives have faced significant political pressure over Elliot's fundraising role within the party, and Labour claims almost £2 million from people with links to Russia have been raised since Elliot joined CCHQ. His luxury concierge business Quintessentially had a Moscow office until recently, boasting of 15 years experience working in Russia.
...
Julian Lewis, chairman of the intelligence and security committee, echoed the view that Elliot "shouldn't be there, and [Johnson] should make it part of the work he needs to do to shore up the party," as part of leadership troubles caused by so-called partygate, the source added.
https://www.businessinsider.com/tories-call-oust-co-chairman-ben-elliot-russia-links-2022-3?r=US&IR=T
As might be expected, Dowden was a champion of the "stick with Boris because we're stuck with him" horde during the recent vote of no confidence in the 1922 Committee: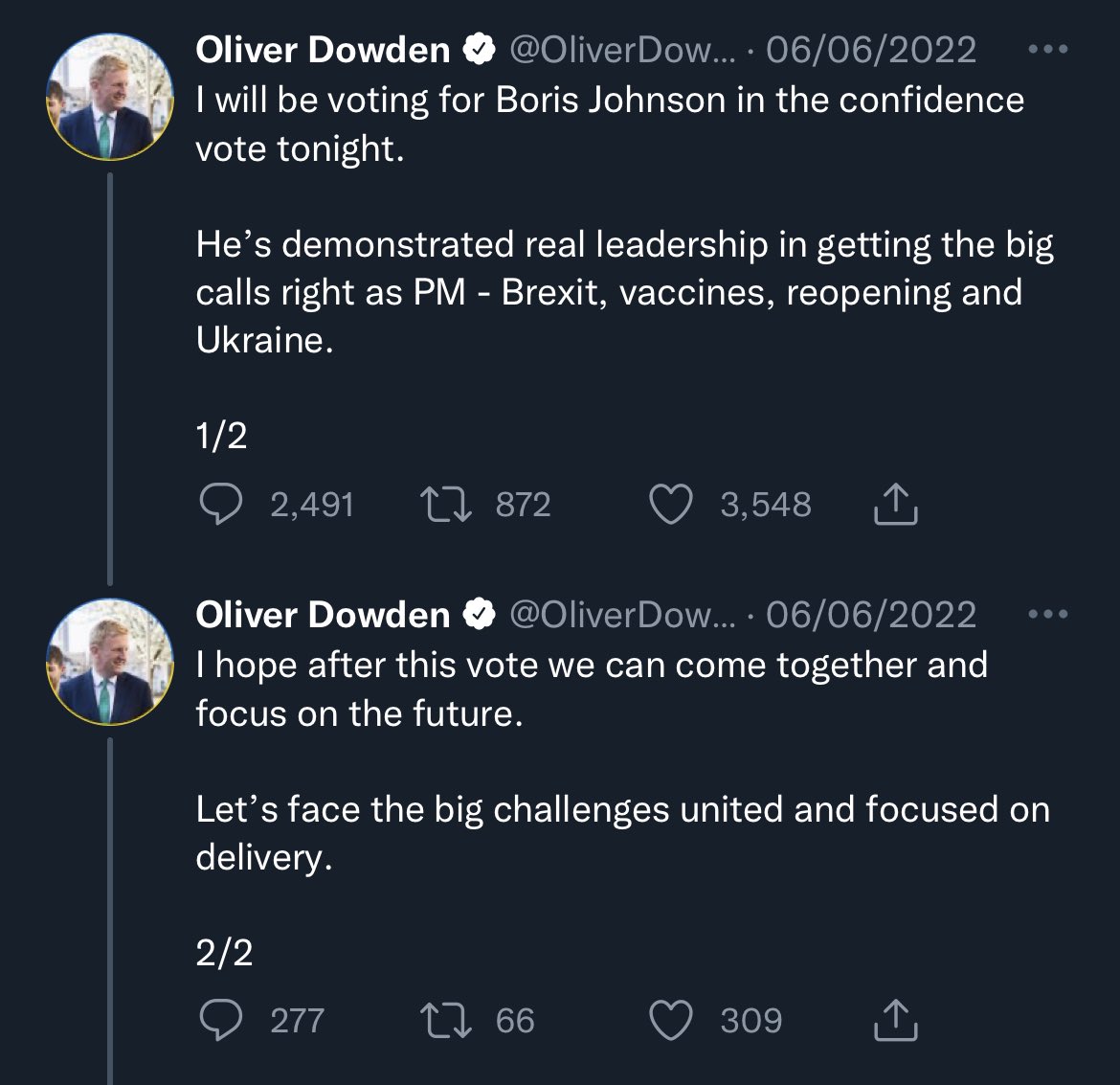 He was also enthusiastically stumping for the Tory candidates in yesterday's by-elections.
Meanwhile, Johnson is holed up in the relative safety of Rwanda at a Commonwealth Heads of Government meeting, possibly adjourned to a fridge. It remains to be seen whether his route home will detour via the even safer Ukraine. He may be in no hurry to get back. Here's the Tories' house newspaper (which Johnson has referred to in the past as his "boss" ):
1922 committee treasurer hints no-confidence rules could be changed in wake of by-election defeat
Sir Geoffrey Clifton-Brown said Boris Johnson will have to set out his stall to convince MPs he can still win a general election
The Treasurer of the 1922 Committee has suggested that the rules on holding a no-confidence vote in Boris Johnson could be changed in the wake of two by-election defeats.
Sir Geoffrey Clifton-Brown, the Tory MP for the Cotswolds, said on Friday morning that the party would be forced to make "difficult decisions" after the results, which includes the biggest by-election defeat ever and the loss of a Red Wall seat first won by the Tories in 2019.
The current rules of the Committee state that a sitting party leader cannot face another confidence ballot in their leadership within twelve months of winning the first.
...
Some Tory MPs now think that the rules should be changed to allow Mr Johnson to be removed from office if a majority can be reached.
https://www.telegraph.co.uk/politics/2022/06/24/1922-committee-treasurer-hints-no-confidence-rules-could-changed/
2 replies, 601 views
Replies to this discussion thread
| | | | |
| --- | --- | --- | --- |
| 2 replies | Author | Time | Post |
| Tory Party co-chairman resigns after by-election drubbings (Original post) | Emrys | Jun 2022 | OP |
| | T_i_B | Jun 2022 | #1 |
| | mwooldri | Jun 2022 | #2 |
---
Response to Emrys (Original post)
Fri Jun 24, 2022, 09:35 AM
T_i_B (14,652 posts)
1. Dowden "takes responsibility"....
.....because the Prime Minister won't take responsibility.

---
Response to Emrys (Original post)
Fri Jun 24, 2022, 01:12 PM
mwooldri (10,049 posts)
2. That's not the resignation I want to see.
Though I'd like to see a GE called.