Thu Apr 1, 2021, 02:46 AM
Judi Lynn (147,017 posts)
El Salvador president says missing teen found, daughter of woman killed by police
MAR 31 2021
El Salvador President Nayib Bukele said on Wednesday that a missing teenager has been found, identifying her as the daughter of Victoria Salazar, who died in Mexico after a Mexican female police officer was seen in a video kneeling on her back.
The attorney general's office of the Mexican state of Quintana Roo, where Salazar died, said on Tuesday night that an amber alert had been issued for her daughter, 16-year-old Francela Yaritza Salazar Arriaza. Francela was last seen in the Caribbean tourist resort of Tulum, where her mother was killed.
"The oldest daughter of Victoria has been found. She is now in the custody of FGE," Bukele tweeted, referring to the state attorney general's office. "She is physically well."
. . .
Mexican President Andres Manuel Lopez Obrador this week said Salazar, 36, had been subject to "brutal treatment and murdered" after her detention on Saturday by four police officers. An autopsy showed Salazar's neck had been broken.
More:
https://www.reuters.com/article/us-mexico-violence-woman/el-salvador-president-says-missing-teen-found-daughter-of-woman-killed-by-police-idUSKBN2BN3L4
Salvadoran Refugee Victoria Salazar Dead After Police Brutality During Arrest
by Virginia Isaad March 30, 2021
On the same day that opening arguments in the George Floyd trial began, social media was ablaze with calls for justice after another death at the alleged hands of the police. Salvadoran woman Victoria Esperanza Salazar Arriaza was arrested on March 27 in Tulum, Quintana Roo, Mexico after a local shop owner called the authorities due to concerns over her behavior. A policewoman and three male police officers were on the scene and according to El Salvador.com, they used excessive force to detain her on the ground. Video footage shows 36-year-old Victoria crying in pain as they held her down despite her pleas. She reportedly lost consciousness and in the video footage, her limp and handcuffed body can be seen carried onto the back of a police pickup truck. She died in the aftermath. (WARNING: Video contains distressing footage)
Link to tweet
Quintana Roo State Prosecutor Oscar Montes de Oca told Mexican outlet Milenio that the police officers used "disproportionate" use of force." She died of "a fracture of part of the upper spinal column produced by the rupture of the first and second vertebra which caused the loss of the victim," he said.
ElSalvador.com reported that the police officers are in custody and will go before a judge in the case of femicide which has a prison sentence of up to 50 years. According to local media, the mother of two daughters, age 15 and 16, moved to Mexico as a refugee in 2018 on a humanitarian visa.
She left her hometown of Sonsonate in El Salvador to escape the gang violence and had been working in Tulum, a popular resort town, as a housekeeper in a local hotel.
El Salvador's President Nayib Bukele urged that the "full force of the law" be applied in Mexico and said that El Salvador will care for her daughters once they are repatriated.
More:
https://hiplatina.com/victoria-salazar-mexico-femicide/
~ ~ ~
Mexico police under fire after woman's death in custody
Published1 day ago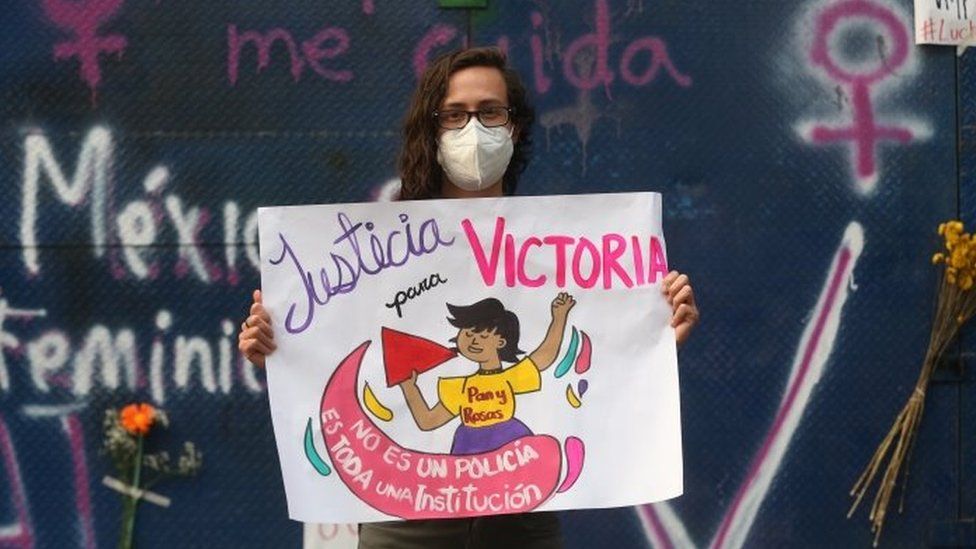 Women called for "justice for Victoria" during protests in both Mexico and El Salvador
Outrage has been growing over the death in police custody of a Salvadorean woman in the Mexican resort of Tulum on Saturday as more details of the incident emerged.
A post-mortem examination suggests Victoria Esperanza Salazar's neck was broken after a female officer pinned her to the ground.
Mexican President Andrés Manuel López Obrador said she had been "murdered".
The incident comes amid growing protests against femicides in Mexico.
Who was Victoria Salazar?
The 36-year-old from El Salvador had been in Mexico since at least 2018, when she was granted refugee status for humanitarian reasons.
Her mother says she left her hometown of Sonsonate five years ago to escape the violence which El Salvador's notorious street gangs were spreading.
More:
https://www.bbc.com/news/world-latin-america-56576054
0 replies, 444 views