Sat May 25, 2019, 05:19 AM
Judi Lynn (147,262 posts)
Wow! This Is What SpaceX's Starlink Satellites Look Like in the Night Sky
By Tariq Malik 5 hours ago Spaceflight
'And what a SPECTACULAR view it was! - Marco Langbroek.
You've never seen a night sky sight quite like this.
It's been one day since SpaceX launched its first 60 Starlink internet satellites into orbit, and a skywatching sleuth has already spotted them soaring across the night sky. Netherlands-based satellite tracker Marco Langbroek stunned space fans tonight (May 24) with this jaw-dropping video of dozens of Starlink satellites soaring overhead.
"Here is the video I shot, be prepared to be mind-blown!" Langbroek wrote on his website SatTrackCam Leiden Blog, where he shared the video. He counted at least 56 objects as the satellites flew overhead.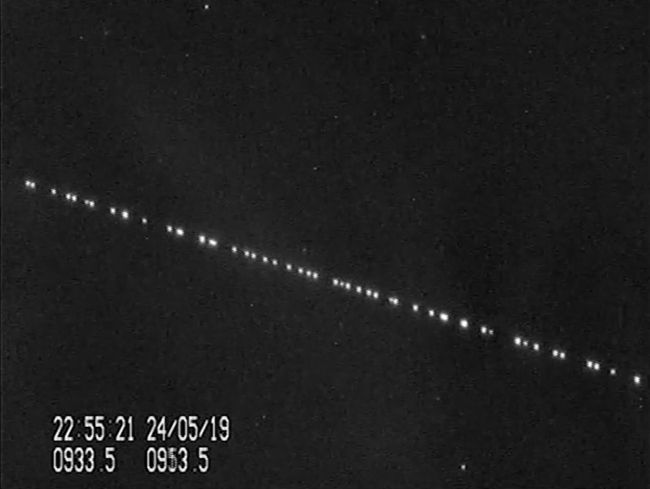 A train of SpaceX Starlink satellites are visible in the night sky in this still from a video captured by satellite tracker Marco Langbroek in Leiden, the Netherlands on May 24, 2019, just one day after SpaceX launched 60 of the Starlink internet communications satellites into orbit.
(Image: © Marco Langbroek via SatTrackBlog)
In the video, SpaceX's Starlink satellites pass overhead like a string of pearls, a brilliant trail of moving lights in the night sky. SpaceX launched the satellites into an initial orbit 273 miles (440 kilometers) above Earth. They are making their way to a final orbit 342 miles (550 km) up.
More:
https://www.space.com/spacex-starlink-satellites-spotted-night-sky-video.html
4 replies, 1279 views
Replies to this discussion thread
| | | | |
| --- | --- | --- | --- |
| 4 replies | Author | Time | Post |
| Wow! This Is What SpaceX's Starlink Satellites Look Like in the Night Sky (Original post) | Judi Lynn | May 2019 | OP |
| | Thyla | May 2019 | #1 |
| | John1956PA | May 2019 | #2 |
| | Duppers | May 2019 | #3 |
| | hunter | May 2019 | #4 |
---
Response to Judi Lynn (Original post)
Sat May 25, 2019, 05:52 AM
Thyla (759 posts)
1. Yeah, great
How many more of these are going up again?
12,000?

That's a lot of dithering.
---
Response to Judi Lynn (Original post)
Sat May 25, 2019, 06:54 AM
John1956PA (1,561 posts)
2. On the UFO-reporting site, MUFON, northern European observers have posted about such sightings.
The observers were unaware of the origin of the displays.

On Edit: Also posting on MUFON about these displays are observers in Oregon and Minnesota.

The same type of UFO reporting occurred last year when Space-X executed a nighttime launch of a satellite which produced an expansive propulsion plume.


---
Response to Judi Lynn (Original post)
Sat May 25, 2019, 04:06 PM
Duppers (22,166 posts)
3. Will provide global internet access, even to remote,
Rural areas. Isn't that a good thing?

The series of 60 satellites is the first launch of many that will create a large constellation of satellites meant to provide global internet access.

The video was fascinating.

Thanks, Judi Lynn.



---
Response to Judi Lynn (Original post)
Sun May 26, 2019, 10:41 AM
hunter (32,916 posts)
4. Here's the video: