Tue Feb 23, 2021, 03:26 AM
Judi Lynn (145,871 posts)
Cosmologists create 4,000 virtual universes to solve Big Bang mystery
By Stephanie Pappas - Live Science Contributor 20 hours ago
A supercomputer presses the rewind button on the universe's creation.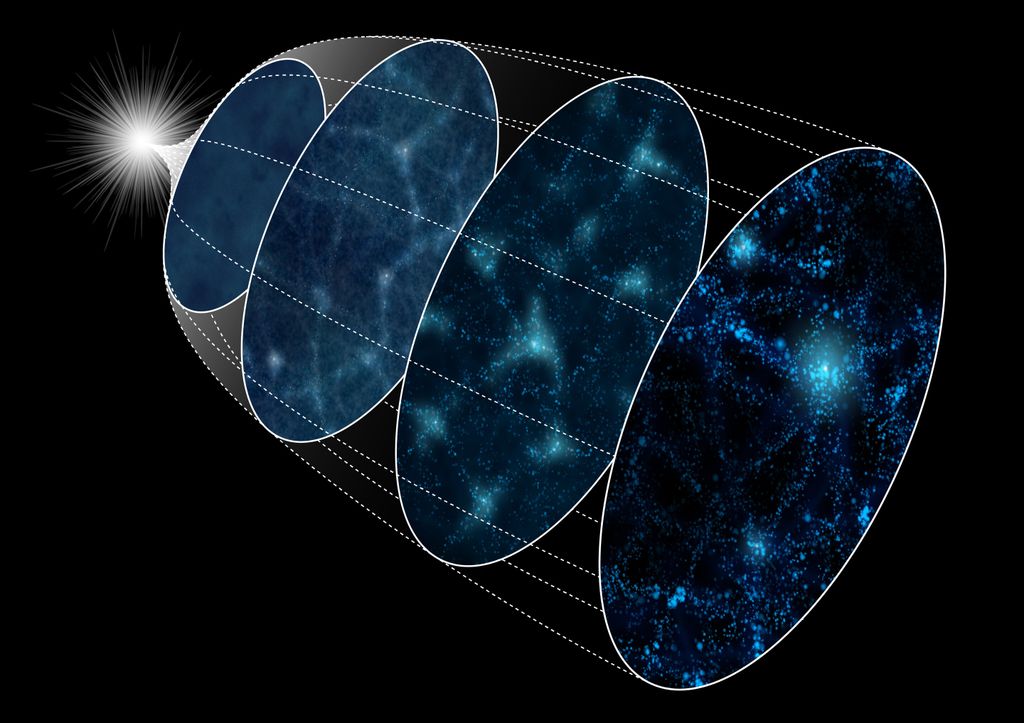 Diagram of the evolution of the universe from the inflation (left) to the present (right). The reconstruction method winds back the evolution from right to left on this illustration to reproduce the primordial density fluctuations from the current galaxy distribution. (Image credit: The Institute of Statistical Mathematics)
Cosmologists are pressing rewind on the first instant after the Big Bang by simulating 4,000 versions of the universe on a massive supercomputer.
The goal is to paint a picture of the immediate aftermath of the Big Bang, when the observable universe suddenly expanded 1 trillion trillion times in size in the tiniest sliver of a microsecond. By applying the method used for the simulations to real observations of today's universe, researchers hope to arrive at an accurate understanding of what this inflationary period looked like.
"We are trying to do something like guessing a baby photo of our universe from the latest picture," study leader Masato Shirasaki, a cosmologist at the National Astronomical Observatory of Japan (NAOJ), wrote in an email to Live Science.
Patchy universe
Today's universe shows variations in density, with some patches rich in galaxies and others relatively barren. One promising hypothesis for this uneven distribution of visible matter is that, at the time of the Big Bang, there were already quantum fluctuations, or random, temporary changes in energy, in the tiny, primordial universe, Shirasaki said.
More:
https://www.livescience.com/simulating-early-universe-inflation.html
5 replies, 664 views
Replies to this discussion thread
| | | | |
| --- | --- | --- | --- |
| 5 replies | Author | Time | Post |
| Cosmologists create 4,000 virtual universes to solve Big Bang mystery (Original post) | Judi Lynn | Feb 23 | OP |
| | YDogg | Feb 23 | #1 |
| | soothsayer | Feb 23 | #2 |
| | StClone | Feb 23 | #3 |
| | eppur_se_muova | Feb 23 | #5 |
| | sanatanadharma | Feb 23 | #4 |
---
Response to Judi Lynn (Original post)
Tue Feb 23, 2021, 06:53 AM
YDogg (6,425 posts)
1. At first I was like, "Cosmetologists?"
The article is actually much more interesting.
---
Response to Judi Lynn (Original post)
Tue Feb 23, 2021, 07:38 AM
soothsayer (33,715 posts)
2. I don't understand how any matter clumps together if it's all expanding
I'd like to see one of these models in action
---
Response to soothsayer (Reply #2)
Tue Feb 23, 2021, 09:24 AM
StClone (10,313 posts)
3. Gravity broke free as a force within fractions of second of the Big Bang
Pretty sure gravity clumps matter and what is termed dark energy is one of the forces pushing them apart. The balance is the dance of the Universe.
---
Response to soothsayer (Reply #2)
Tue Feb 23, 2021, 10:12 AM
eppur_se_muova (32,555 posts)
5. Locally clumping, overall expanding. nt
---
Response to Judi Lynn (Original post)
Tue Feb 23, 2021, 10:10 AM
sanatanadharma (900 posts)
4. So where does one stand outside the universe to observe the changeable universe in which one lives?
I love science and models and knowledge and attempting to understand that which stands under (explains) the observer and the observed.

I have long been fascinated by the 'consciousness' that "knows" and without which, nothing can be known.

There seems to be an intractable problem wherein the conscious observer is an irremovable reality within the universe being studied but tries to stand outside of it.