Sat Dec 20, 2014, 11:48 AM
rug (82,333 posts)
Believers Pray To 'Our Lady Of The Milk' In Ancient Bethlehem Spot Where Mary Nursed
Cross-post from the Catholic & Orthodox Group.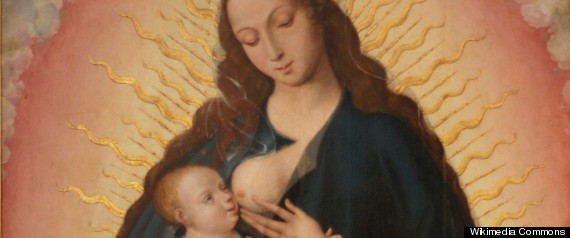 Religion News Service | By Michelle Chabin
Posted: 12/20/2014 7:52 am EST
Updated: 2 hours ago
BETHLEHEM, West Bank (RNS) Dozens of photos of smiling babies accompanied by moving testimonials line the walls of Franciscan Brother Lawrence Bode's office in the Milk Grotto Church where, tradition holds, the Virgin Mary hid in an underground cave in order to breast-feed Jesus as she and Joseph were fleeing King Herod.
It was here, Catholics believe, that drops of Mary's breast milk spilled to the ground while she was nursing Jesus and turned the grotto's red-brown stones a creamy white.
Located around the corner from the Church of the Nativity, which was built atop the site where Mary gave birth to Jesus, the Milk Grotto is the go-to destination for Christians — and those struggling with infertility.
"We estimate that in the past dozen years at least 3,000 babies have been born to mothers who prayed in the grotto," said Bode, who has been the church's guardian for the past 18 years. "And these are only the births we know about since I started collecting testimonials. We've had stories of Muslim women who've had children after visiting the grotto, and of two Israeli women as well."
http://www.huffingtonpost.com/2014/12/20/our-lady-of-the-milk_n_6355486.html?utm_hp_ref=religion
I never heard of this devotion before. I doubt it's an official Catholic belief but it's a touching devotion. If Jesus was truly human, it stands to reason he nursed as an infant as well as bled as an adult.
Certainly more likely this happened, if not in that place, than a drummer boy arrived.
3 replies, 1212 views
Replies to this discussion thread
| | | | |
| --- | --- | --- | --- |
| 3 replies | Author | Time | Post |
| Believers Pray To 'Our Lady Of The Milk' In Ancient Bethlehem Spot Where Mary Nursed (Original post) | rug | Dec 2014 | OP |
| | hrmjustin | Dec 2014 | #1 |
| | hollysmom | Dec 2014 | #2 |
| | rug | Dec 2014 | #3 |
---
Response to rug (Original post)
Sat Dec 20, 2014, 11:51 AM
hrmjustin (71,265 posts)
1. I never heard of it either.
Yes he was truly God and man so he must have been nursed.
---
Response to rug (Original post)
Sat Dec 20, 2014, 02:39 PM
hollysmom (5,946 posts)
2. and if Mary lived in the US today, would she have been allowed to nurse in public?
oh never mind, she had to hide to nurse then as well.
---
Response to hollysmom (Reply #2)
Sat Dec 20, 2014, 02:52 PM
rug (82,333 posts)
3. That's a more interesting question than it appears.
Nursing in public was the least of her problems.

She wasn't even able to give birth in a house.

She had to flee the country when her child was only an infant.

There couldn't have been a more humble choice.