Page: 1
H2O Man
H2O Man's Journal
Profile Information
Member since: Mon Dec 29, 2003, 08:49 PM
Number of posts: 72,271

Journal Archives
April 27

At Austin, Texas (ESPN2/ESPN3): Ismayl Sillakh vs. Denis Grachev, 10 rounds, light heavyweights; Javier Fortuna vs. Yuandale Evans, 10 rounds, junior lightweights; Nick Gonzalez vs. Cory Yett, 4 rounds, welterweights; Daniel Henry vs. Jawnta Manson, 4 rounds, super middleweights; Mitch Williams vs. Rayford Johnson, 4 rounds, cruiserweights; John Montes vs. Randy Fuentes, 4 rounds, junior welterweights; Clay Herzing vs. Brice Ritani, 4 rounds, heavyweights

At Miami, Okla. (Showtime): Thomas Oosthuizen vs. Marcus Johnson, 10 rounds, super middleweights; Orlando Del Valle vs. Christopher Martin, 10 rounds, junior featherweights; Jose Pedraza vs. Gil Garcia, 8 rounds, junior lightweights; Tor Hamer vs. Galen Brown, 6 rounds, heavyweights; Ivan Redkach vs. Rynell Griffin, 8 rounds, lightweights; Allan Benitez vs. Terrence Harris, 4 rounds, lightweights; Joe Hanks vs. Marcus Rhode, 6 rounds, heavyweights


April 28

At Atlantic City, N.J. (HBO): Bernard Hopkins vs. Chad Dawson, rematch, 12 rounds, for Hopkins' Ring/WBC light heavyweight title; Seth Mitchell vs. Chazz Witherspoon, 12 rounds, heavyweights; Shawn Porter vs. Patrick Thompson, 8 rounds, welterweights


May 5

At Las Vegas (HBO PPV): Miguel Cotto vs. Floyd Mayweather Jr., 12 rounds, for Cotto's WBA junior middleweight title; Saul "Canelo" Alvarez vs. Shane Mosley, 12 rounds, for Alvarez's WBC junior middleweight title.


(I will post more about these later.)

My son Darren is currently working on Long Island, doing construction. Hence, although we are unable to watch televised boxing from the same room, we get together by telephone during the fights. And that is more than fun -- although we both absolutely each other's company and love watching fights together -- because it provides the Old Man with an opportunity to teach the Young Lion some of the finer points of the Great Sport.
Last weekend, during an exciting undercard bout, one fighter was attempting to get inside of his significantly taller and longer-armed opponent. Although he appeared physically stronger, this fellow was getting pasted with fast, hard jabs and right-crosses by the oppenent. If the taller man was able to continue dictate the physical setting in the ring, he would surely win every round of the fight.
The shorter man began to attempt to create openings to move inside, by moving his upper-body, especially his head, to make the opponent miss with his jab .... thus creating the chance needed to get inside. However, in these attempts, my son noted a fundamental flaw: the shorter man kept his head straight up, making his face (including his chin) a fairly easy target. How could it be, my son asked, that he would make this serious a mistake?
I told him that it could best be summed up by something that Rubin "Hurricane" Carter had told me in 1974, when I was an amateur boxer learning from a master. It was a variation of a Nietzsche quote: "He who knows 'why' will always master he who knows 'how'." It was if a light had been suddenly turned on .... while I believe that I had told him this simple law of the ring before, it definitely "clicked" in D's mind, as it applied to this fight. Indeed, it defined the outcome of the contest we were watching.
More, D began applying it to fights from the past: the greats from ring history are always those with the firmest grasp of "why." It separates them from those near-greats more than any physical skill or advantage. Indeed, it is why ESPN's Teddy Atlas frequently notes on the Friday Night Fights that the sport of boxing is 75% mental.
There are, of course, mis-matches in boxing. For but a simple, but extreme example of how that can apply, my knowledge of both "how" and "why" is far superior to Darren's .... yet age, size, etc, would prevent me from being able to execute those advantages in the ring. But in my prime -- although D doesn't believe it -- his 65-pound weight advantage, and his height and reach advantages, would have been neutralized by my advantages in knowing "why."
D was like a dog with a new bone. He began applying the "how vs why" to some of the best fights that can be made in boxing today. Two of this era's greatest fighters, Floyd Mayweather and Manny Pacquiao, have uncanny grasps of both "how" and "why" .... and both have masters of these as their trainers. Floyd has yet to meet anyone on his level mentally and physically; Manny has only met one opponent, Juan Manuel Marquez, who is his equal. (Both fought Oscar de la Hoya, who was not quite on their level mentally, and who was physically "old.&quot
People can make a strong case for either fighter, should Mayweather and PacMan ever meet in the ring. I favor Floyd, precisely because of "how" vs "why." Manny is definitely an all-time great boxer, but he makes four mistakes in every fight that goes more than six rounds. Floyd has made less than four mistakes in his professional career.
Recently, ShowTime promoted a "Super Six" tournament in the Super Middleweight division. It featured some of the most talented active fighters in one of the most competitive weight classes. During the promotional programs, while focusing on the lowest-ranked of of six, Andre Ward noted that his goal in every fight is to mentally impose his will -- to force his opponent into fighting in the manner that favored Ward. Based entirely upon that, I favored Ward to win the tournament. And he did, in a most impressive fashion.
In his first bout, Ward faced the tournament favorite, Mickel Kessler. In each and every area of "how," Kessler was considered superior. Even is the areas of speed -- of both hand and feet -- Kessler matched up well with Ward. Yet, in virtually every round, Ward's grasp of "why" separated him from his more experienced opponent. It made for one of the most one-sided upsets in many years.
In May, Mayweather challenges Miguel Cotto for his junior middleweight title; and in June, Pacquiao fights undefeated Timothy Bradley. Both are really good fights -- at least on paper -- although the sports world wants to see Floyd vs Manny. Cotto is a great fighter, and Bradley seems well on his way to becoming one. Cotto and Bradley are both trained by outstanding veterans of the craft. And both have had plenty of time to learn "why" they and their opponents do the things they do in that ring. The determining factor will be if that level of understanding allows them to do what Andre Ward identified as essential: force their favored opposition to fight in a manner that favors them.
[IMG]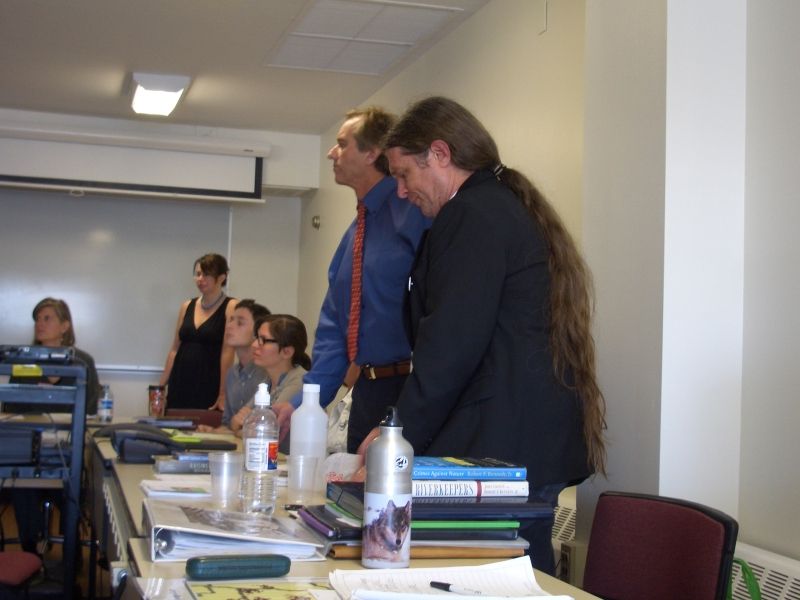 [/IMG]
Monday, April 16, was a beautiful day in the northeast. I had asked environmental attorney Robert Kennedy, Jr., who is serving on Governor Andrew Cuomo's hydrofracking advisory committee, to meet with representatives of the "grass roots." I had woke up at 3:30 am to begin the trip to White Plains. The early morning darkness gave way to a dense fog, which soon lifted to reveal a sunny, warm spring day.
There were people traveling from Albany, Binghamton, Ithaca, Oneonta, and Rochester; others from the small towns and rural hamlets that dot upstate New York. We would meet our counterparts from New York City at the campus, finalize our strategy, and then go into one of the university's larger conference rooms to converse with representatives from the Pace Law Clinic and RiverKeeper.
Most, if not all of us, were primarily focused on talking with Robert Kennedy, Jr. This included everyone from the four high school students traveling with the Sidney-based car pool, to the doctors and university proffesors, to the most experienced of community organizers among us. Indeed, although I've known Robert for over twenty years, I still find every communication to be a significant experience. Certainly, he is a part of history: one uncle was among the most beloved US Presidents; another, one of the greatest Senators in our nation's history. And his father was the best US Attorney General, before becoming a NYS Senator and 1968 presidential contender. But, much more impressive to me is the way that Robert has focused his abilities and talents to become the best environmental attorney in America.
Yet no such meeting comes off without a hitch. That just does not happen. And when one gathers even a medium-sized group, from distant locations, who have a variety of backgrounds and beliefs about the "best" way -- and even the "only" way -- to combat the powerful energy corporations seeking to harvest our lands' natural resources in a dangerous, health-threatening way, conflicts will arise. Some are internal: I had about a dozen calls in the 36 hours leading up to the meeting, with people asking, "Is it really going to happen?" And another half-dozen questioning, "Is this really a good idea?" Yes, and yes.
***** ***** ***** ***** ***** ***** ***** *****
About a decade ago, I "retired" from community organizing/grass roots activism. While I would still spend some time at the county Democratic Headquarters, and continue to speak in public (maimly at high schools) now and then, physical issues have kept me from much activity. Then, a couple of years back, two issues -- hydrofracking and the anti-Muslim hatred dripping from the Sidney Town Board -- resulted in people asking for my assistance.
Although I'm not the brightest bulb in the drawer, some of my past experiences seemed to offer some beneficial lessons for these "current events." I had worked with Onondaga Chief Paul Waterman on environmental issues; and with Dr. Rubin Carter on conflicts rooted in fear and hatred. I decided to try to contribute to these issues of social justice.
Early on in the hydrofracking conflict, I determined that there were three people that I would need to meet with: Robert Kennedy, Jr.; NYS Senator Thomas Libous; and Governor Andrew Cuomo. Originally, I anticipated my meeting with them in that order. However, as John Lennon sang, life is what happens to you while you're busy making other plans. A meeting with Libous took place in January, as the result of a hunger-strike I engaged in. Next would be the Kennedy meeting.
Thus, the sequence of meetings was not exactly what I had hoped for. But that was not as important as laying that foundation that myself and others would build upon. On that early morning ride, before we hit the heavy traffic, I was confident that we would accomplish some meaningful things before leaving Pace University's Environmental Law Clinic.
***** ****** ***** ***** ***** ***** ***** *****
On the evening of the 15th, I had told a good friend that I anticipated two more mini-crises that night, and two more before the meeting began in the morning. So when everything seemed to be running smoothly, I was temporarily puzzled. Luckily, when we all met on the lawn of the campus, a few people were engaged in disagreements with others, about what they believed should be thetone of the meeting .....and what, if any, demands we should make.
I do not mistake myself for a "leader." To paraphrase an old Groucho Marxism, I wouldn't be caught alive belonging to any group that had a leader like me. But as tempers began to rise, and two wonderful ladies from NYC pointed out that I had coordinated this meeting, I recommended that people set their anger aside, and trust that the meeting would unfold to all of our satisfaction. I had had the experience of listening to almost everyobne's ideas or agendas in the previous weeks. I was confident we would create an attractive, powerful grass roots salad.
And we did.
For such meetings, I carry the wampum that Chief Waterman assigned to me. So, I opened the meeting with a variation of the traditional "greeting of thankfulness." Then, as Chief Waterman had instructed me for such contexts, I noted that the people gathered together followed many different paths, and that each of these lead to the same place. Today, I said, we have the opportunity to explain our path to others, and to listen to others describe their paths. More, even if we did not fully understand or agree with other paths, we had the chance to be respectful to those walking those paths. Let us put our minds together, and determine what type of future we can create.
And so we did. Perhaps my favorite speaker was Dr. Sandra Steingraber of Ithaca. I'm at a point in life where concepts of age, race, sex, etc, do not influence my views on what actually defines "leadership." And I hesitate to assign such as restrictive role to any human being. But when this lady spoke, I was 100% aware of the power of her gentle, rational, and fully informed being. It has been rare in this long life that many individuals have made that strong an impression upon me.
Robert Kennedy, Jr., is known for his fascination of birds of prey. I thought of this as I sat next to him, watching the man listen intently to every word said in the meeting. He would then speak his mind on the topics associated with hydrofracking: the politics, the intense pressures, the environmental dangers, the need for alternative energy, and the role of the grass roots. By the time the meeting ended, everyone there was as convinced as I had been on the ride down, that Robert knew exactly what goal he had identified as both urgent and necessary.
We broke for lunch on the Pace campus. All of the previous anxiety and agitation had lifted. While it was only one meeting, I dare say it was an important one. I dined on two cups of coffee, as I listen to a lady from RiverKeeper talk to my older daughter about doing an internship there. Then we climbed back into our automobiles for the ride home .... and I closed my eyes and turned my attention towards arranging a meeting between this same general group and Governor Andrew Cuomo.
It's the countdown to the meeting at the Pace Law Clinic in White Plains. I've coordinated a meeting of grass roots leaders from around the state -- Albany, Binghamton, Ithaca, NYC, and Rochestor, and from small towns, hamlets, and rural dirt roads -- with environmental attorney Robert Kennedy, Jr., some folks from RiverKeeper, and hopefully NRDC.

The topic of discussion is, of course, the extreme environmental threats posed by hydrofracking for gas. These threats include poisoning the land, air, and water .... which would poison the plants and animals, including human beings.

Governor Andrew Cuomo, recently identified as the "most popular governor" in the nation, is preparing to decide to either give horizontal drilling the okay, or to extend the "no fracking" period for more in-depth health studies. That decision will go a long way in determining if Cuomo remains popular with the democratic base, or if he wants to run for president in 2016 as a Dick Cheney Democrat.

Governor Cuomo has repeatedly insulted both sides of the hydrofracking controversy, by claiming they base their positions on "fear and emotions." In fact, we will be presenting Robert with material to give to Andrew that includes: the recent US Geological Services report that highlights the severe dangers of hydrofracking in New York; numerous university studies that document, beyond question, the environmental damage that fracking has done in Ohio and Pennsylania; along with statements by attornies, physicians, and professors from across the state, in opposition to hydrofracking.

While I cannot say for certain that the wide range of citizens who are actively opposed to hydrofracking can place Andrew Cuomo in the White House in 2016, I can say without question that if he sides with the Cheneyites, we will be sure to send him to the dog house.
There have been enough posts regarding "don't judge Zimmerman" and the right to presumed innocent, that a few moments ago, I mistook a tongue-in-cheek OP for the real thing. Throughout life, I have made my share of errors -- and admittedly have made an ass of myself from time to time. That said, I will attempt to pay my dues, so to speak, by addressing a couple of the issues in cases like Zimmerman's.
Such cases of violence, which destroy human lives, outrage people .... and have done so throughout our nation's history. Our legal system, at least in theory, is able to deal with this. There is, within the legal system, a presumption of innocence, including in the period between when a person is arrested and goes to trial. This presumption continues through the guilt phase of a criminal trial, up until the judge instructs the jury, and the jurors determine their verdict.
Those legal protections, defined by the Constitution and constitutional law (cases decided by federal courts) are part of the court process. Likewise, in certain cases, those protections can extend to a person's employment -- often by way of union contracts, which are legal documents -- meaning a person may not be fired for being arrested, absent a conviction. But it does not apply to the "court of public opinion."
A person might believe a person who is arrested is guilty of a crime (in fact, they may be convinced that a person is guilty before an arrest), based upon what they have heard, or read, or been told about the crime. More, if they have first-hand knowledge of the crime (including victims and/or family and friends of the victim), they may believe a person is guilty. There is absolutely nothing "wrong" in making a judgement on a current event of this type, any more than it is wrong for people to try to identify who Jack the Ripper was.
In a court case, prospective jurors are questioned to determine if they have made up their minds, one way or the other. That's a good thing. For everyone is entitled to a fair trial .... and such protections, when provided today to even the most vicious criminals, help to insure the rights of innocent people in the future.
Still, no judge or attorney actually expects that potential jurors will come to the court as an absolutely clean slate. Especially in high profile cases, most potential jurors will have some knowlede of the case. More, as Vincent Bugliosi has pointed out, most potential jurors enter a court room aware that the police and prosecutor believe the defendant is guilty; and, in their life experiences, most people who go on trial in a criminal case have been found guilty. The key to justice is that decent people can set aside impressions, and decide a case entirely upon the evidence presented by the prosecutors and defense attorneys.
Under these conditions, a jury may find a person guilty, or not guilty (or there can be a "hung jury&quot
. "Not guilty" does not equal "innocent" .... it means the prosecutor did not present enough evidence to convince the jury beyond a reasonable doubt.
"Reasonable doubt" is a tricky thing. No one has ever provided a perfect definition of what that means. I would suggest that it is rooted in common sense: a reasonable doubt doesn't mean beyond any doubt -- although there are convictions that are beyond any doubt -- although some defense attornies with guilty clients may try to instill "any doubt" to try to win their cases, just as some prosecutors will deny the possibility of reasonable doubt.
Our legal system is indeed imperfect. One of my late uncles, a senior investigator, told me about a night when he caught a guy, bloody hammer in hand, with his ex-girlfriend's corpse. In NYS, a person can be arraigned on a felony charge by a Justice of the Peace -- which is a town or village "judge," who is not required to be an attorney. Felony trials can only be heard by a real judge. This night, they had to awaken the local Justice, and bring him to the local court. There, as they were preparing to bring the defendant in, theJustice said to my uncle, "Okay, bring the guilty son-of-a-bitch in, and let's give him a fair hearing."
Still, though imperfect, our system has remarkable potential to reach a just decision.
(April 11) FOX NEWS: Sean Hannity will report tonight on his efforts to get presidential candidate Mitt Romney to name former Florida resident George Zimmerman as his vice presidential nominee.

"This man has the American flag in two spots on his official website," Hannity said earlier today. "He has a high public profile, and has proven his ability to unite patriots across the nation. Plus, because Zimmerman is a registered member of the democrat party, this choice could insure Romney's election in November."

Hannity has contacted the Romney campaign, and is prepared to disclose information from his telephone conversation with Governor Romney on tonight's show. ....

No more at: www.foxnewsinsanity.com/VP=steaks
"It is not enough to allow dissent. We must demand it. For there is much to dissent from.

"We dissent from the fact that millions are trapped in poverty while the nation grows rich.

"We dissent from the conditions and hatreds which deny a full life to our fellow citizens because of the color of their skin.

"We dissent from the monstorous absurdity of a world where nations stand poised to destroy one another, and men must kill their fellow men.

"We dissent from the sight of most of mankind living in poverty, stricken by disease, threatened by hunger and doomed to an early death after a life of unremitting labor.

"We dissent from cities which blunt our senses and turn ordinary acts of daily life into a painful struggle.

"We dissent from the willful,heedless destruction of natural pleasure and beauty.

"We dissent from all these structures -- of technology and of society itself -- which strip from the individual the dignity and warmth of sharing in the common tasks of his community and his ountry."
-- Senator Robert F. Kennedy; Berkley; October 22, 1966.

While preparing for the grass roots pro-environment, anti-hydrofracking community's meeting with Robert Kennedy, Jr., next Monday, I came across my copy of RFK's promo-magazine from his 1968 run for the presidency. This powerful speech is included in its pages. (There is also a three page interview with Robert, Jr., then 14.)

It ranks among the best political speeches in our nation's history, in my opinion. It also serves as a stark reminder of what the leaders of the Democratic Party once stood for.
[IMG]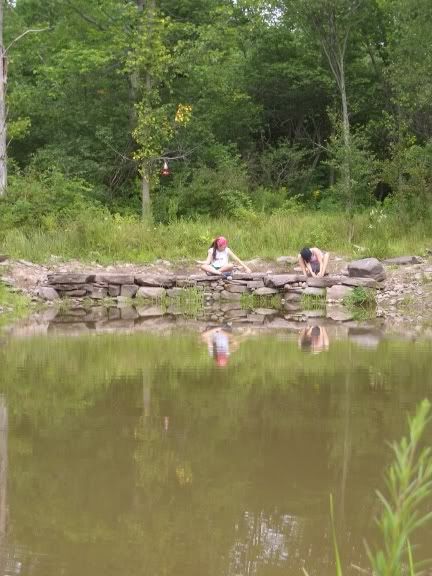 [/IMG]
Years ago, a Clan Mother told me that at times when the world is spinning faster and faster, it is good to find a quiet, still place. And so it is with my pond. I like to go out early in the morning, around the time the sun is coming up: I fill the bird-feeders, and toss some food onto the surface of the pond for the fish. Then I sit with a cup of coffee and watch a small section of the world move at a natural pace. The older I get, the more I appreciate each morning.
Soon, one of our "house cats" comes to the pond's edge. Although I prefer dogs, one or two of the herd of cats that inhabits our home and property are never far from my feet. This one likes to come to the pond with me daily. He watches the fish snatching food from the water's surface with an intensity tinged with frustration.
My older daughter comes out, with coffee and a book. She has been dealing with the pressures of youth: she graduates high school in two months, and had decided what university to attend two days ago. She had the option of graduating a few years early, but opted to stay with her own class. This allowed her to take two years of college-credited courses, and to work part-time for county agencies including Social Services, the District Attorney, and Family Court. She is beginning an outline for her speech as valedictorian; I will be, as a school board member, handing her the diploma she has earned.
The school board business takes up a lot of time. Although our school is the best in a four-county region, it faces the harshest budget cuts from the state. So much for rewarding success. Governor Andrew Cuomo inherited an educational system that spends 17 times more per student in the NYC-Long Island region than in the upstate; still, for reasons that I suspect have more to do with his planned 2016 presidential run than with students' futures, he is intent upon slashing our funding.
Chloe suggests that we take the row boat out to the middle of the pond. As we go out, I tell her about the local "tea-partiers" who attended Tuesday's board meeting to complain about the increasing costs of public education. Although we actually made substantial reductions, they are still angry ....anger and hostility are the requirement for tea party membership, I suppose. Although I am still in my first year on the board, they have identified me as the "enemy." They know that the teachers' union endorsed me -- the first time they publicly backed any candidate -- and that I beat one of the tea party leaders. If I said that the sky is blue, they would be furious; if I said it isn't blue, they would be outraged.
At the Thursday meeting, a state assemblyman attended the second board meeting. Though he is a conservative republican, we are friends. He assisted Onondaga Chief Paul Waterman and I years ago, in saving an ancient burial ground from being mined for gravel. I contacted him a couple of months ago to discuss the state cuts in education, and he is making a sincere effort to help level the playing field.
After the long boat tour of our small pond, my daughter brings the boat to shore. While there is no track practice on Easter Sunday, she wants to go to the track to get a few miles in. She asks if I'm okay alone? A week before, a bee flew into my eye, and stung me as I attempted to wipe it out; my vision has been hampered since then, to the point I may seek medical attention. More, after speaking in Albany on Wednesday, I took a hard fall down the stairs to the stage. (Yikes!) Yes, I am okay.
In the early afternoon, I went to the house to prepare a meal. Both of my sons will be coming over: one lives a couple towns away, working as a fork-lift driver; the other works construction on Long Island. It's the first time all six of us will be sitting down together for some time. After our meal, my older son walks out to the pond with me, to see this season's new koi fish; we count about 25 new ones, with interesting variations of the coloring of the mature ones.
By late afternoon, both sons have headed back into their own futures, and my daughters are taking their mother's car to visit friends. My wife had been seriously ill earlier this year -- with more doctors' and ER visits, and time in the hospital -- than I can keep track of ..... a very rough three months. She is returning to work full-time this week, and is going to read and rest. I will go back to the pond.
Chloe had bought me two books when she visited the university on Friday. One was about Irish literature; I suspect her oldest brother borrowed it. I take the other one ("We are the People our Parents Warned Us Against: The Classic Account of the 1960s Counter-Culture in San Francisco"; Nicholas von Hoffman; Elephant Paperback; 1968) and one of my dogs back out to the pond.
Kelly is a boxer-mix, white with blue spots. He is also a tumbling clown, habitually in a happy mood. He seems torn between demanding constant affection, and seeking to follow every scent through the fields and woods. Though both of his parents love to swim, Kelly only walks about 16 inches into the water, repeatedly, to get drinks. Then he comes back and gets me soaked. He makes it impossible to read, and so I build a small fire and try to dry out. I remember my late friend Jay's saying: "White people build big fires, and have to stay so far away that their backs are cold; Indians build small fires they can sit close to, and stay warm."
On Monday, April 16, I will be bringing a group of pro-environment, anti-hydrofracking grass roots activists to Pace University's Law Clinic, to meet with Robert Kennedy, Jr. We will be discussing the struggle to protect our region from the energy corporations that seek to drill for gas, making this a "national sacrifice area." Any time I am preparing for a public meeting where I have to do a presentation, I like to sit out at my pond and make a mental outline. It's that calm place, where I can get ready to venture out into the rapidly spinning world.
There is a scene in an old movie, "The Emerald Forest," where an old chief calls the area where "progress" is destroying natural resources "the Dead World." That "Dead World" is spinning faster and faster, destroying more and more of the Natural World. As I sit near my pond, I am surrounded by life: the pond itself teems with life; the birds are at the feeders for sun flowers; Kelly has chased the cat --his good friend inside the house-- up a tree. I've hoped that whoever lives here after I pass .... maybe one of my children, perhaps followed by a grandchild's family ..... will be able to sit here, and enjoy the same miracles of life that I am enjoying now. But hydrofracking threatens to destroy that possibility.
A few minutes after the sun goes down, some dark clouds move in. A rain shower puts the fire out. Kelly and I head back to our house, where I continue to read my new book.
I attended a rally at the UU Church in Albany yesterday. It featured an interesting range of grass roots activists' perspective on the issues involved in the fight against hydrofracking, from a human rights perspective. Taking place on the 45th anniversary of Martin Luther King, Jr.'s "A Time to Break Silence (Beyond Vietnam)" speech added to the atmosphere.

Ray Lewis, a retired Philadelphia Police Captain, opened the show. Ray has been a high-profile participant in the Occupy Movement. He spoke about the threats that energy corporations pose to democracy in this country.

Scientist and inventor Clark Rhodes provided an intense description of why hydrofracking is never "safe" in the context of the geology of the northeast. Rhodes has an uncanny talent for presenting information in a manner that the lay-person can easily understand.

Elliot Adams, past president of National Veterans for Peace and former mayor of Sharon Springs, spoke about how King's most prophetic speech influenced his life. Adams is a serious man: in one recent anti-war rally in Washington, he chained himself -- with a bike chain tightly around his neck -- to the fence at the White House.

Harry Davis, a veteran of civil disobedience actions with GreenPeace and with the Berringan Brothers, spoke about the growing need for people to confront the monstor that is our common foe. Davis formed the anti-hydrofracking group that hosted this rally.

Dr. Lisa Barr spoke about journalism and the grass roots movement in the time of "Top Secret America." She had recently sued a town board in Pennsylvania that had attempter to prevent any non-corporate media from covering their meetings on hydrofracking-related issues.

I closed the show with a talk about Onondage Chief Paul Waterman's efforts to form a grass roots confederacy of traditional Native Americans, environmentalists, and other people with social consciences.

For the past few weeks, a mutant space cat had been invested in disrupting the plans for the rally. Because of the nature of this threat, the leaders of the rally determined that friend Cindy Sheehan should not join us (this despite the cooperation of the Albany police to insure things went relatively smoothly).

After the rally, Harry Davis and I were invited to the "press wing" of the State Capital Building, tobe interviewed by newspapers, television, and radio journalists. It was a bit of a giggle when we encountered one of the gas industry's top attorneys at the radio station; initially, he was not friendly, but I was able to start a "friendly" discussion with him.
There are few things more painful than listening to a Willard "Mitt" Romney speech. The man makes plastic seem authentic. Still, watching Paul Ryan was, at least tonight, even worse.

In and of itself, that is perhaps of minor significance. Yet, tonight, it seems potentially important. There are plenty of rumors and speculation that Ryan will be Romney's choice for vice president. One doesn't need to be a huge fan of Obama-Biden, to find the thought of Romney-Ryan repulsive.

I have suspected the republican elders have told Romney that he will pick Ryan. Probably, although he views Ryan as a helpful option, Romney holds the tea party posterchild in contempt.

Hearing Romney say,"....but he won't take Ann's place" after being introduced by Ryan appears to confirm this suspicion, for Mitt is nothing if not passive-aggressive.