Welcome to DU!
The truly grassroots left-of-center political community where regular people, not algorithms, drive the discussions and set the standards.
Join the community:
Create a free account
Support DU (and get rid of ads!):
Become a Star Member
hay rick
hay rick's Journal

hay rick's Journal

August 25, 2021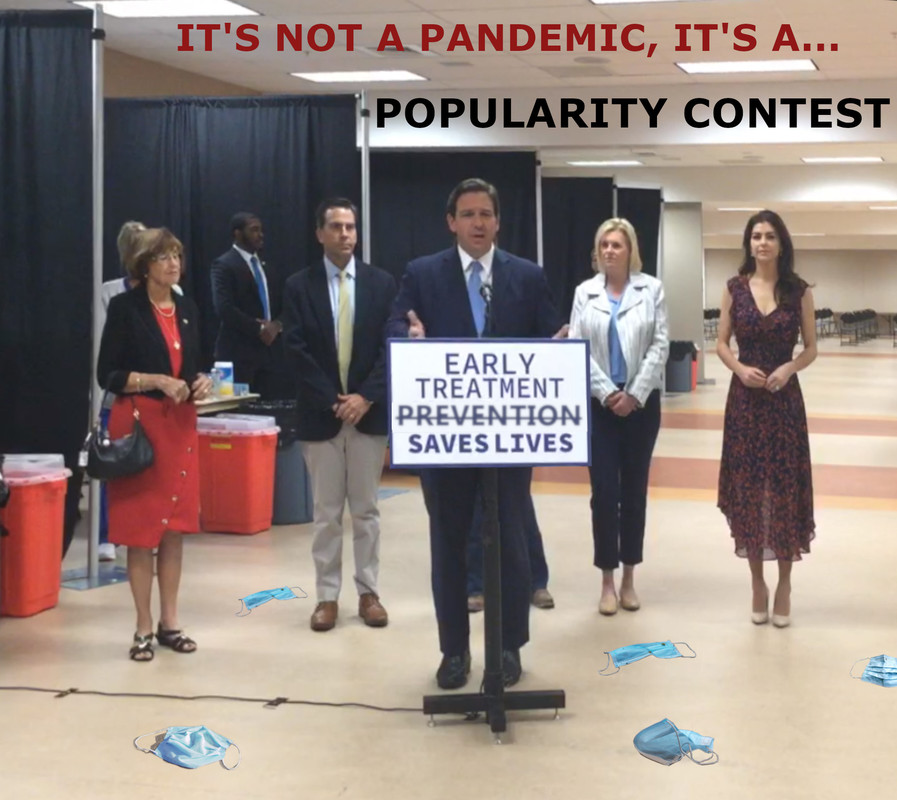 Ron DeSantis has given up all pretense of governing on behalf of Floridians whenever it conflicts with an opportunity to posture for the MAGA base. Currently, he's fighting school boards around the state that want to enforce mask mandates while the Delta variant surges. At the same time, he's touring the state to preside over the opening of monoclonal antibody therapy treatment centers in an almost daily pursuit of photo ops. The governor wants you to know that AFTER you get sick (often because of discouraged mask use and indifferent vaccination levels) you should get to a monoclonal antibody site without delay. He's RegeneRon.
Florida is a magnet for politicians who are totally devoid of human warmth and empathy. DeSantis fits snugly in the mold of the robotic, soulless Rick Scott and the rabid, self-absorbed Former Guy. Ron DeSantis is prepared to climb over as many dead bodies as necessary to realize his personal dream of instituting an authoritarian American presidency.
Profile Information
Member since: Thu Jan 31, 2008, 10:08 PM
Number of posts: 7,191