Welcome to DU!
The truly grassroots left-of-center political community where regular people, not algorithms, drive the discussions and set the standards.
Join the community:
Create a free account
Support DU (and get rid of ads!):
Become a Star Member
JoanofArgh
JoanofArgh's Journal

JoanofArgh's Journal

January 28, 2020

President Trump said he will release details of his Middle East peace plan Tuesday, and the long-awaited package is expected to propose a dramatic remapping of the West Bank while offering Palestinians a pathway to statehood if they meet a set of tests.No Palestinians attended the White House preview of what is described as a highly detailed proposal for resolving the Israeli-Palestinian conflict that dates from Israel's founding in 1948.

The package is expected to propose a redrawn border between Israel and the West Bank that would incorporate large Jewish settlements into Israel proper, while continuing some forms of Israeli security control over the territory Israel seized in 1967 and has occupied since, according to two people familiar with the plan who spoke on the condition of anonymity because the proposal has not been released.

It is expected to offer limited autonomy to Palestinians in the West Bank and East Jerusalem that would increase over about a three-year timeline if Palestinian leadership undertook new political measures, renounced violence and took other steps in negotiation with Israel, the people familiar with the plan said.

The 50-page plan developed by Trump adviser and son-in-law Jared Kushner is expected to include proposals addressing each of the major issues that have scuttled past peace efforts, including competing land claims and the administration of holy sites in Jerusalem.

https://www.washingtonpost.com/politics/trumps-mideast-peace-plan-expected-to-offer-palestinians-conditional-statehood/2020/01/27/ccaa8696-4120-11ea-b503-2b077c436617_story.html


I think this will fail. And why not include Palestinians in negotiations?

January 5, 2020

https://twitter.com/AshaRangappa_/status/1213914708782309379

BREAKING: US CUSTOMS & BORDER PROTECTION NATIONALLY HAVE BEEN ORDERED TO DETAIN & "REPORT" ALL IRANIANS ENTERING THE COUNTRY DEEMED POTENTIALLY SUSPICIOUS OR "ADVERSARIAL" REGARDLESS OF CITIZENSHIP STATUS. 60+ Iranis held last night at the US/Canada border for 11+ hrs / thread

The Non Detention Act (passed in the aftermath of Japanese internment) prohibits the detention of U.S. citizens without congressional authorization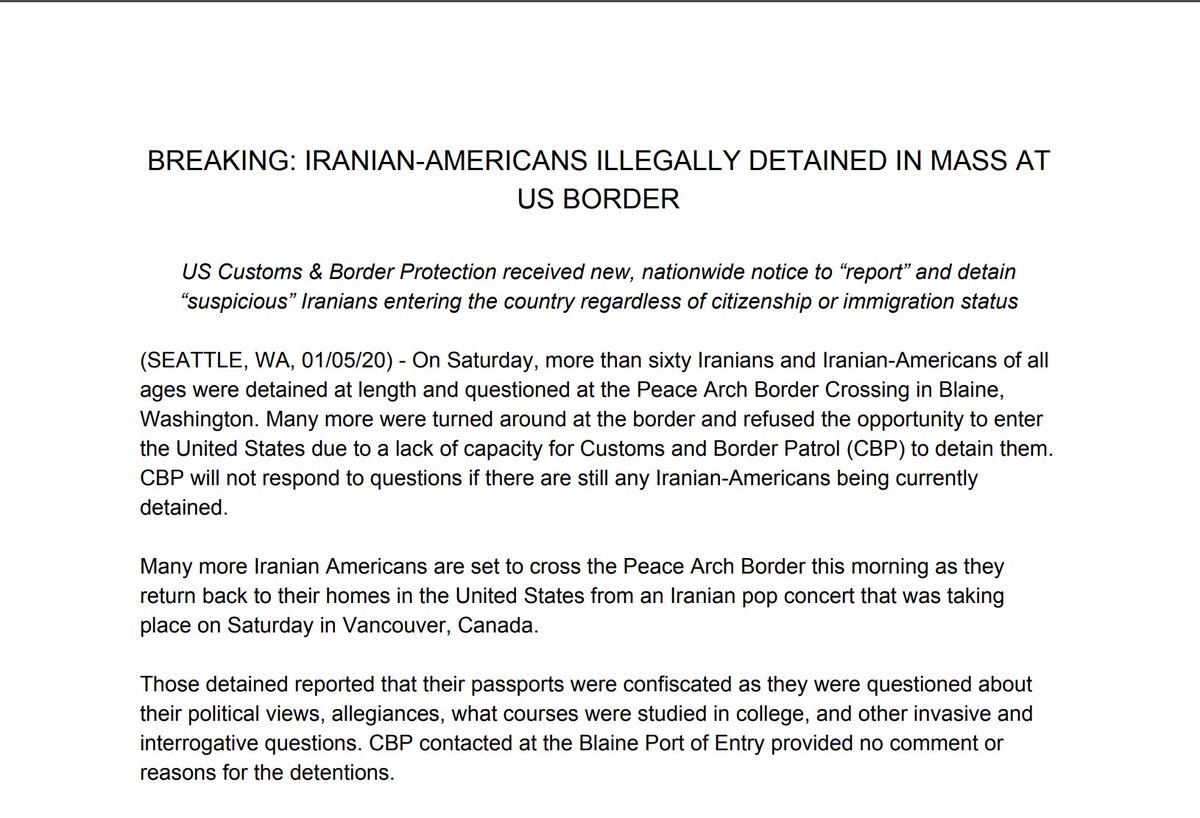 https://www.cair.com/breaking_cair_wa_assisting_iranian_americans_detained_u_s_border
https://twitter.com/KatieNicholson/status/1213896186354184195
Council on American-Islamic Relations release cites a CBP source that (DHS) "issued a national order to CBP to "report" and detain anyone with Iranian heritage entering the country who is deemed potentially suspicious or "adversarial," regardless of citizenship status."
Department of Homeland Security says it is working on a response to allegations made in CAIR release.
CBP spokesperson has issued the following statement: "Social media posts that CBP is detaining Iranian-Americans and refusing their entry into the U.S. because of their country of origin are false. Reports that DHS/CBP has issued a related directive are also false."
Profile Information
Gender: Female
Home country: USA
Current location: Charlotte, NC
Member since: Fri Sep 14, 2012, 12:15 AM
Number of posts: 14,971