Mon Mar 30, 2015, 03:48 PM
Bertha Venation (21,484 posts)
What is your favorite memory of a pet long gone? [View all]
Most of us have memories of pets doing silly, scary, funny, weird things. What's yours? Whatever pet you had, from tiger barb to African Gray to garden variety tabby to English Mastiff, tell all. Bonus for pictures!
This is my sweet Harry, whom I called Harry le Roi.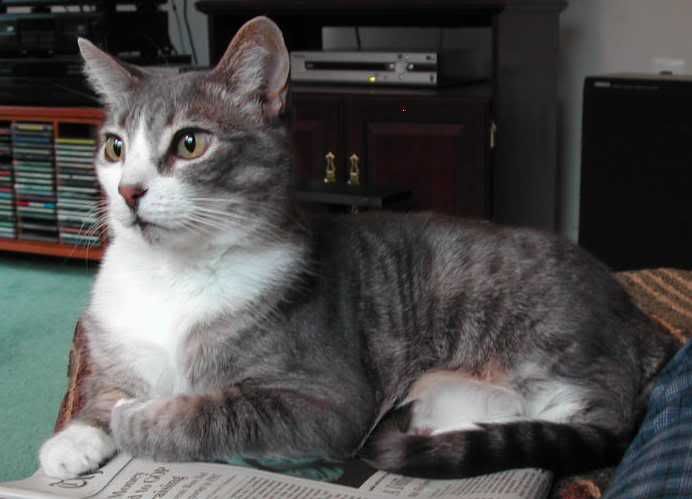 He loved those little toy mice covered with the fur of some unknown hapless creature. He'd play with a mouse for a while, then he'd take it into the kitchen. He'd drop it by the kibble dish and take a couple of bites of kibble, then pick up the mouse and chew on it for a minute, then take another bite of kibble, another bite of mouse, etc. I believe that he liked to feel like he was eating a mouse. God, he was a funny, sweet cat. I miss him so badly.
Ok, your turn. Go!
62 replies, 9672 views
Replies to this discussion thread
62 replies
Author
Time
Post

What is your favorite memory of a pet long gone?

[View all]

Bertha Venation
Mar 2015
OP
OriginalGeek
Mar 2015
#1
Bertha Venation
Mar 2015
#2
OriginalGeek
Mar 2015
#4
Laffy Kat
Mar 2015
#22
OriginalGeek
Mar 2015
#25
Laffy Kat
Mar 2015
#28
catbyte
Mar 2015
#3
Bertha Venation
Mar 2015
#7
catbyte
Mar 2015
#10
47of74
Mar 2015
#5
Bertha Venation
Mar 2015
#8
KamaAina
Mar 2015
#6
Bertha Venation
Mar 2015
#9
Arugula Latte
Mar 2015
#32
The Velveteen Ocelot
Mar 2015
#11
fizzgig
Mar 2015
#29
Bertha Venation
Apr 2015
#39
The Velveteen Ocelot
Apr 2015
#44
Bertha Venation
Apr 2015
#47
trof
Mar 2015
#12
Lil Missy
Mar 2015
#14
Laffy Kat
Mar 2015
#24
Bertha Venation
Apr 2015
#40
mithnanthy
Mar 2015
#13
Bertha Venation
Apr 2015
#41
cloudbase
Mar 2015
#15
Bertha Venation
Apr 2015
#42
cloudbase
Apr 2015
#52
MissB
Mar 2015
#16
Bertha Venation
Apr 2015
#43
MissB
Apr 2015
#61
Dont call me Shirley
Mar 2015
#17
Bertha Venation
Apr 2015
#48
Dont call me Shirley
Apr 2015
#56
CaliforniaPeggy
Mar 2015
#18
The Velveteen Ocelot
Mar 2015
#19
CaliforniaPeggy
Mar 2015
#20
The Velveteen Ocelot
Mar 2015
#21
CaliforniaPeggy
Mar 2015
#23
Skittles
Mar 2015
#26
Bertha Venation
Apr 2015
#49
Skittles
Apr 2015
#55
UTUSN
Mar 2015
#27
Bertha Venation
Apr 2015
#50
nastynaven
Mar 2015
#30
Bertha Venation
Apr 2015
#51
fizzgig
Mar 2015
#31
hunter
Mar 2015
#33
shenmue
Mar 2015
#34
vanlassie
Mar 2015
#35
lunamagica
Apr 2015
#36
sinkingfeeling
Apr 2015
#37
Skittles
Apr 2015
#46
murielm99
Apr 2015
#38
Skittles
Apr 2015
#45
fizzgig
Apr 2015
#53
Skittles
Apr 2015
#54
bluedigger
Apr 2015
#57
Xyzse
Apr 2015
#58
Tommy_Carcetti
Apr 2015
#59
mythology
Apr 2015
#60
IrishEyes
Apr 2015
#62