Mon Jan 12, 2015, 01:57 AM
sabrina 1 (62,325 posts)
Elizabeth Warren's response to Third Way Criticisms: 'Oh Please' [View all]
Last edited Tue Jan 13, 2015, 12:52 AM - Edit history (1)
Warren On Third Way Criticisms: 'Oh Please'
Sen. Elizabeth Warren (D-MA) said Thursday that think tank Third Way is "flatly wrong" about the solvency of Social Security.

"We could make modest adjustments and make the system financially stable for a century, and we could make somewhat larger adjustments and make the system pay more for seniors who rely on it," she told the Huffington Post. "The conversation for too long has been about whether to cut Social Security benefits a little bit or a lot. And that is flatly the wrong debate to have in mind."

An op-ed in the Wall Street Journal on Monday by Third Way leaders that criticized Warren's beliefs about programs like Social Security caused liberals to issue condemning responses to the progressive Wall Street-backed group. Warren wrote to major banks challenging them to disclose their donations to think tanks. And the Progressive Change Campaign Committee has urged multiple Democrats to cut ties to Third Way.

Third Way responded by agreeing that banks should disclose their donations, but co-founder of the group, Matt Bennett, said that the group still considers Warren's stance on Social Security "magical thinking." He added that JP Morgan CEO Jamie Dimon's Social Security benefits would increase under a Warren-backed plan.

Warren scoffed at this in the interview with the Huffington Post.

"Oh please. I'm out there working for Jamie Dimon the same way Dick Cheney is out there trying to save the environment," Warren said.
If you haven't read the article written by the two Third Way founders, you can find it here:
http://www.democraticunderground.com/?com=view_post&forum=1277&pid=2771
Warren is correct about Social Security. A few adjustments will make it good for a century.
The backlash was so great to that article that they tried to explain it, claiming they were not attacking Elizabeth Warren. She had stated that she agreed with Sen. Harkin that SS should be expanded and benefits increased. People liked her and Harkin's suggestions a whole lot better than the Third Way's. . So, here is their response to all the negative reaction they got:
Third Way Co-Founder Explains Op-Ed Criticizing Warren
Third Way Co-Founder Jim Kessler on Friday explained the group's Monday op-ed in the Wall Street Journal criticizing a plan backed by Sen. Elizabeth Warren (D-MA) to expand Social Security.

"That Social Security plan was the final moment for us," he said in an interview on Sirius XM with Ari Rabin-Havt, as recorded by the Huffington Post. "That Social Security plan had been out there but really languishing -- because Senator Warren has such a powerful compelling voice, she started talking about it, and it suddenly it became much more talked about and viable alternative."

Kessler said that the op-ed was not meant as a personal attack on Warren, but that she gave a popular voice to a plan that concerns Third way.

"She is a very compelling elected official and national figure," he said. "Her involvement in that particular bill, we just looked at it and said 'okay, this seems to be starting to get out of hand.'"
And the response they received to their 'explanation' was even
more
negative backlash with liberal organizations like PCCC starting a campaign to ask Democratic members of Congress to 'cut ties with the Third Way'.
Just WHO do these people think they are?
Who elected
them
and what gives them the right to feel politicians not agreeing with their DISASTROUS policies are 'getting out of hand'???
Warren is an elected Senator. She has a RIGHT given to her by the people to represent them, and the people WANT SS expanded.
I DARE them to run on cutting SS and privatizing it. On a Dem ticket!!
It's an outrage that these people are playing the role of overseers of our elected Senators!!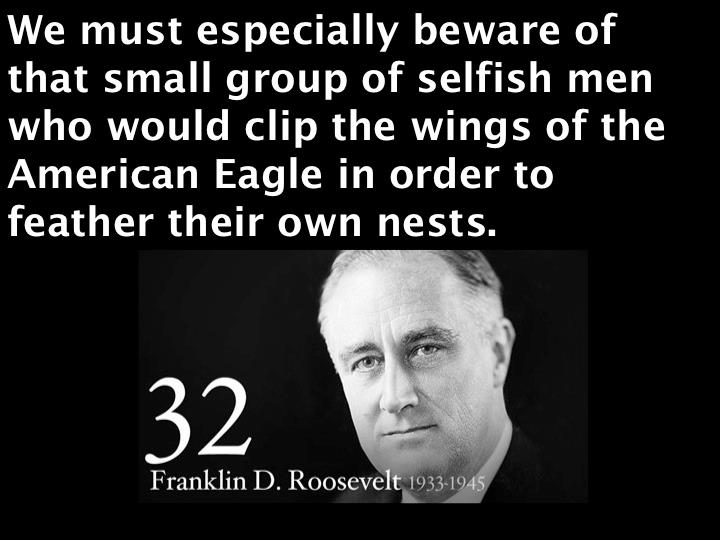 They ARE a small group compared to all of us. If people continue to wake up as they appear to be doing we could take care of this problem in no time.
Elizabeth Warren didn't just tear apart the Third Way lies about Social Security, but she also wrote to Wall St Banks asking them to reveal their donations to Think Tanks.
The political world is teeming with these organizations, Think Tanks, Lobbyists, Security Contractors bidding on contracts to smear people, journalists, bloggers, politicians who speak out on corruption in our large institutions. Seemingly having more influence over Congress than the people who hired them.
This whole mess needs to be exposed and cleaned up so politics is free of these deceptions and shadow operations out to destroy anyone who tells the truth about Big Banks and their corrupt influence on our government.
'Okay, this is getting out of hand!'

Iow 'Bad girl, Elizabeth! You will have to be reined in!'

Are they for REAL??
Sorry, I'm still almost speechless at what we are learning regarding who has been running things in our party!
158 replies, 20976 views
Replies to this discussion thread
158 replies
Author
Time
Post

Elizabeth Warren's response to Third Way Criticisms: 'Oh Please'

[View all]

sabrina 1
Jan 2015
OP
CaliforniaPeggy
Jan 2015
#1
cantbeserious
Jan 2015
#2
peacebird
Jan 2015
#67
easychoice
Jan 2015
#3
sabrina 1
Jan 2015
#4
tblue
Jan 2015
#6
sabrina 1
Jan 2015
#7
tblue
Jan 2015
#8
sabrina 1
Jan 2015
#9
sabrina 1
Jan 2015
#13
easychoice
Jan 2015
#10
sabrina 1
Jan 2015
#12
Cosmic Kitten
Jan 2015
#70
hopemountain
Jan 2015
#83
sabrina 1
Jan 2015
#85
BlancheSplanchnik
Jan 2015
#68
demwing
Jan 2015
#64
tblue
Jan 2015
#5
NYC_SKP
Jan 2015
#11
Demeter
Jan 2015
#14
sabrina 1
Jan 2015
#16
Cosmic Kitten
Jan 2015
#71
Erich Bloodaxe BSN
Jan 2015
#19
Oilwellian
Jan 2015
#102
JDPriestly
Jan 2015
#15
Teamster Jeff
Jan 2015
#17
RiverLover
Jan 2015
#18
Scuba
Jan 2015
#20
Demeter
Jan 2015
#22
cascadiance
Jan 2015
#25
Demeter
Jan 2015
#26
cascadiance
Jan 2015
#28
sabrina 1
Jan 2015
#44
rhett o rick
Jan 2015
#49
think
Jan 2015
#21
djean111
Jan 2015
#23
merrily
Jan 2015
#29
djean111
Jan 2015
#31
merrily
Jan 2015
#33
djean111
Jan 2015
#35
merrily
Jan 2015
#36
djean111
Jan 2015
#37
merrily
Jan 2015
#38
djean111
Jan 2015
#41
merrily
Jan 2015
#73
rhett o rick
Jan 2015
#50
merrily
Jan 2015
#72
easychoice
Jan 2015
#65
sabrina 1
Jan 2015
#47
ND-Dem
Jan 2015
#92
ND-Dem
Jan 2015
#91
merrily
Jan 2015
#93
ND-Dem
Jan 2015
#98
merrily
Jan 2015
#101
ND-Dem
Jan 2015
#104
merrily
Jan 2015
#106
ND-Dem
Jan 2015
#109
merrily
Jan 2015
#112
ND-Dem
Jan 2015
#116
merrily
Jan 2015
#117
ND-Dem
Jan 2015
#118
merrily
Jan 2015
#120
ND-Dem
Jan 2015
#123
merrily
Jan 2015
#133
ND-Dem
Jan 2015
#137
sabrina 1
Jan 2015
#45
merrily
Jan 2015
#115
sabrina 1
Jan 2015
#122
merrily
Jan 2015
#108
sabrina 1
Jan 2015
#39
sabrina 1
Jan 2015
#32
ND-Dem
Jan 2015
#119
sabrina 1
Jan 2015
#124
ND-Dem
Jan 2015
#126
aspirant
Jan 2015
#42
L0oniX
Jan 2015
#76
fredamae
Jan 2015
#24
sabrina 1
Jan 2015
#40
fredamae
Jan 2015
#43
sabrina 1
Jan 2015
#46
fredamae
Jan 2015
#48
sabrina 1
Jan 2015
#52
fredamae
Jan 2015
#55
sabrina 1
Jan 2015
#63
merrily
Jan 2015
#27
djean111
Jan 2015
#30
merrily
Jan 2015
#34
Maedhros
Jan 2015
#51
riqster
Jan 2015
#53
vi5
Jan 2015
#54
sabrina 1
Jan 2015
#58
vi5
Jan 2015
#59
randys1
Jan 2015
#56
sabrina 1
Jan 2015
#57
ND-Dem
Jan 2015
#125
WillyT
Jan 2015
#60
thesquanderer
Jan 2015
#61
nashville_brook
Jan 2015
#62
antiquie
Jan 2015
#66
rurallib
Jan 2015
#69
supercats
Jan 2015
#74
L0oniX
Jan 2015
#75
RiverLover
Jan 2015
#77
Voice for Peace
Jan 2015
#78
Thinkingabout
Jan 2015
#79
sabrina 1
Jan 2015
#81
Thinkingabout
Jan 2015
#89
sabrina 1
Jan 2015
#114
RiverLover
Jan 2015
#80
Omaha Steve
Jan 2015
#82
ND-Dem
Jan 2015
#84
sabrina 1
Jan 2015
#86
ND-Dem
Jan 2015
#87
sabrina 1
Jan 2015
#95
RiverLover
Jan 2015
#134
99th_Monkey
Jan 2015
#97
ND-Dem
Jan 2015
#100
99th_Monkey
Jan 2015
#103
ND-Dem
Jan 2015
#113
99th_Monkey
Jan 2015
#138
ND-Dem
Jan 2015
#139
99th_Monkey
Jan 2015
#140
ND-Dem
Jan 2015
#141
99th_Monkey
Jan 2015
#142
ND-Dem
Jan 2015
#143
99th_Monkey
Jan 2015
#144
ND-Dem
Jan 2015
#145
99th_Monkey
Jan 2015
#146
ND-Dem
Jan 2015
#147
99th_Monkey
Jan 2015
#148
ND-Dem
Jan 2015
#149
99th_Monkey
Jan 2015
#150
ND-Dem
Jan 2015
#151
99th_Monkey
Jan 2015
#152
Cosmic Kitten
Jan 2015
#153
99th_Monkey
Jan 2015
#154
Cosmic Kitten
Jan 2015
#155
99th_Monkey
Jan 2015
#156
Cosmic Kitten
Jan 2015
#157
99th_Monkey
Jan 2015
#158
BeanMusical
Jan 2015
#88
ND-Dem
Jan 2015
#90
BeanMusical
Jan 2015
#94
ND-Dem
Jan 2015
#99
BeanMusical
Jan 2015
#111
ND-Dem
Jan 2015
#127
aspirant
Jan 2015
#128
ND-Dem
Jan 2015
#129
aspirant
Jan 2015
#130
ND-Dem
Jan 2015
#131
aspirant
Jan 2015
#132
RiverLover
Jan 2015
#135
Spitfire of ATJ
Jan 2015
#96
ND-Dem
Jan 2015
#107
Spitfire of ATJ
Jan 2015
#110
ND-Dem
Jan 2015
#121
snot
Jan 2015
#105
Enthusiast
Jan 2015
#136