Fri Nov 30, 2018, 12:53 AM
ProudLib72 (17,984 posts)
A Lot of High Ranking Nazis Escaped After WWII and Fled to Argentina
Lines of escape were called "Ratlines":
Ratlines were a system of escape routes for Nazis and other fascists fleeing Europe at the end of World War II. These escape routes mainly led toward havens in Latin America, particularly Argentina, Chile, Paraguay, Colombia,[1] Brazil, Uruguay, Mexico, Guatemala, Ecuador and Bolivia, as well as in Switzerland. Other destinations included Australia, Canada, and the Middle East. There were two primary routes: the first went from Germany to Spain, then Argentina; the second from Germany to Rome to Genoa, then South America. The two routes developed independently but eventually came together to collaborate.
https://en.wikipedia.org/wiki/Ratlines_
(World_War_II_aftermath)
I know of one YUGE rat who is in Argentina already. Could it be possible that we won't be seeing him again?
10 replies, 2171 views
Replies to this discussion thread
| | | | |
| --- | --- | --- | --- |
| 10 replies | Author | Time | Post |
| A Lot of High Ranking Nazis Escaped After WWII and Fled to Argentina (Original post) | ProudLib72 | Nov 2018 | OP |
| | Hermit-The-Prog | Nov 2018 | #1 |
| | Jeffersons Ghost | Nov 2018 | #9 |
| | MontanaMama | Nov 2018 | #2 |
| | 3Hotdogs | Nov 2018 | #3 |
| | OhioBlue | Nov 2018 | #4 |
| | SharonAnn | Nov 2018 | #5 |
| | ProudLib72 | Nov 2018 | #6 |
| | Judi Lynn | Nov 2018 | #7 |
| | BlueMTexpat | Nov 2018 | #8 |
| | yortsed snacilbuper | Nov 2018 | #10 |
---
Response to ProudLib72 (Original post)
Fri Nov 30, 2018, 12:58 AM
Hermit-The-Prog (19,729 posts)
1. I want that balloon
---
Response to Hermit-The-Prog (Reply #1)
Fri Nov 30, 2018, 03:34 AM
Jeffersons Ghost (15,235 posts)
9. Do you really want "that baloon;" or this one?
---
Response to ProudLib72 (Original post)
Fri Nov 30, 2018, 01:00 AM
MontanaMama (17,906 posts)
2. That's better than the baby blimp!
Lordy I hope he sees it. Dead ringer.
---
Response to ProudLib72 (Original post)
Fri Nov 30, 2018, 01:09 AM
3Hotdogs (6,716 posts)
3. The baby blimp would be most excellent if someone would add a shitstain on the diaper.
---
Response to ProudLib72 (Original post)
Fri Nov 30, 2018, 01:29 AM
OhioBlue (5,114 posts)
4. The irony of Trump flying to Argentina on today of all days has not been lost on me. n/t
---
Response to ProudLib72 (Original post)
Fri Nov 30, 2018, 01:47 AM
SharonAnn (13,092 posts)
5. And Chile. Lots of them in the South of Chile.
Stayed in a B&B in the south of Chile in 1989. Saw a glass covered, recessed area in a wall in the living room and went over to look at it. On glass shelves was a large group of golden miniature figures and vehicles in a parade. The whole thing looked vaguely Teutonic (German), but had Egyptian looking components also. Very finely made, like something a jeweler would do.

I commented appreciatively on it and the elderly owner told me the story. Every figure and vehicle was modeled from a big parade of Teutonic history that occurred under the early days of Hitler. Evey piece was solid gold and there were only 100 sets made and they were given to high-ranking people.

So, I drew my own conclusion. His pride in the parade, the history portrayed, and being "high-ranking" let me to believe he was one of those Nazis who escaped to Chile after WWII.
---
Response to SharonAnn (Reply #5)
Fri Nov 30, 2018, 02:07 AM
ProudLib72 (17,984 posts)
6. Now that is good story
You're right, I wouldn't be surprised it he had been a Nazi who escaped.
---
Response to SharonAnn (Reply #5)
Fri Nov 30, 2018, 02:16 AM
Judi Lynn (149,841 posts)
7. I'll bet you are right in your assessment.
Excavations at Chile torture site offer new hope for relatives of disappeared
Colonia Dignidad was a secretive enclave run by an ex-Nazi paedophile where victims of the Pinochet regime were tortured, killed and buried
Marella Oppenheim in Villa Baviera, Chile
Wed 2 May 2018 02.30 EDT
The road to Villa Baviera winds 380km south from Chile's capital, Santiago, through forests and fields of newly harvested hay, to the foothills of the Andes.
At the resort's hotel, tourists sip German beer and enjoy the scenery, but the tranquil setting belies a horrific past: until 1991, the sprawling compound was known as Colonia Dignidad, and was home to a religious sect led by a convicted paedophile and former Nazi.
During the dictatorship of Augusto Pinochet, the enclave was also used as a clandestine torture site where about 300 people were interrogated and tortured by the Dina (National Intelligence Directorate) secret police. Between 1973 and 1978, at least 100 people are believed to have been murdered at the site and their bodies destroyed.
. . .
Colonia Dignidad was founded in 1961 by Paul Schäfer, a former medic in the Nazi-era German army who fled Germany in 1959 after being charged with child abuse.
. . .
Schäfer – who died in a prison hospital in 2010 – was accused of running a cult-like community where he systematically abused young children. According to prosecutors, he also allowed Pinochet's agents to torture political prisoners in a maze of stonewalled tunnels beneath the enclave.
More:
https://www.theguardian.com/world/2018/may/02/chile-disappeared-excavations-colonia-dignidad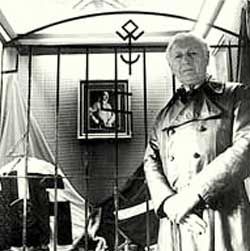 Paul Schäfer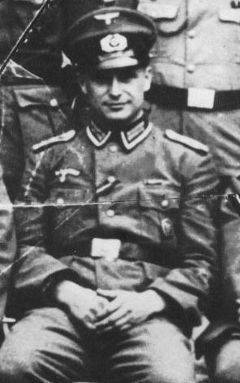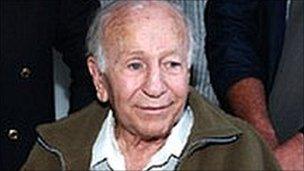 ~ ~ ~
Also, an American professor, hiking through the area near Colonia Dignidad suddenly seemed to disappear off the face of the earth. Information on that U.S. American posted at D.U. earlier:
Chile Halts Inquiry on American Who Disappeared 31 Years Ago
By PASCALE BONNEFOY
MARCH 10, 2016
https://www.democraticunderground.com/110848170
~ ~ ~
Earlier there were 2 colonies, both staffed and populated by German people who came to live in Paul Schäfer enclaves: Colonia Dignidad, and Colonia Bavaria. At some point, after Schäfer was taken away, they changed the name of Colonia Dignidad, probably because of the hideous history connected with the place during Pinochet's bloody dictatorship.
There were a lot of Nazis hiding in Chile, and I have ever belief the person you saw had to be one of them. So creepy!
Thank you for posting your experience. It's very interesting.
---
Response to ProudLib72 (Original post)
Fri Nov 30, 2018, 03:24 AM
BlueMTexpat (14,883 posts)
8. Of course, things have changed
in the meantime. Perhaps Argentina has had enough of dictators who violate human rights since then, although this is at most symbolic.
https://www.theguardian.com/world/2018/nov/28/argentina-prosecutor-takes-on-case-against-mohammed-bin-salman
The advocacy group Human Rights Watch presented a writ earlier this week, arguing that Argentinian authorities should invoke universal jurisdiction laws to seek prosecution of the prince for mass civilian casualties caused by the Saudi-led coalition's campaign in Yemen, and for the torture of Saudi citizens – including Jamal Khashoggi, who was killed in the Saudi consulate in Istanbul.

On Wednesday a source said that the court had accepted the writ, and a prosecutor had asked a judge to determine if either Saudi Arabia or Yemen are investigating the prince for possible crimes against humanity. If no cases have been opened in either country, HRW argues that the principle of universal jurisdiction could apply.

Before that could happen, however, the supreme court would have to rule whether Prince Mohammed is covered by diplomatic immunity – a decision which would be unlikely to come before the prince leaves the country after the G20 finishes on Saturday.

The centre-right government of Mauricio Macri has said it is not concerned by the legal manoeuvres. "We don't believe the Human Rights Watch writ will prosper," said a spokesperson for the foreign minister, Jorge Faurie, who greeted the prince at the airport Wednesday.


---
Response to ProudLib72 (Original post)
Fri Nov 30, 2018, 03:40 AM
yortsed snacilbuper (7,823 posts)
10. I'm watching 3rd reich:Evil Deception (trump has the same mannerisms)
3rd Reich: Evil Deception

67 min
2016

The Nazis were the most evil party in history. To accomplish their 3rd Reich they created a messiah in Adolf Hitler but also devised a machine that would manipulate the hearts and souls of millions.