Wed Oct 13, 2021, 12:05 PM
OnDoutside (19,438 posts)
The truly GREAT Paddy Moloney, The Chieftains founder, dies aged 83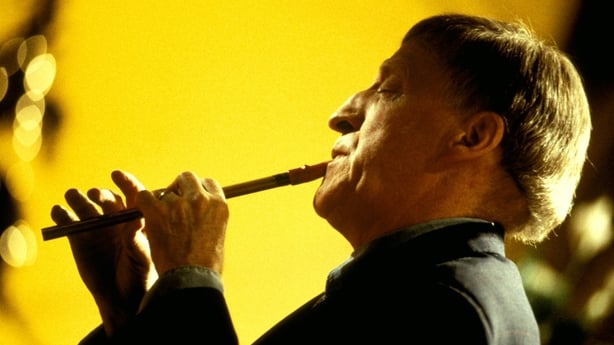 The death has been announced of the founder and leader of The Chieftains, Paddy Moloney.

President Michael D Higgins has led the tributes, saying he was at the forefront of the renaissance of interest in Irish music. From Donnycarney in north Dublin, he grew up in a musical family and began playing the tin whistle and then the uileann pipes, learning from the pipe master Leo Rowsome. He formed several groups with musicians in duets and trios, and in 1962 formed the band that would become The Chieftains Sean Potts and Michael Tubridy.

The Chieftains went on to become one of the best-known Irish traditional groups in the world, winning six Grammys as well as many other awards.

Mr Moloney and The Chieftains worked with a vast range of artists over their long career, making guest appearances with and contributing to albums by Ry Cooder, Marianne Faithful, Mick Jagger, Elvis Costello, and Sinead O'Connor. In 1987 they recorded the acclaimed 1987 album Irish Heartbeat album with Van Morrison.

Mr Moloney, who also played button accordion and bodhrán, was the main composer and arranger of The Chieftains' music and composed for films, including Treasure Island, The Grey Fox, Braveheart, Gangs of New York, and Stanley Kubrick's Barry Lyndon.

He was married to artist Rita O'Reilly and had three children, Aonghus Moloney, Padraig Moloney, and the actress and producer Aedin Moloney.
More at
https://www.rte.ie/entertainment/2021/1012/1253247-paddy-moloney-the-chieftains-founder-dies/
7 replies, 853 views
Replies to this discussion thread
| | | | |
| --- | --- | --- | --- |
| 7 replies | Author | Time | Post |
| The truly GREAT Paddy Moloney, The Chieftains founder, dies aged 83 (Original post) | OnDoutside | Oct 2021 | OP |
| | Thomas Hurt | Oct 2021 | #1 |
| | Hugh_Lebowski | Oct 2021 | #2 |
| | hlthe2b | Oct 2021 | #3 |
| | chowder66 | Oct 2021 | #4 |
| | yonder | Oct 2021 | #5 |
| | mactire | Oct 2021 | #6 |
| | Ilsa | Oct 2021 | #7 |
---
Response to OnDoutside (Original post)
Wed Oct 13, 2021, 12:12 PM
Thomas Hurt (13,163 posts)
1. One of the best concerts I went to was the Chieftains at the Denver Botanic Gardens
Fiends and I brought a picnic and enjoyed the music. Wonderful evening.

RIP
---
Response to OnDoutside (Original post)
Wed Oct 13, 2021, 12:18 PM
Hugh_Lebowski (28,431 posts)
2. Rest in Power, Paddy!
---
Response to OnDoutside (Original post)
Wed Oct 13, 2021, 12:50 PM
hlthe2b (93,318 posts)
3. Skies open up for an Irish man. RIP, Paddy.
I saw them at Cape Breton at the Celtic Colours International Irish Festival in 2013.
Pass gently, Paddy
---
Response to OnDoutside (Original post)
Wed Oct 13, 2021, 12:59 PM
chowder66 (7,349 posts)
4. Oh no! I feel lucky to have seen them live. Incredible night. nt
---
Response to OnDoutside (Original post)
Wed Oct 13, 2021, 01:55 PM
yonder (8,014 posts)
5. Peace to you Mr. Maloney.
Leo, Willy, Johnny and Felix, Seamus, Liam and all the rest now have a new voice to join them. Tune up, keep those reeds dry and play long into the wee hours boys.

Here's a fine 5-part jig, The King of the Pipers offered as a measure of respect.


---
Response to yonder (Reply #5)
Wed Oct 13, 2021, 02:14 PM
mactire (64 posts)
6. Paddy Maloney
Paddy Maloney was an international ambassador of good will through the music of The Chieftains and his engaging personality. Besides all the prolific artists in Ireland, they played with folks from all over the world and music traditions. It seems anybody who was anybody in music, from the biggest names in rock'n'roll to icons of different genres like Pavarotti, Ziggy Marley, Ry Cooder, Carolina Chocolate Drops, Tom Jones, Harlem Gospel Choir, Mike Oldfield, Los Lobos, Paul Simon, Sona Jobarten of Gambia West Africa, Chinese folk musicians at the Great Wall, Mexican mariachi bands, and unknown local players that were welcome to join it at a local pub or social clubs in Ireland, Japan, France, Korea, or anywhere fortunate to have them visit. Paddy Maloney made the world a bit more accessible to everybody.
---
Response to OnDoutside (Original post)
Wed Oct 13, 2021, 03:33 PM
Ilsa (60,052 posts)
7. So sad. His gifts will be missed.