Thu Apr 28, 2022, 08:44 PM
marmar (75,807 posts)
Lake Mead plummets to unprecedented low, exposing original 1971 water intake valve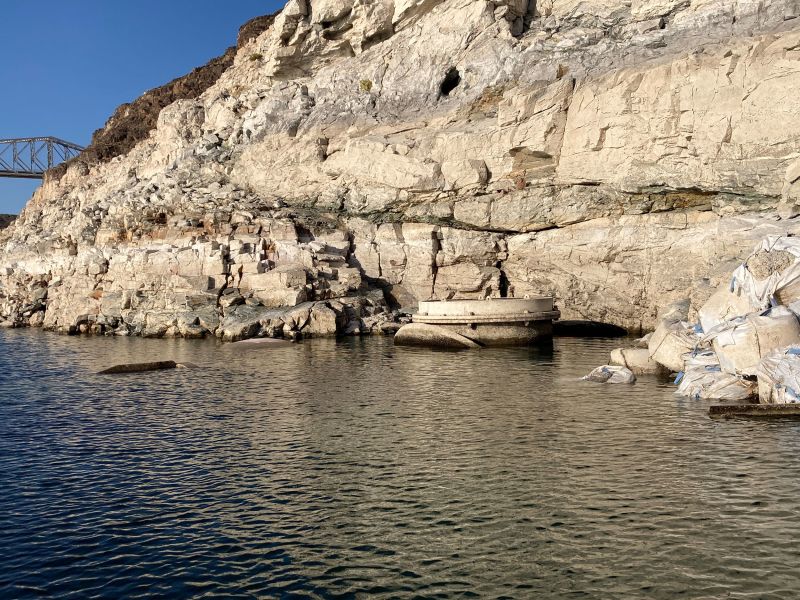 (
CNN
) The West is in the grips of a climate change-fueled megadrought, and Lake Mead – the largest manmade reservoir in the country and a source of water for millions of people – has fallen to an unprecedented low.
The lake's plummeting water level has exposed one of the reservoir's original water intake valves for the first time, officials say.
The valve had been in service since 1971 but can no longer draw water, according to the Southern Nevada Water Authority, which is responsible for managing water resources for 2.2 million people in Southern Nevada, including Las Vegas.
Across the West, extreme drought is already taking a toll this year and summertime heat hasn't even arrived yet. Drought conditions worsened in the Southwest over the past week, the US Drought Monitor reported Thursday. Extreme and exceptional drought, the two worst designations, expanded across New Mexico, Arizona and Colorado – all states that are part of the Colorado River basin. ..............(more)
https://www.cnn.com/2022/04/27/us/water-intake-exposed-lake-mead-drought-climate/index.html
9 replies, 1184 views
Replies to this discussion thread
| | | | |
| --- | --- | --- | --- |
| 9 replies | Author | Time | Post |
| Lake Mead plummets to unprecedented low, exposing original 1971 water intake valve (Original post) | marmar | Apr 2022 | OP |
| | roamer65 | Apr 2022 | #1 |
| | hatrack | Apr 2022 | #3 |
| | Demovictory9 | Apr 2022 | #2 |
| | bahboo | Apr 2022 | #4 |
| | Raine | Apr 2022 | #5 |
| | dalton99a | Apr 2022 | #6 |
| | MissB | Apr 2022 | #7 |
| | tenderfoot | Apr 2022 | #8 |
| | Lancero | Apr 2022 | #9 |
---
Response to marmar (Original post)
Thu Apr 28, 2022, 09:09 PM
roamer65 (35,062 posts)
1. How far from dead pool now?
This summer is going to be hell in the American West.
---
Response to roamer65 (Reply #1)
Thu Apr 28, 2022, 09:19 PM
hatrack (57,742 posts)
3. Let's see . . . dead pool for Mead is 895 fasl
Reported elevations for full storage capacity ("full pool" ) of Lake Mead can vary. The U.S. Bureau of Reclamation (BOR) reports a high water line of 1,229.0 feet but defines an elevation of 1,221.4 (the elevation of the top of the spillway crest at Hoover Dam) as maximum lake storage capacity and 1,219.6 feet elevation as "operationally full." The 1229.0 elevation refers to the top of "exclusive flood control."
The minimum elevation to generate power at Hoover Dam is reported by BOR to be 1,050 feet, below which the reservoir is considered an "inactive pool." Water above 1,050 feet elevation is considered "live storage" and a "dead pool" exists at 895 feet in elevation, which is the lowest water outlet at Hoover Dam.
EDIT
https://www.nps.gov/lake/learn/nature/storage-capacity-of-lake-mead.htm
And it's currently 1055.72, so a ways to go yet - but then, it's currently at 31.3% of capacity, so we'll see what summer brings.
http://lakemead.water-data.com/
---
Response to marmar (Original post)
Thu Apr 28, 2022, 09:11 PM
Demovictory9 (29,950 posts)
2. scary
---
Response to marmar (Original post)
Thu Apr 28, 2022, 09:21 PM
bahboo (15,567 posts)
4. those chickens might be coming home to roost this summer...
gonna be very interesting....already dealing with water rationing here in SoCal...
---
Response to marmar (Original post)
Thu Apr 28, 2022, 09:48 PM
Raine (29,696 posts)
5. In the not so distant future wars will be fought over water
---
Response to marmar (Original post)
Thu Apr 28, 2022, 10:04 PM
dalton99a (75,643 posts)
6. Las Vegas turns on low-level Lake Mead pumps designed to avoid a 'Day Zero'
https://thenevadaindependent.com/article/las-vegas-turns-on-low-level-lake-mead-pumps-designed-to-avoid-a-day-zero
Las Vegas turns on low-level Lake Mead pumps designed to avoid a 'Day Zero'
Daniel Rothberg
April 27th, 2022 at 2:00 AM
The country's largest man-made reservoir, Lake Mead, has dropped to such a historically low level that Las Vegas water officials have completed the process of turning on a pump station that will allow Southern Nevada to retrieve water, even under extreme conditions.
The move — to turn on the pump station full bore — is an indication of how low Lake Mead has fallen over the past decade and serves as a bulwark against the possibility of Las Vegas losing physical access to its water as regional issues on the Colorado River become increasingly dire.
Without Las Vegas' roughly $1.5 billion Lake Mead infrastructure in place, some water experts say the seven U.S. states that rely on the Colorado River would be facing even harder choices and an even more nerve-wracking situation than the shortage crisis that is playing out.
Lake Mead is about 30 percent full, and the amount of water stored at the reservoir has ticked down over the last month. As of Tuesday, Lake Mead's elevation sat at about 1,056 feet above sea level, roughly 163 feet below the reservoir's maximum capacity.
...
---
Response to marmar (Original post)
Thu Apr 28, 2022, 10:18 PM
MissB (15,591 posts)
7. Our city keeps over 50 water fountains free flowing
from 6 am to 11 pm. You don't have to turn them on, they just flow free.

We have water, and plenty of it. It currently flows by gravity into town.

Much of our state will be in a drought status this year. Not our city, though.

I'm staying put.
---
Response to marmar (Original post)
Thu Apr 28, 2022, 10:48 PM
tenderfoot (8,159 posts)
8. Why hasn't some tech god found a way to make it rain?
If that's a silly/ridiculous question - I apologize.
---
Response to tenderfoot (Reply #8)
Thu Apr 28, 2022, 11:21 PM
Lancero (2,862 posts)
9. Cloud seeding has been a thing since the late 40's. Not very useful for low humidity areas though.
The water has to come from somewhere. All the seeding does is make it easier for clouds to form in humid areas. It's most often used by ski resorts when they need the extra snow. Airports use it to neutralize fog, though I'm not sure how common this is anymore.