Sun Nov 10, 2013, 06:01 PM
Omaha Steve (79,644 posts)
Workers Battle With Grocery Chains Over Obamacare Implementation
http://inthesetimes.com/working/entry/15819/big_grocery_chains_on_the_offense_in_obamacare_battles_against_ufcw/
Wednesday Nov 6, 2013 4:15 pm
By Bruce Vail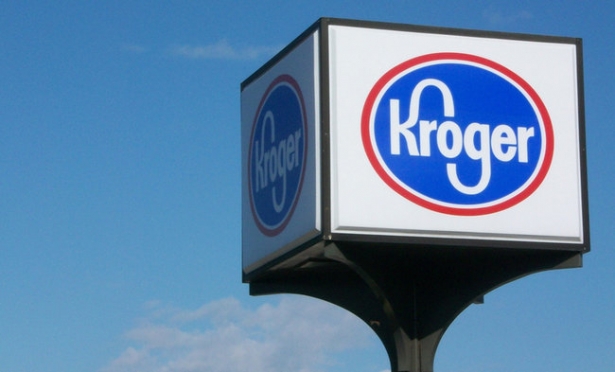 UFCW Local 21, UFCW Local 367 and Teamsters 38 bargained with representatives from major supermarkets, including Kroger, to keep their health benefits. (mcsquishee / Flickr / Creative Commons)
Unions representing about 30,000 grocery workers in the Puget Sound region claimed a victory last week in a labor contract fight that centered on the implementation of Obamacare in the area's biggest supermarket chains.
Western Washington state locals of the United Food & Commercial Workers (UFCW) and the Teamsters have been bargaining for months with representatives from Kroger, Safeway and Albertsons, all among the largest supermarket chains in the country. In addition to the elimination of health insurance coverage for 8,000 part-time workers, the initial demands from the grocery retailers included extended wage freezes and selective elimination of overtime pay, according to Seattle-based UFCW Local 21. The workers were within hours of beginning a strike before a last-minute deal was reached on October 21.
"I started working in the grocery business over 40 years ago. The proposals we saw this time from employers were some of the worst I've ever seen. They tried to turn us into Wal-Mart. They did not succeed," commented Local 21 President Dave Schmitz in a formal statement issued at the end of the ratification vote October 25.
Though union representatives like Schmitz are declaring the deal a victory, in reality, the ratification is only a partial success for workers. In Seattle, part-timers were not cut from insurance eligibility, as Kroger and the other chains had demanded, and no new healthcare costs were imposed, says spokesman Tom Geiger. But contract gains on wages were "modest," Local 21 says, and other negotiating achievements were limited to beating back demands for sweeping concessions. For their part, the grocers maintained that the deal preserved "good wages, secure pensions and access to quality, affordable healthcare for [their] employees."
FULL story at link.
0 replies, 548 views