Wed Dec 18, 2013, 08:48 PM
marmar (73,210 posts)
A Hesitant Landslide: The Return of Chile's Bachelet
from
Dissent
magazine:
A Hesitant Landslide: The Return of Chile's Bachelet
By Diego Salvatierra - December 18, 2013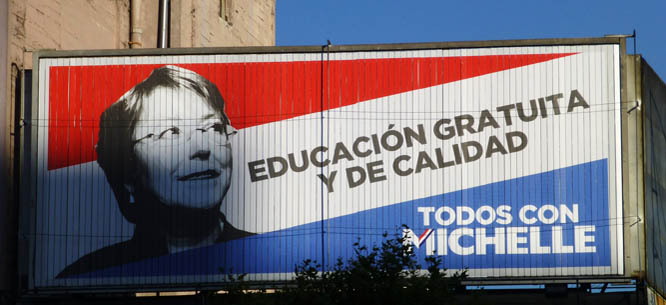 Former Chilean president Michelle Bachelet's return to power with 62 percent of the vote on Sunday was the chronicle of a victory foretold. She had left office in 2010 (Chile's constitution bars consecutive re-election) with 80 percent approval ratings. Her new program embraces popular reforms put forward by the student protesters of the last few years, including free higher education, higher taxes on big companies, and a new constitution to replace the one enacted during the dictatorship of Augusto Pinochet. She led every poll, and her campaign ads made her victory seem inevitable.
Yet her December 15 landslide election returns—she won by twenty-five points, the widest margin of victory since Chile's return to democracy—are somewhat misleading. In the first-round vote on November 17, 54 percent of voters chose someone other than Bachelet, forcing Sunday's runoff vote between her and conservative runner-up Evelyn Matthei. Only four in ten Chileans bothered to show up to the runoff, fewer than in any presidential election since 1970. This was a hesitant landslide.
The quiet at the polls paradoxically follows the most significant political awakening since the 1988 plebiscite that ousted Pinochet. The 2011–12 student protests, which rallied hundreds of thousands to the streets, had cast into doubt the party-dominated politics and market-friendly consensus that characterized Chile in the two decades between Pinochet and Bachelet's first administration. At one point in 2011, 80 percent of Chileans supported the students, while conservative President Sebastián Piñera's approval ratings were in the mid-20s.
This unrest baffled many foreign observers: the protesters represented the most prosperous generation in Chilean history, most of them first-generation college students, living in a country with low unemployment and high growth rates. But although my post-Pinochet generation had eagerly marched through downtown Santiago, singing songs and wearing Guy Fawkes masks, it did not march to the voting booths. Save for four student leaders elected to Congress, the romance and idealism of the protests were not represented in electoral politics. .......................(more)
The complete piece is at:
http://www.dissentmagazine.org/blog/a-hesitant-landslide-the-return-of-chiles-bachelet
1 replies, 443 views
Replies to this discussion thread
| | | | |
| --- | --- | --- | --- |
| 1 replies | Author | Time | Post |
| A Hesitant Landslide: The Return of Chile's Bachelet (Original post) | marmar | Dec 2013 | OP |
| | Peace Patriot | Dec 2013 | #1 |
---
Response to marmar (Original post)
Thu Dec 19, 2013, 02:15 AM
Peace Patriot (24,010 posts)
1. "the most prosperous generation in Chilean history"--don't worry, fascists...
There are ways to destroy an educated, prosperous middle class--a population that has time and leisure to THINK and to engage in civic activity, a population that has high democratic ideals, that educates all children, that advocates for social and economic justice, that demands that the wealthy pay their proper share to create a good society, that overwhelmingly supports protection of the environment, that opposes unjust war and that demands ethical leadership, open government and a strong public "commons."

Such a population, with its active, concerned student class, CAN be destroyed. Consider the United States.

Here's the corpo-fascist program, as it happened, here:

Fight free college education tooth and nail. If there are "fees" at public universities already, fight to raise them--and add tuition and more "fees"; then get the banksters into it, with loans to pay the "fees" and the tuition, and inflated high costs of housing, food, books, medical care, etc., so that students have no time IN college for civic activity--they're working 2, 3 jobs to stay there--and emerge from college with huge debts to pay off and, again, no time for civic activity. Careers, careers, careers; money, money, money--that's all they get to think about.

This is what was done to higher education between the 1960s and today, in the USA: it was free to all, then; now it bankrupts the middle class, and, as for the poor, they don't exist.

Deregulate the saving & loan institutions to destroy small savers--for instance, parents saving up for their kids' college education.

Bust the unions--the agents of upward mobility.

Outsource all the good jobs, so people have to work 3 shit-pay jobs just to feed their families and have no time for civic engagement.

Start a war, to vacuum up the dropouts and foster militarization of society, and get people used to torture, killing and being "cannon fodder"--and having no rights.

Destroy any socialized medicine program that exists, through skyrocketing medical costs (including skyrocket costs of a medical education), to further destroy the middle class.

Put millions of poor people in jail, for long terms, on non-violent crimes like drug possession, petty theft and prostitution, in order to foster a permanent underclass and as a "lesson" to all that we have no rights. Guilty, innocent, it doesn't matter. Give them shit lawyers, if any. Unjust laws--ha, ha, ha. Foster rape in jail as a further "lesson" and threat. Feed them shit food. Ignore their medical needs. Subject them to every kind of dehumanization. And--best of all--round 'em up in black areas and ship them to white rural counties, to remove poor voters from the voting rolls and add these "warm bodies" with no right to vote TO the population numbers in the white rural areas, for government boondoggle purposes and filling Congress with assholes.

Make the middle class despair. Make the poor desperate. Assault the very mechanism of upward mobility--education. Encourage stupidity and low behavior and violence. Revile our once-revered teachers and scientists. Oh, the "program" has been laid out for all corpo-fascists, and it has been quite successful at destroying the USA. That's the key to it--destroy prosperity then there won't be any bothersome citizens to march, to protest, to vote, to influence, to demand FAIRNESS for all.