Sun Dec 25, 2016, 01:45 PM
bigtree (79,164 posts)
A Story for the Season
...squirrel post made me want to repost this one of mine from 2011.
I work at a grocery store. I've got a night gig right now, but I worked most of my career in the produce department. We see thousands of shoppers over the years and get to know a few of them pretty well; others, not so much. Most of us try and engage these fine folks in conversation, or provide an ear for those who need to vent. You can learn a lot listening to some, and, if you're fortunate, you can be their harbor for the short time they happen to visit. Some come through only once in a while, while others come every day or every week, like clockwork.

It's not hard to miss them sometimes as we're working to stock the store. Yet, I've always said that it's a shame that some of these folks (usually older individuals) can go from one end of the store to the other without anyone saying so much as hello. The biggest insult can come at checkout time when the cashier offers up the total owed and not much more.

So, most of us take the time, and even go out of our way if needed to stop and engage these folks in conversation. You find that usually the gruffer they are on the outside, the kinder they are on the inside. A lot of these folks struggle with pain or personal tragedy and carry their discomfort with them as the attempt to navigate our store. It's a classic mistake to believe you can correctly judge these folks by their outward appearance; even by their dialogue or their responses. Most people are multidimensional with significant and detailed life experiences. It really pays to dig beneath the surface and discover the richness (or the tragedies) of their worlds for the first time.

Of course, such intimacy is a rarity. Most folks aren't willing to bare their lives for the benefit and edification of a retail clerk; but, it's usually worthwhile to make the attempt. That said, many, many folks who pass us by each day never reveal the complexity of their lives. It sometimes takes a tragedy to discover the truth.

'Brownie' was a man of about 70 years old or so who came to our produce department several times a week. Our group of produce clowns had nicknamed the gentleman, Brownie, because of the stains he bore on the seat of his worn trousers. It was a pet name they used among themselves as a cruel sort of a joke.

It took about a year or so for someone to ask his name. 'Norman,' he had replied with a smile, in his brief, but friendly manner.

Norman's visits to our produce department were mainly about one thing: to get two extra large sized bags of peanuts. He's stand for hours at the little peanut bin and pick the nuts, one by one, until he'd completely filled the two jumbo plastic bags. One after another, Norman would examine each shell and throw them into the bag.

'That guy sure likes his peanuts,' the crew members would say. Seeing Norman pick through that bin always compelled me to keep plenty of fresh nuts on hand, and to empty the spent shells out so he'd have an easier task when he came looking to pick and buy more nuts. He appreciated the effort. We appreciated him.

One day, we spotted Norman standing in the middle of our department with a basket on his arm, looking lost and confused. 'What's wrong with Norman?' we asked each other. We watched him turn around a few times in the same spot before going up to him and asking him what the problem was.

Norman couldn't speak; he could only make grunting noises in response to our questions. We asked him if he thought he might have had a seizure or stroke. That animated him -- he nodded his head, yes, several times.

Poor guy . . . 'Can we help you?' we asked.

He shook is head, aggressively. 'No,' he was mouthing, with only gurgling noises in place of his marvelously brief answers he had always afforded us, asked if he needed our help and he waved us away...

We watched him walk around the store awhile, watched as he bought a few things, then, gathered by the front window to watch him get into his beat-up, ancient Oldsmobile and sit there for what seemed like an eternity before he finally drove away.

You ask yourself after an incident like that, what else should you have done to help, but you're faced with the reality that you can't be their guardian and self-appointed protector just by virtue of your association with these folks who come into the store. I like to think that I could have done more... I really don't know.

Norman's sister came into the store a week or so later, and, when we inquired about her brother, were informed that he had died of further complications from the stroke we had guessed he had suffered.

Norman lived a few blocks from the store, so, Mark (the produce mgr.) and I went to his house to see when the funeral was. The both of us had decided we'd attend. Norman lived with his brother on the lower floor of a large, old house. His brother told us that Norman hadn't been upstairs for years and years and offered to let us go down to his room to see how he lived.

Norman's downstairs apartment was sparsely lit; but even darker because of the soot that covered the walls from the propane heater that he insisted on using, despite that the home was centrally heated and available throughout. Perhaps, the only thing that had saved him from suffocating himself was the presence of a splintered hole in his door, the size of a fist, open to the cold outside.

Looking around the one room that made up the entirety of Norman's residence I noticed there was a easy chair in font of a small black-and-white television; there was another straight-backed chair which held his jacket and a few other articles of clothing; and there was a table which was filled with pictures of all of Norman's past pets -- each with an inscription with their name and a date. In the middle of all of the pictures was one of Norman, himself, all suited up in WW2 military gear with a rifle and a menacing look. 'Bad-ass, Brownie,' we both immediately coined it.

There was only one other thing in the room, and that gave us the insight that we were, perhaps, looking for in our visit. The floor around Norman's easy chair was littered with peanut shells stretching from his recliner to the door with the hole to the outside. God, that was it. Norman bought the peanuts to feed the squirrels around his home. They would, apparently, come right into the house through the hole in the door -- right up to Norman's easy chair-- where he'd hand-fed them his treasured legumes that he'd carefully hand-picked from our produce department every week. What would become of his little friends, now that he'd gone?

You think you can really know someone through a loose and casual association with them. You can't. Norman's brother didn't even know how he'd been living, right downstairs from him, all of those years.

They had a funeral service for Norman at a little church right down the street from where he had lived. At the church service, they put the picture of 'Badass Brownie' front and center on a little table surrounded by flowers. He had been such a polar opposite from that WW2 image.

They buried Norman out back of the church in a small graveyard. The minister said his few words as they lowered the casket into the ground. Mark and I stayed back at the grave-site while the rest of the family and friends went back into the church or departed. We looked around us on that crisp, fall afternoon -- reflecting on our experience with this departed customer of ours -- and we both saw the same thing and laughed. The graveyard was surrounded by tall, ancient oak trees and the ground was littered with leaves and acorns.

Scampering back and forth, between the uneven rows of tombstones, were Norman's squirrels. He'd not left them, after all.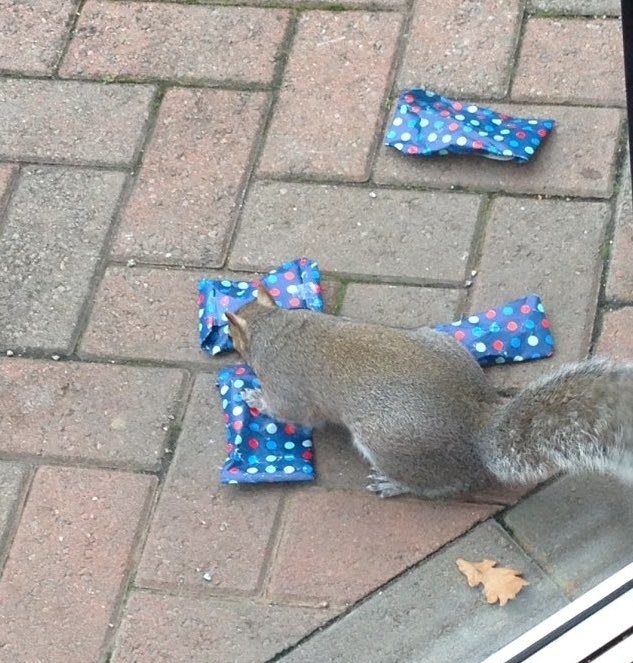 Merry Christmas, Squirrels!
http://www.democraticunderground.com/10028399586
4 replies, 1561 views
Replies to this discussion thread
| | | | |
| --- | --- | --- | --- |
| 4 replies | Author | Time | Post |
| A Story for the Season (Original post) | bigtree | Dec 2016 | OP |
| | Sherman A1 | Dec 2016 | #1 |
| | Jim Beard | Dec 2016 | #2 |
| | DawgHouse | Dec 2016 | #3 |
| | bigtree | Dec 2016 | #4 |
---
Response to bigtree (Original post)
Sun Dec 25, 2016, 02:17 PM
Sherman A1 (33,710 posts)
1. K&R
a good story! Thanks for sharing this one.
---
---
Response to bigtree (Original post)
Sun Dec 25, 2016, 05:28 PM
DawgHouse (4,019 posts)
3. RIP Norman
---
Response to bigtree (Original post)
Sun Dec 25, 2016, 10:19 PM
bigtree (79,164 posts)
4. kick