Sun Dec 7, 2014, 10:22 AM
Omaha Steve (80,598 posts)
Pearl Harbor survivors reunite in Hawaii to mark 73rd anniversary of attack
Source:
Faux News
More than a dozen Pearl Harbor survivors, each more than 90 years old, gathered in Hawaii this week to share stories as they marked the 73rd anniversary of the Japanese attack that killed 2,400 sailors, Marines and soldiers.
The gathering has been called the last meeting for the USS Arizona Reunion Association Ė comprised of the remaining nine survivors of the USS Arizona, a battleship that sank in the Dec. 7, 1941, attack.
But Louis Conter isnít ready to talk about the end.
"I don't think this is going to be our last. ... We've still got time to go," said Conter, 93, of Grass Valley, Calif. "We'll be back out here no matter whether the rest of the crowd can make it or not."
FULL story at link.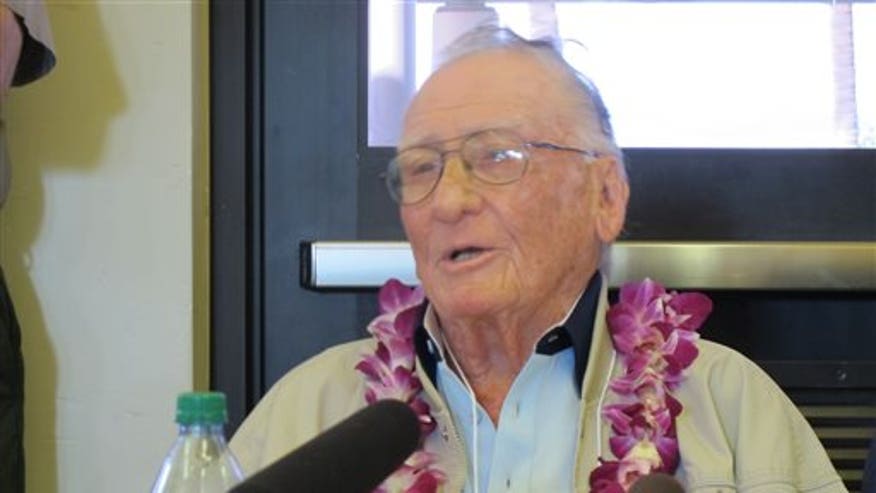 USS Arizona survivor Donald Stratton, 92, of Colorado Springs, Colorado, speaks at a news conference in Pearl Harbor, Hawaii on Tuesday, Dec. 2, 2014. Four of the remaining nine USS Arizona survivors of the Pearl Harbor attack are vowing this year's anniversary won't be their last reunion. (AP Photo/Jennifer Sinco Kelleher)
Read more:
http://www.foxnews.com/us/2014/12/07/pearl-harbor-survivors-reunite-in-hawaii-to-mark-73rd-anniversary-attack/
9 replies, 2301 views
Replies to this discussion thread
| | | | |
| --- | --- | --- | --- |
| 9 replies | Author | Time | Post |
| Pearl Harbor survivors reunite in Hawaii to mark 73rd anniversary of attack (Original post) | Omaha Steve | Dec 2014 | OP |
| | Cooley Hurd | Dec 2014 | #1 |
| | independentpiney | Dec 2014 | #2 |
| | another_liberal | Dec 2014 | #3 |
| | jwirr | Dec 2014 | #7 |
| | brewens | Dec 2014 | #4 |
| | GGJohn | Dec 2014 | #5 |
| | loudsue | Dec 2014 | #6 |
| | CountAllVotes | Dec 2014 | #9 |
| | ffr | Dec 2014 | #8 |
---
Response to Omaha Steve (Original post)
Sun Dec 7, 2014, 10:36 AM
Cooley Hurd (26,877 posts)
1. A good friend of mine (since passed) was on USS Helena @ 1010 Dock
He was in his rack sleeping when a torpedo smashed into the side of her. He went flying to the floor, got up and ran topside. He told me he thought all hell had broken loose. The Helena survived the attack, but the ship moored outboard of her, the USS Oglala, while not directly hit by the same torpedo, was damaged by the blast and rolled onto her side. He was one of the sailors who helped pull others from the capsized hulk...
---
Response to Omaha Steve (Original post)
Sun Dec 7, 2014, 10:45 AM
independentpiney (1,510 posts)
2. My uncle was on the USS Phoenix on December 7, 1941
Far too ill with Alzheimers to make the reunion this year. He was waiting on deck for a tender to go ashore when as he put it "the planes with meatballs " flew overhead. The Phoenix had an interesting history; she transported Cordell Hull to Yalta,and lost only one man the entire war, to a Kamikaze in the Phillipines. After the war she was sold to Argentina where she was sunk in the Falklands war.
---
Response to Omaha Steve (Original post)
Sun Dec 7, 2014, 10:51 AM
another_liberal (8,821 posts)
3. Eric Sevareid commented on the 25'th anniversary of the Pearl Harbor attack in 1966 . . .
He was Walter Cronkite's co-anchor at CBS news then. I was just a young kid, but I remember him saying how it seemed inconceivable that a quarter century had already passed since that awful day. That really struck me. The Pearl Harbor attack was just like ancient history to me, but to him it still seemed to have happened yesterday. I wonder if it is still like that for the few survivors who remain?
---
Response to another_liberal (Reply #3)
Sun Dec 7, 2014, 12:38 PM
jwirr (39,215 posts)
7. I think it will be like that for our children regarding 9/11.
---
Response to Omaha Steve (Original post)
Sun Dec 7, 2014, 11:15 AM
brewens (10,041 posts)
4. I'm not sure if Arizona survivor Floyd Johnson is still with us. He was a member of our local
Eagles Lodge for years. I quit there about eight years ago. Before that, I saw him all the time.

Ol' Floyd was out on the town the night before the attack and had several too many old fashionds! He passed out and woke up in the infirmary, where he was when the attack began. Now there's a guy you'd never convince drinking was bad for him! He may not have started out handling his alcohol well, but all the times I was around him, he was a pretty steady drinker.
---
Response to brewens (Reply #4)
Sun Dec 7, 2014, 11:26 AM
GGJohn (9,951 posts)
5. It seems getting drunk that night saved his life the next morning.
My late father, god rest his soul, was stationed at Hickam Field when the Japanese fighters and bombers struck, he survived to later fly missions over Germany escorting bombers, he rarely talked about his WWII experience.
---
Response to Omaha Steve (Original post)
Sun Dec 7, 2014, 11:36 AM
loudsue (14,087 posts)
6. My dad wasn't at Pearl Harbor, but fought in the 2nd WW
He died in '97 of cancer. I still miss him.
---
Response to loudsue (Reply #6)
Sun Dec 7, 2014, 01:38 PM
CountAllVotes (19,515 posts)
9. My Dad died in 1997 too
He was in the Marine Corps during WWII in the South Pacific fighting the Japanese.
He died thinking he was in Guadalcanal. My god that was a horrible time in my life.
I sure miss my "Dear Old (((Dad))".
He was indeed a member of the "Greatest Generation".
(((Dad)) wherever you may be.
---
Response to Omaha Steve (Original post)
Sun Dec 7, 2014, 01:05 PM
ffr (20,338 posts)
8. The link is denied.
Actually all of the Newscorp sites are blocked at my router. I'll have to read the story elsewhere. Like here:
Pearl Harbor survivors gathered in Hawaii vow to reunite again
Four of the remaining nine USS Arizona survivors of the Pearl Harbor attack are vowing this year's anniversary won't be their last reunion... -
LATIMES.com