Fri Nov 27, 2015, 01:49 PM
Demeter (85,373 posts)
Hunting for DNA in Doggerland, an Ancient Land Beneath the North Sea
http://www.wired.com/2015/11/hunting-for-dna-in-doggerland-an-ancient-land-beneath-the-north-sea/
...Archaeologists began looking at remote sensing data that these companies had gathered while seeking oil and gas. They had a 3D seismic dataset that shows distinct layers. "Imagine just cutting a nice big cake," Gaffney says. "You can see the layers of sponge and cream—and of course on the bottom there's oil in there somewhere." The energy companies only care about the very bottom of the cake, but Gaffney and his colleagues focused on a layer closer to the frosting. Based on studies that had dated the sediment, they knew that between 30 and 50 meters under the sea floor lay the former surface of Doggerland.
Tracing this layer of sediment, the team mapped about 17,000 square miles of the drowned and buried country—an area, Gaffney says, "slightly larger than Holland." In its topography they've found hills, coastlines, lakes and rivers. "But it's a map without people at the moment, or animals or plants," Gaffney says. That's where the project's next phase comes in.
The European Research Council recently awarded a team led by Gaffney a €2.5 million grant—about $2.6 million. Soon the scientists will head to sea. But they plan to do a lot more than just make maps. They'll follow two of the country's sunken river beds, taking core samples in search of pollen, fossils, insect remains, and other signs of life.
They'll also hunt for ancient DNA. This technique is still new and somewhat controversial. In a paper in the journal Science last February, members of the same team described DNA they'd dug up at Bouldnor Cliff, a submerged site off the Isle of Wight. They found evidence of wheat from 8,000 years ago—about 2,000 years before farming arrived in mainland Britain. Other researchers argued that the wheat DNA must have been modern contamination. In the Doggerland samples, the team will look for DNA from crops or even domestic animals like sheep and goats. Gaffney says the findings might help identify the best spots to search for human archaeology—evidence of cleared areas, burning, or environments that would have made ideal settlements.
The samples will cover about 5,000 years of Doggerland's history, from around 10,000 BC until the sea swallowed it...
10 replies, 6256 views
Replies to this discussion thread
| | | | |
| --- | --- | --- | --- |
| 10 replies | Author | Time | Post |
| Hunting for DNA in Doggerland, an Ancient Land Beneath the North Sea (Original post) | Demeter | Nov 2015 | OP |
| | niyad | Nov 2015 | #1 |
| | Ghost Dog | Nov 2015 | #2 |
| | Ichingcarpenter | Nov 2015 | #3 |
| | Ghost Dog | Nov 2015 | #4 |
| | Ichingcarpenter | Nov 2015 | #5 |
| | Ghost Dog | Nov 2015 | #6 |
| | Ichingcarpenter | Nov 2015 | #7 |
| | Ichingcarpenter | Nov 2015 | #8 |
| | Judi Lynn | Nov 2015 | #9 |
| | KoKo | Nov 2015 | #10 |
---
Response to Demeter (Original post)
Fri Nov 27, 2015, 01:54 PM
niyad (94,271 posts)
1. k and r
---
---
Response to Ghost Dog (Reply #2)
Sun Nov 29, 2015, 05:04 AM
Ichingcarpenter (36,988 posts)
3. What's interesting with this timeline map is recent findings
The Ness of Brodgar archaeological site in the Orkney Islands is almost a thousand years older than Stonehenge and the center for Neolithic Britain and shares some of the same cultural artifacts found there.
Now if we look at your map you can see that these islands in Northern Scotland were once mountain regions of early Doggerland that was first area destroyed by the first stage of the flooding in the timeline. In fact the earliest record of Neolithic Britain are all almost found in Scotland with some exceptions.
If you notice in your map the largest major river system in Doggerland is east of the Orkney's which would be a desirable place for human settlement.
Suggesting that the Orkney mountains is where they fled to during the flood.
And this is the location of after flood settlements and Ness of Brodgar plus
The Ring of Brodgar which The site has resisted attempts at scientific dating and the monument's age remains uncertain.
Ring of Brodgar much older than Stonehenge
About the ring
https://en.wikipedia.org/wiki/Ring_of_Brodgar
The Ness of Brodgar reconstruction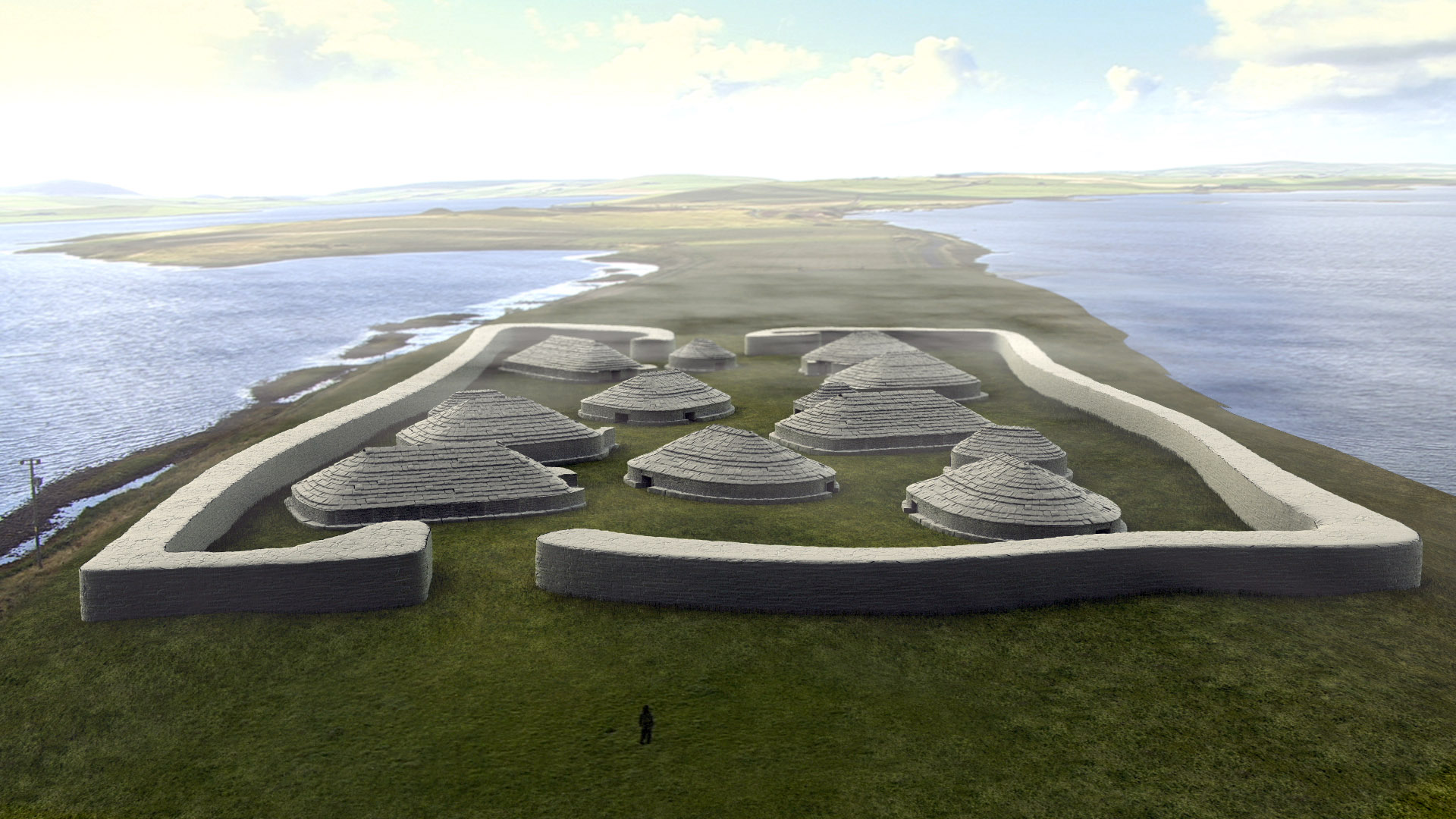 The site today
wikipedia
https://en.wikipedia.org/wiki/Ness_of_Brodgar
Also here
http://www.dailymail.co.uk/sciencetech/article-2081254/Stone-Age-temple-Orkney-significant-Stonehenge.html
I think that a underwater study of that flooded river system would be interesting.
---
Response to Ichingcarpenter (Reply #3)
Sun Nov 29, 2015, 11:42 AM
Ghost Dog (16,881 posts)
4. Desirable land, yes, and with an early
human population with an astronomically numerate culture, as you point out...

Of interest, indeed.
---
Response to Ghost Dog (Reply #4)
Sun Nov 29, 2015, 11:54 AM
Ichingcarpenter (36,988 posts)
5. Notice the majority of Megalithic Sites are on the east coast
the bright orange areas on the map have numerous sites
Notice no sites where that ice sheet was in Scotland.
Look how Scotland fares
You can explore the map and the sites here they break down each grid into sites in the area
http://www.megalithic.co.uk/asb_mapsquare.php
---
---
Response to Ghost Dog (Reply #6)
Sun Nov 29, 2015, 12:10 PM
Ichingcarpenter (36,988 posts)
7. Catastrophic Giant flood myths from ancient times and cultures
Europe
Greek, Arcadian, Samothrace
Roman
Scandinavian, German
Celtic, Welsh
Lithuanian, Transylvanian Gypsy
Turkey
Near East
Sumerian
Egypt, Babylonian, Assyrian, Chaldean, Hebrew, Islamic
Persian, Zoroastrian
Africa
Cameroon
Masai (East Africa), Komililo Nandi, Kwaya (Lake Victoria)
Southwest Tanzania, Pygmy, Ababua (northern Zaire), Kikuyu (Kenya), Bakongo (west Zaire), Bachokwe? (southern Zaire), Lower Congo, Basonge, Bena-Lulua (Congo River, southeast Zaire)
Yoruba (southwest Nigeria), Efik-Ibibio (Nigeria), Ekoi (Nigeria)
Mandingo (Ivory Coast)
Asia
Vogul
Samoyed (north Siberia)
Yenisey-Ostyak (north central Siberia), Kamchadale (northeast Siberia)
Altaic (central Asia), Tuvinian (Soyot) (north of Mongolia)
Mongolia, Buryat (eastern Siberia)
Sagaiye (eastern Siberia)
Russian
Hindu, Bhil (central India), Kamar (Raipur District, Central India), Assam
Tamil (southern India)
Lepcha (Sikkim), Tibet, Singpho (Assam), Lushai (Assam), Lisu (northwest Yunnan, China), Lolo (southwestern China), Jino (southern Yunnan, China), Karen (Burma), Chingpaw (Upper Burma)
China
Korea
Munda (north-central India), Santal (Bengal), Ho (southwestern Bengal)
Bahnar (Cochin China), Kammu (northern Thailand)
Andaman Islands (Bay of Bengal)
Zhuang (China), Sui (southern Guizhou, China), Shan (Burma)
Tsuwo (Formosa interior), Bunun (Formosa interior), Ami (eastern Taiwan)
Benua-Jakun (Malay Peninsula), Kelantan (Malay Peninsula), Ifugao (Philippines), Kiangan Ifugao, Atá (Philippines), Mandaya (Philippines), Tinguian (Luzon, Philippines)
Batak (Sumatra), Nias (an island west of Sumatra), Engano (another island west of Sumatra), Dusun (British North Borneo), Dyak (Borneo), Ot-Danom (Dutch Borneo), Toradja (central Celebes), Alfoor (between Celebes and New Guinea), Rotti (southwest of Timor), Nage (Flores)
Australia
Arnhem Land (northern Northern Territory)
Maung (Goulburn Islands, Arnhem Land), Gunwinggu (northern Arnhem Land)
Gumaidj (Arnhem Land)
Manger (Arnhem Land)
Fitzroy River area (Western Australia)
Australian, Mount Elliot (coastal Queensland), Western Australia, Andingari (South Australia), Wiranggu (South Australia), Narrinyeri (South Australia), Victoria, Lake Tyres (Victoria), Kurnai (Gippsland, Victoria), southeast Australian
Maori (New Zealand)
Pacific Islands
Kabadi (New Guinea), Valman (northern New Guinea), Mamberao River (Irian Jaya), Samo-Kubo (western Papua New Guinea), Papua New Guinea
Palau Islands (Micronesia), western Carolines
New Hebrides, Lifou (one of the Loyalty Islands), Fiji
Samoa, Nanumanga (Tuvalu, South Pacific), Mangaia (Cook Islands), Rakaanga (Cook Islands), Raiatea (Leeward Group, French Polynesia), Tahiti, Hawaii
North America
Innuit, Eskimo (Orowignarak, Alaska), Norton Sound Eskimo, Central Eskimo, Tchiglit Eskimo (Arctic Ocean), Herschel Island Eskimo, Netsilik Eskimo, Greenlander
Tlingit (southern Alaska coast), Hareskin (Alaska), Tinneh (Alaska and south), Loucheux (Dindjie) (Alaska), Dogrib and Slave (Tinneh tribes), Kaska (northern inland British Columbia), Thompson Indians (British Columbia), Sarcee (Alberta), Tsetsaut
Haida (Queen Charlotte Is., British Columbia), Tsimshian (British Columbia)
Kwakiutl (British Columbia)
Kootenay (southeast British Columbia), Squamish (British Columbia), Bella Coola (British Columbia), Lillooet (Green River, British Columbia), Makah (Cape Flattery, Washington), Klallam (northwest Washington), Skokomish (Washington), Skagit (Washington), Quillayute (Washington), Nisqually (Washington), Twana (Puget Sound, Washington), Kathlamet
Cascade Mountains
Spokana, Nez Perce, Cayuse (eastern Washington), Yakima (Washington), Warm Springs (Oregon), Joshua (southern Oregon), Smith River (northern California coast), Wintu (north central California), Maidu (central California), Northern Miwok (central California), Tuleyome Miwok (near Clear Lake, California), Olamentko Miwok (Bodega Bay, California) Ohlone (San Francisco to Monterey, California)
Kato (Mendocino County, California)
Shasta (northern California interior), Pomo (north central California), Salinan (California), Yuma (western Arizona, southern California), Havasupai (lower Colorado River)
Ashochimi (California)
Yurok (north California coast), Blackfoot (Alberta and Montana), Cree (Canada), Timagami Ojibway (Canada), Chippewa (Ontario, Minnesota, Wisconsin), Ottawa, Menomini (Wisconsin-Michigan border), Cheyenne (Minnesota), Yellowstone, Montagnais (northern Gulf of St. Lawrence), Micmac (eastern Maritime Canada), Algonquin (upper Ottowa River), Lenape (Delaware) (Delaware to New York)
Cherokee (Great Lakes area; eastern Tennessee)
Mandan (North Dakota), Lakota
Choctaw (Mississippi), Natchez (Lower Mississippi)
Chitimacha (Southern Louisiana)
Caddo (Oklahoma, Arkansas), Pawnee (Nebraska)
Navajo (Four Corners area), Jicarilla Apache (northeastern New Mexico)
Sia (northeast Arizona)
Acagchemem (near San Juan Capistrano, California), Luiseño (Southern California), Pima (southwest Arizona), Papago (Arizona), Hopi (northeast Arizona), Zuni (New Mexico)
Central America
Tarascan (northern Michoacan, Mexico), Michoacan (Mexico)
Yaqui (Sonoran, Northern Mexico), Tarahumara (Northern Mexico), Huichol (western Mexico), Cora (east of the Huichols), Tepecano (southeast of the Huichols), Tepehua (eastern Mexico), Toltec (Mexico), Nahua (central Mexico), Tlaxcalan (central Mexico)
Tlapanec (south central Mexico), Mixtec (northern Oaxaca, Mexico), Zapotec (Oaxaca, southern Mexico), Trique (Oaxaca, southern Mexico)
Totonac (eastern Mexico)
Chol (southern Mexico), Tzeltal (Chiapas, southern Mexico), Quiché (Guatemala), Maya (southern Mexico and Guatemala)
Popoluca (Veracruz, Mexico)
Nicaragua, Panama
Carib (Antilles)
South America
Acawai (Orinoco), Arekuna (Guyana), Makiritare (Venezuela), Macusi (British Guyana)
Muysca (Colombia), Yaruro (southern Venezuela)
Yanomamö (southern Venezuela)
Tamanaque (Orinoco), Arawak (Guyana), Pamary, Abedery, and Kataushy (Purus R., Brazil), Ipurina (Upper Amazon)
Jivaro (eastern Ecuador), Shuar (Andes)
Murato (eastern Ecuador)
Cañari (Quito, Ecuador)
Guanca and Chiquito (Peru)
Ancasmarca (near Cuzco, Peru), Canelos Quechua, Quechua, Inca (Peru), Colla (high Andes)
Chiriguano (southeast Bolivia)
Chorote (Eastern Paraguay)
Eastern Brazil (Rio de Janiero region), Eastern Brazil (Cape Frio region), Caraya (Araguaia River, central Brazil), Coroado (south Brazil)
Araucania (coastal Chile)
Toba (northern Argentina)
Selk'nam (southern tip of Argentina)
Yamana (Tierra del Fuego)
each place at the link tells you what the myth was.
http://www.talkorigins.org/faqs/flood-myths.html
---
Response to Ghost Dog (Reply #4)
Sun Nov 29, 2015, 12:26 PM
Ichingcarpenter (36,988 posts)
8. Comet Collided With Earth 13,000 Years Ago and help melt the ice sheets
New evidence supports the idea that a huge space rock collided with our planet about 13,000 years ago and broke up in Earth's atmosphere, a new study suggests.
This impact would have been powerful enough to melt the ground, and could have killed off many large mammals and humans. It may even have set off a period of unusual cold called the Younger Dryas that began at that time, researchers say.
The idea that Earth experienced an asteroid or comet impact at the start of the Younger Dryas has been controversial, in part because there is no smoking-gun impact crater left behind as with other known events in our planet's past. But researchers say it's common for space rocks to disintegrate in the heat of a planet's atmosphere before they can reach the ground.
The scientists first reported their suspicions about the event in 2007. Now, they say, a new site in Central Mexico's Lake Cuitzeo displays telltale signs of an impact, including melted rock formations called spherules and microscopic diamonds that could only have formed under extreme temperatures.
The researchers, led by Isabel Israde-Alcántara of Mexico's Universidad Michoacana de San Nicólas de Hidalgo, published their findings online March 5 in the journal Proceedings of the National Academy of Sciences.
http://www.space.com/14793-comet-earth-impact-younger-dryas.html
---
Response to Demeter (Original post)
Sun Nov 29, 2015, 01:22 PM
Judi Lynn (154,509 posts)
9. This whole thread is one to keep for future reference. Thank you! n/t
---
Response to Demeter (Original post)
Mon Nov 30, 2015, 04:38 PM
KoKo (84,711 posts)
10. Bookmarking for Post and Thread Maps/Info...