Tue Nov 23, 2021, 10:37 PM
appalachiablue (33,996 posts)
Ex-Theranos CEO Elizabeth Holmes Takes The Witness Stand In Her Fraud Trial
Last edited Wed Nov 24, 2021, 01:36 PM - Edit history (1)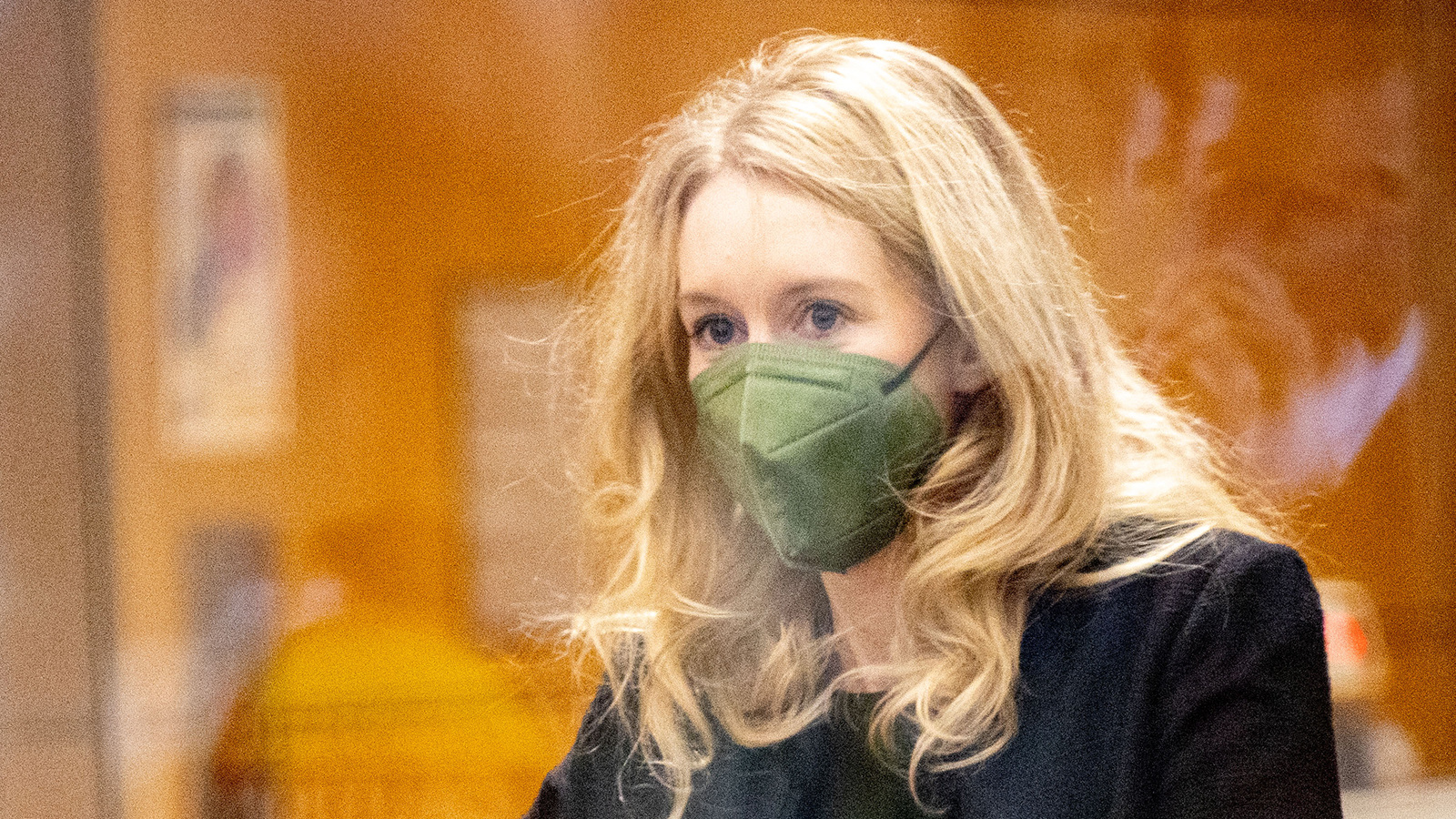 - Elizabeth Holmes (not wearing a black turtleneck) after going through security during her trial at the Robert F. Peckham Federal Building Nov. 23, 2021 in San Jose, California.
https://www.cnn.com/tech/live-news/elizabeth-holmes-trial-testimony-11-22-2021/index.html
______
- NPR, Nov. 23, 2021.
Elizabeth Holmes told the jury in her criminal fraud trial on Tuesday that she personally put the letterhead of pharma giants Pfizer and Schering-Plough on documents sent to potential business partners and investors without the companies' consent. It was the most damning admission Holmes has made under oath in three days of testifying in her own defense.
The former CEO of the blood-testing company Theranos is attempting to persuade the jury that she is innocent of 11 counts of fraud and conspiracy to commit fraud. Prosecutors have said Holmes forged multiple reports to give the impression that the pharmaceutical companies were endorsing Theranos devices, when in reality they had distanced themselves from the startup. Holmes said she hadn't intended to deceive anyone but was merely attempting to acknowledge other work Theranos had done with the pharma companies.
Still, it was a mistake, she said. "I wish I'd done it differently," said Holmes, speaking behind a plexiglass-enclosed witness box in a calm and confident tone. For years, Holmes claimed Theranos had developed breakthrough blood-testing technology that would empower people to have more control over their health by allowing them to test for hundreds of conditions with a tiny finger prick of blood. In 2014, the company was estimated to be worth $9 billion, more than the value of Uber and Spotify at the time.
But not long after, regulators and the media began asking probing questions about the efficacy of the technology, setting the company's demise in motion. In 2017, federal prosecutors indicted Holmes and Ramesh "Sunny" Balwani, the No. 2 at the company. Most of Holmes' testimony, so far, has involved deflecting responsibility, pointing to the expertise of the Theranos board of directors, lab staff and other company employees whom Holmes has suggested were close to how its blood analyzers worked. That made Holmes' admission that she placed the misleading letterhead on Theranos documents remarkable.
"This work was done in partnership with those companies, and I was trying to convey that," Holmes told the jury on Tuesday...
https://www.npr.org/2021/11/23/1058019802/elizabeth-holmes-theranos-trial-testimony
_____
* Narcissistic Leadership: Narcissistic leadership is a leadership style in which the leader is only interested in him/herself. Their priority is themselves – at the expense of their people/group members. This leader exhibits the characteristics of a narcissist: arrogance, dominance and hostility. It is a sufficiently common leadership style that it has acquired its own name. Narcissism is most often described as unhealthy and destructive. It has been described as "driven by unyielding arrogance, self-absorption, and a personal egotistic need for power and admiration"...
https://en.wikipedia.org/wiki/Narcissistic_leadership
- Some spectators at the trial of Elizabeth Holmes brought Holmes-themes items to the courthouse that were "for sale."
https://www.northcountrypublicradio.org/news/npr/1058019802/ex-theranos-ceo-elizabeth-holmes-takes-the-witness-stand-in-her-fraud-trial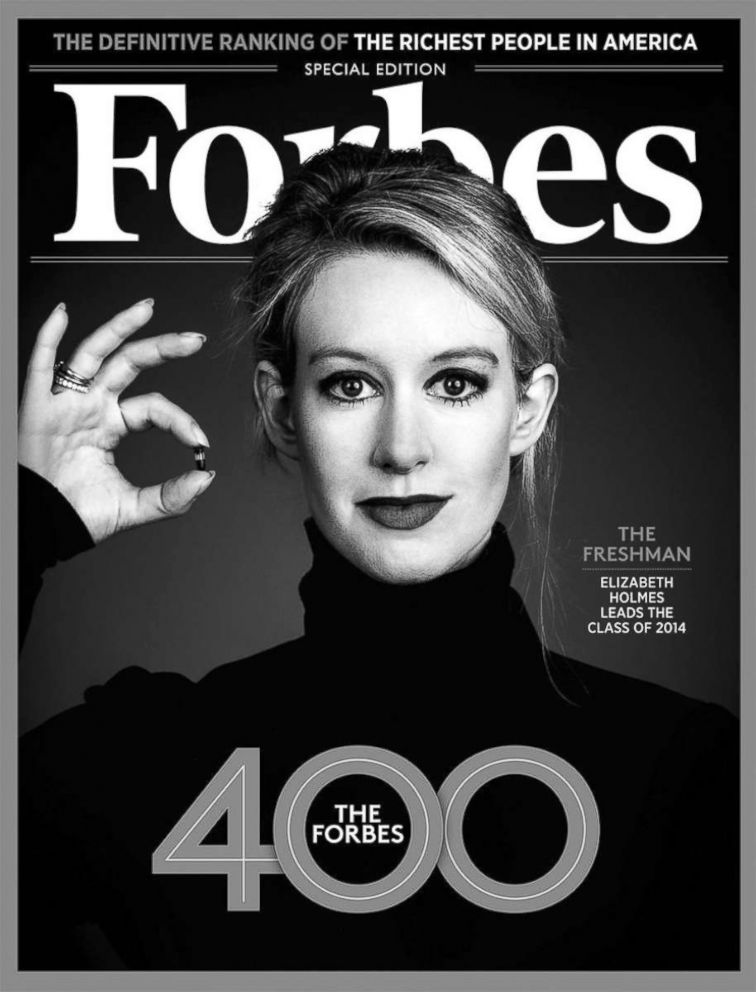 9 replies, 1173 views
Replies to this discussion thread
| | | | |
| --- | --- | --- | --- |
| 9 replies | Author | Time | Post |
| Ex-Theranos CEO Elizabeth Holmes Takes The Witness Stand In Her Fraud Trial (Original post) | appalachiablue | Nov 23 | OP |
| | BigMin28 | Nov 23 | #1 |
| | Tomconroy | Nov 23 | #2 |
| | Pachamama | Nov 23 | #3 |
| | Tomconroy | Nov 23 | #4 |
| | bamagal62 | Nov 24 | #5 |
| | appalachiablue | Nov 24 | #8 |
| | SouthernDem4ever | Nov 24 | #6 |
| | cadoman | Nov 24 | #7 |
| | MsLeopard | Nov 24 | #9 |
---
Response to appalachiablue (Original post)
Tue Nov 23, 2021, 10:51 PM
BigMin28 (919 posts)
1. Does anyone
know why Holmes is in a plexiglass enclosed witness stand? I am just curious.
---
Response to BigMin28 (Reply #1)
Tue Nov 23, 2021, 10:55 PM
Tomconroy (3,230 posts)
2. Covid.
---
Response to BigMin28 (Reply #1)
Tue Nov 23, 2021, 10:55 PM
Pachamama (16,052 posts)
3. Covid n/t
---
Response to appalachiablue (Original post)
Tue Nov 23, 2021, 11:06 PM
Tomconroy (3,230 posts)
4. X exam will be interesting, to say the least.
---
Response to appalachiablue (Original post)
Wed Nov 24, 2021, 01:17 AM
bamagal62 (2,219 posts)
5. If anyone had just
Looked At her eyes they would have known she was crazy as hell; a total psychopath. I noticed them several years ago when I watched a show about her.
---
Response to bamagal62 (Reply #5)
Wed Nov 24, 2021, 01:20 PM
appalachiablue (33,996 posts)
8. Classic case. People who don't have these key normal feelings: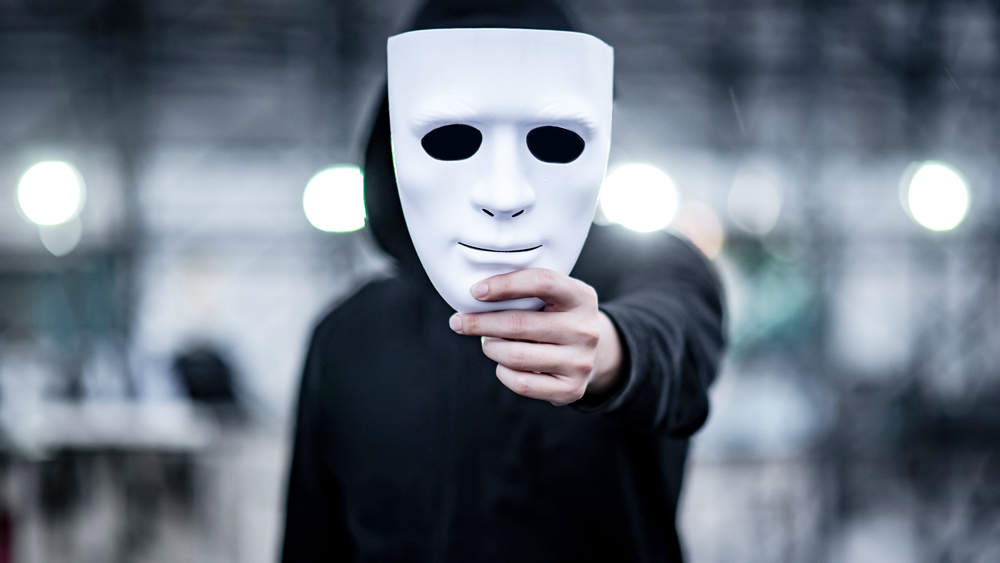 - MSN/Insider, '4 Defining Traits of A Psychopath, According To A Researcher Who Studies Them,' 2021. - Ed.
During a virtual seminar, neuroscientist & psychologist Abby Marsh explained what makes a psychopath.
Marsh said psychopathy exists on a spectrum from mild to severe, but all psychopaths have 4 defining traits- pitilessness, remorselessness, an inability to love, and insensitivity to the possibility of harm.
Some people may assume that psychopaths are born from traumatic childhoods and depraved households, but a neuroscientist with 15 years of brain research experience says her findings suggest that's not the case.
During a virtual seminar from The Science & Information Exchange, an organization that connects the entertainment industry with science professionals, Georgetown University psychology professor & neuroscientist Abigail Marsh explained that the root of their illness often stems from brain development.
"We do know that the severity of these traits is linked to characteristic brain abnormalities that seem to start early in childhood & then sort of progress," Marsh, who also founded the research non-profit Psychopathy Is said. Marsh says psychopathy exists on a spectrum from mild to severe, with some being more manipulative, risk-taking, and threatening than others.
- Still, Marsh said every psychopath has 4 characteristics: pitilessness, remorselessness, an inability to love, and insensitivity to the possibility of harm.
Psychopaths have little to no pity or remorse for others: First, people on the psychopathy spectrum have trouble feeling pity, said Marsh. When someone close to a psychopath feels sad or fearful, they can't understand the emotion, because it's something they don't feel themselves, she said. Marsh gave the example of an elementary school-aged boy she studied who videotaped his teachers & classmates as they reacted to a potential terrorist attack on their school, screaming, crying & evacuating.
Similarly, people with psychopathy feel little to no remorse when they harm others mentally, emotionally, or physically, according to Marsh.
She also studied a boy whose teachers expelled and suspended him from school so often, his mother lost her job because she needed to tend to him. She later checked in at a mental health facility due to the stress, and when Marsh asked the boy how he felt, he said it didn't affect him. "He said, 'The things I do hurt her, but she doesn't really say how much, so it doesn't have any effect on me.' He was blaming his mom for his total absence of remorse, for all the negative effects that had occurred because of his behavior," Marsh said...
More,
https://www.msn.com/en-us/health/wellness/4-defining-traits-of-a-psychopath-according-to-a-researcher-who-studies-them/ar-AAQSoi2
---
Response to appalachiablue (Original post)
Wed Nov 24, 2021, 06:20 AM
SouthernDem4ever (211 posts)
6. She's the queen of con
All the evidence of what she did is out there. What she says is irrelevant.
---
Response to appalachiablue (Original post)
Wed Nov 24, 2021, 09:55 AM
cadoman (465 posts)
7. I can't help but feel she was treated a bit differently because she was a woman
There are all kinds of carnival barker CEOs making false claims and promises they can't satisfy. So why the crackdown on her?

Elon Musk, for instance, has made all sorts of deceitful comments about the safety and efficacy of the self-driving features on his cars. Oil and gas companies regularly lie about what the benefit/harm done on their behalf to the environment. Banks like Wells Fargo regularly lie to and rob their customers. Big pharma regularly lies about the safety and efficacy of it's non-vaccine products (opioid-based treatments in particular). Defense contractors regularly fail to complete their bids on time and within budget.

Holmes likely should be in jail, yes, but why no one else? Only outlier is her gender.

The jury will have the full details to make the final decision, but that's just what I see from the high level.
---
Response to cadoman (Reply #7)
Wed Nov 24, 2021, 11:50 PM
MsLeopard (1,209 posts)
9. I completely agree with you
About all you said of the "unnoticed" crimes by the multitude of men who do much, much worse. The double standard remains strong.