Sat Dec 20, 2014, 02:03 PM
WhoIsNumberNone (7,688 posts)
St. Louis Mike Defends Racist Cardinal Fans
Last edited Sat Dec 20, 2014, 04:01 PM - Edit history (1)
This is a couple of months old, but they have the 'Get A Brain! Morans' guy on the phone.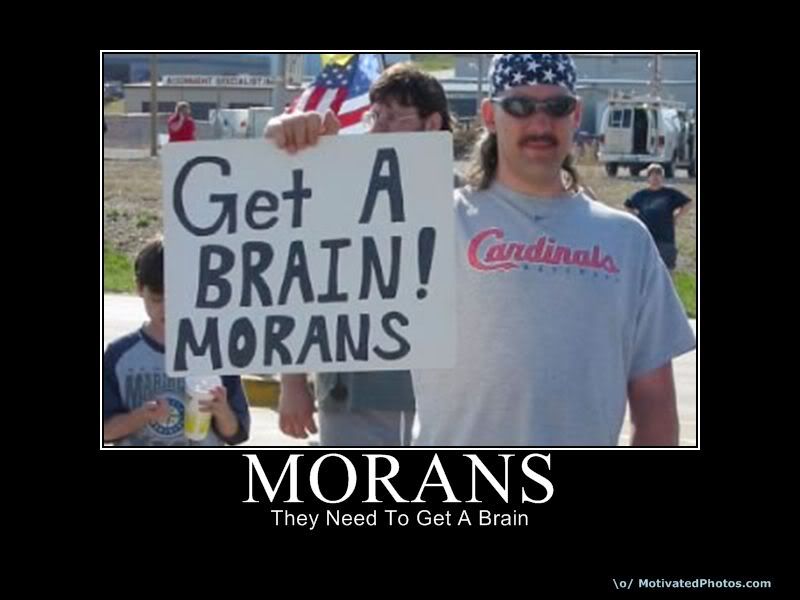 5 replies, 1601 views
Replies to this discussion thread
| | | | |
| --- | --- | --- | --- |
| 5 replies | Author | Time | Post |
| St. Louis Mike Defends Racist Cardinal Fans (Original post) | WhoIsNumberNone | Dec 2014 | OP |
| | brucefan | Dec 2014 | #1 |
| | Cooley Hurd | Dec 2014 | #2 |
| | Ken Burch | Dec 2014 | #5 |
| | Hulk | Dec 2014 | #3 |
| | cpwm17 | Dec 2014 | #4 |
---
Response to WhoIsNumberNone (Original post)
Sat Dec 20, 2014, 02:31 PM
brucefan (1,548 posts)
1. Can't listen right now
I wonder if he knows how famous he is?I would like to ask him so many questions (do you still have a mullet?)
---
Response to WhoIsNumberNone (Original post)
Sat Dec 20, 2014, 02:47 PM
Cooley Hurd (26,877 posts)
2. ...and he inspired one of the earliest memes on DU!
...although Erin Moran probably wishes Mike could spell.
---
---
Response to WhoIsNumberNone (Original post)
Sat Dec 20, 2014, 02:51 PM
Hulk (6,358 posts)
3. Prime example of what is wrong with America today.
This empti-headed buffoon at least lets it hang out for the public to see. Better or worse than the millions that keep it hidden inside and claim they aren't racist? Not sure. Maybe it makes no difference.

This mentality is exactly what is wrong with this country. I can't blame the poor, ignorant masses that live in the hills and survive off scraping a meager living any way possible. I can't blame the people that live in the rural areas and are bludgeoned to death with reich wing radio 24/7 - with not a drop of progressive view. But complete racist, "macho" buffoons like this turd, who have ALL the resources at his fingertips, yet he still takes pride in his ignorance and brawn to show his lack of character.

I've been ashamed of Americans my whole life. Thanks to fox-nonsense and reich wing radio, the numbers are growing. I'm more ashamed of my countrymen today than ever before. It's not like we don't have both sides to listen to. It's like we let our own will decide how we want to act and behave, and jerk-offs like this mullet-head are a result of just selfish, sick, twisted personalities that couldn't care less about peace, love, brotherhood and any resemblance of true religious practice. Fook this dumb ass.
---