Fri Jul 22, 2022, 05:20 PM
peppertree (17,150 posts)
Argentina: Foreign tourists can exchange up to US$5,000 at new, bargain exchange rate
Argentina unveiled a slew of currency measures for foreign tourists, importers and local companies that aim to shore up the currency amid a month-long slump in the country's unofficial exchange rates.
Importers of strategic sectors in the economy will have more access to dollars, the government said in a statement Thursday, as it seeks to avoid shortages of imported goods. Meanwhile, foreign tourists who are not residents in Argentina will be
able to exchange as much as US$5,000 for pesos at a more lucrative exchange rate
than the official one.
The new, tourist exchange rate will be based on the "MEP" dollar (Electronic Payments Market), currently trading at 314 pesos compared to the official rate of 136 -
a 57% savings
.
Argentina's black-market "blue" exchange rate weakened further on Thursday to 337 pesos per dollar, according to the website Dolarhoy.com,
marking a 30% drop so far in July
.
At:
https://www.batimes.com.ar/news/economy/argentina-unveils-currency-measures-as-black-market-peso-slumps.phtml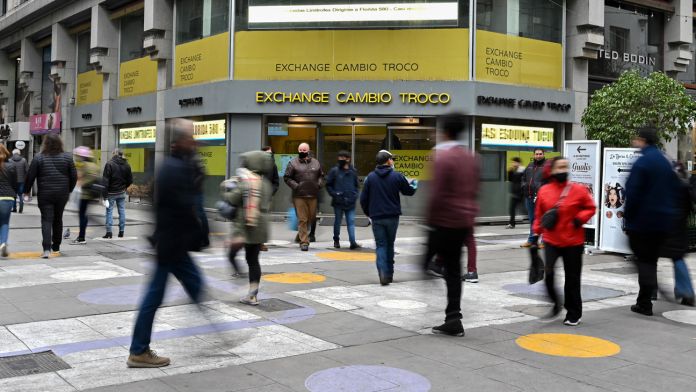 Pedestrians walk by a downtown Buenos Aires exchange bureau recently.

Amid a steady recovery in foreign tourist arrivals since October, the ready availability of a black-market "blue" exchange rate - often at half the official rate or less - has diverted an estimated US$1.2 billion in tourist hard currency from central bank coffers.

Today's measures may incentivize foreign tourists to exchange their currency through official channels instead.

A foreign debt crisis inherited from the right-wing Mauricio Macri administration was aggravated by massive hikes in oil and natural gas import prices this year - triggering the country's worst currency crisis since the 2019 "Macrisis."
0 replies, 389 views