Sun Aug 7, 2022, 04:08 PM
NJCher (32,501 posts)
What's for Dinner, Sun., Aug. 7, 2022
Shrimpburger with ginger sesame sauce (mayo based).

Cherry tomatoes and avocadoes. I mix the avocado up with Caesar dressing, then add the cherry tomatoes. I add basil, too.

Pineapple peach kombucha to drink.

Dessert: chopped Bosc pears with coconut cubes; mixed with cherry yogurt and pistachios. Mint tea, made with fresh mint from the garden.

I found the coconut cubes already cut and in a bag. Might have been from TJ's. Anyway, sure beats breaking open a coconut and carving all that out.

Oh, and speaking of carving. when I was making my cold curried squash soup, I discovered a nifty trick for cooking squash. Just punch some holes in it with a fork and put it in the microwave. I cooked it at high for about 5" at a time, giving it a little rest in between each cooking session. This was a spaghetti squash, but it would work for any other type of squash.

I discovered this because my squash was too hard to cut with a knife. My knife kept getting stuck in the squash, so I said to hell with it and just put the whole thing in the micro with some water in the bottom of the pan. I did check the micro manual for info on it, and that's where I learned to give it a rest in between the 5" cooking sessions. It might explode on you if you try cooking it all at once.






7 replies, 684 views
Replies to this discussion thread
| | | | |
| --- | --- | --- | --- |
| 7 replies | Author | Time | Post |
| What's for Dinner, Sun., Aug. 7, 2022 (Original post) | NJCher | Aug 2022 | OP |
| | hippywife | Aug 2022 | #1 |
| | bucolic_frolic | Aug 2022 | #2 |
| | Diamond_Dog | Aug 2022 | #3 |
| | MissMillie | Aug 2022 | #4 |
| | Runningdawg | Aug 2022 | #5 |
| | Callalily | Aug 2022 | #6 |
| | NJCher | Aug 2022 | #7 |
---
Response to NJCher (Original post)
Sun Aug 7, 2022, 04:22 PM
hippywife (22,210 posts)
1. Just put on the water for couscous
to make some tabbouleh. Later will be making falafel wrapped in whole wheat flour tortillas with lettuce, tomato, dill pickle and tahini sauce.
Husband has ice cream sandwiches for later, as usual. I purposely didn't buy more ice cream for myself since I was eating so much of it, but now I'm regretting it.
---
Response to NJCher (Original post)
Sun Aug 7, 2022, 04:34 PM
bucolic_frolic (36,229 posts)
2. Hot dog on a bun
Lots of water. It's hot here.
---
Response to NJCher (Original post)
Sun Aug 7, 2022, 04:41 PM
Diamond_Dog (27,111 posts)
3. Spinach lasagna cooked in the crock pot.
Romaine lettuce, cucumber, red onion & tomato salads

I just picked my first Brandywine tomato Ö itís huge! Canít wait to taste it.

Ice cream for the guys. My sons are into this brand called Tillamook. The cookie dough flavor is to die for and Im watching my calories so canít have any.
---
Response to NJCher (Original post)
Sun Aug 7, 2022, 05:02 PM
MissMillie (37,196 posts)
4. oven-poached haddock
They had a special on it at Market Basket.

poached it in milk, topped w/ plenty of butter and dill and served w/ a lemon wedge

Spanish rice (from a packet)

kale, sauteed with garlic in bacon fat, dressed w/ lemon juice


dessert: rice pudding w/ fresh strawberries and bananas
---
Response to NJCher (Original post)
Sun Aug 7, 2022, 05:04 PM
Runningdawg (4,180 posts)
5. 104 Too hot to cook! A big salad with hard-boiled eggs and cold shrimp. Peaches for dessert.
---
Response to NJCher (Original post)
Sun Aug 7, 2022, 06:36 PM
Callalily (13,984 posts)
6. Thanks for the tip about the squash.
I too cooked squash in the microwave, but I struggled to cut in in half.
For dinner having pork tenderloin with cherry sauce. Super yummy. I make this every time one of the local grocery stores has pork tenderloins on sale (buy one, get one free).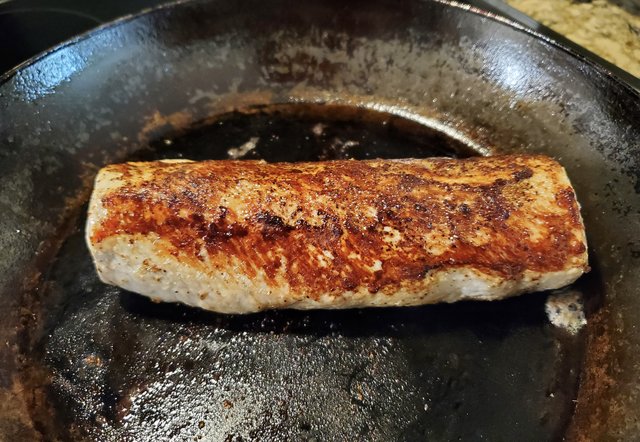 ---
Response to Callalily (Reply #6)
Sun Aug 7, 2022, 11:42 PM
NJCher (32,501 posts)
7. same problem I had
that's why it's so cool to be able to cook the squash whole and not even struggle with a knife.

Nice pics!