Sun Nov 10, 2013, 01:24 PM
rug (82,333 posts)
An Atheist's History of Belief by Matthew Kneale – review
Matthew Kneale's broad-brushstroke history of religion will be applauded by atheists, but too many big questions are overlooked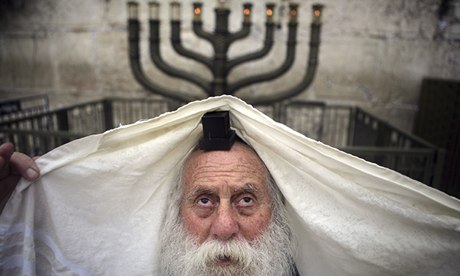 Are believers all the hapless victims of a colossal confidence trick? Photograph: Abir Sultan/EPA
Peter Stanford
The Observer, Saturday 9 November 2013
At first glance, such a bold title could almost be intended as a joke, a companion volume to A Vegetarian's History of Meat-Eating or A Virgin's History of the Orgasm. But there's nothing funny about this elegantly written, earnest attempt to explain religion, and its god or gods, as the product of our own imaginations. This is, of course, a familiar thesis, but what just about distinguishes Kneale from the likes of Richard Dawkins and Christopher Hitchens is his icy, non-polemical detachment from his subject. His tone – curiously for a writer better known as an award-winning novelist – is that of a scientist performing a dissection in the laboratory.
To be fair, he does start on an individual note. "As the son of a Manx Methodist atheist and a refugee German Jewish atheist," he writes, "I have never been much of a believer." When I read this, I wondered if he was leaving himself a bit of wriggle-room, space for recalling the odd fit of religious enthusiasm by way of teenage rebellion, or even a penchant for visiting old churches or graveyards. But no. This is no more a journey than it is a missionary rant.
What follows is a broad-brush narrative that works its way back through the histories and holy books of the various faiths, predominantly Judaism, Christianity and Islam, but with a respectful nod for Buddhism and Zoroastrianism, and brief parting shots at Mormons and Scientologists. It aims to tell you everything you've ever wondered about religion but never dared to ask.
The blows come in thick and fast, no doubt to applause if you are a fellow atheist. Religious zealots, likewise, will get hot under their dog collars. If they can even get beyond the cover, they will set about producing page-by-page refutations of what Kneale presents as historical fact in his telling of the rise and rise of various creeds.
http://www.theguardian.com/books/2013/nov/10/atheist-history-belief-matthew-kneale-review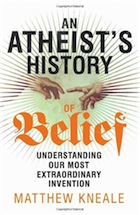 An Atheist's History of Belief: Understanding Our Most Extraordinary Invention
by Matthew Kneale
3 replies, 1145 views
Replies to this discussion thread
| | | | |
| --- | --- | --- | --- |
| 3 replies | Author | Time | Post |
| An Atheist's History of Belief by Matthew Kneale – review (Original post) | rug | Nov 2013 | OP |
| | IrishAyes | Nov 2013 | #1 |
| | Jim__ | Nov 2013 | #2 |
| | edhopper | Nov 2013 | #3 |
---
Response to rug (Original post)
Sun Nov 10, 2013, 02:21 PM
IrishAyes (6,151 posts)
1. I'm sure it's an interesting read;
but even as a practicing cradle Catholic, I don't tend to get hot under the collar about atheism, just the abuse of/about religion itself as typified by fundies. To borrow an old phrase, it is what it is. What I think about it won't change anything in existence, except hopefully my own humanly errant ways. I've always preferred an honest and decent atheist over some screaming nut. Likewise I don't worry a whole lot about the afterlife or whether there will be one, although I do believe the former, based partly on long experience with hospice care. It's okay regardless. It is what it is.

In a way I take great comfort in having realized that at an early age, hearkening back again to one of my father's favorite sayings. That's not defeatism by any means. We just have to do the best we can and deal with what happens. Some would call that deep faith but I assure you the fundies have consigned me to their notion of hell on more than one occasion. They would say perversely, but I take some comfort in that as well because if there's any moral/philosophical/religious trap I do fear, it's the one in which they seem to take such comfort. Something deep in my very bones cries out danger there.


---
Response to rug (Original post)
Sun Nov 10, 2013, 03:57 PM
Jim__ (12,687 posts)
2. Remembering Albert Camus and Longing for the Old Atheism
It does sound like Kneale just rehashes old familiar arguments without actually looking at what is the appeal of religion.
From an
article on Camus
on his 100th birthday:
As fans and followers of Nobel Prize-winning writer and philosopher Albert Camus are celebrating the centennial of his birth today, people of many faiths and no faith at all do well to remember his legacy when it came to religion. Most importantly, as an unbeliever, Camus offers a powerful counter-example to the stridency and animus of the "new atheism" associated with Christopher Hitchens, Sam Harris, Richard Dawkins, and others. Indeed Camus makes us long for the days of the "old atheism" when religious people weren't mocked for their so-called irrational beliefs; bullied by the charge that "religion poisons everything"; and told to step aside while secularism sweeps clean the religious debris from public life.

To begin with, Camus was humble about his unbelief, recalling Benjamin Constant's caution that there is something "worn out" about being too intensely against religion. Camus freely admitted that he didn't believe in God, but he chose to speak "in the name of an ignorance that tries to negate nothing." In other words, his own lack of faith did not presume that others must be wrong about theirs -- certainly not in a way that he could prove with certainty. For this reason, he resisted "atheism," adopting instead the mantle of the "unbeliever" (incroyant).

One need not be religious, nevertheless, to appreciate how religion contributed constructively to civilization and contemporary life. As a young university student in French-Algeria, Camus completed a thesis exploring the relationship between Neo-Platonic and Christian metaphysics. A central figure in this study was St. Augustine whom, as a fellow Algerian, Camus held a great affinity. According to biographer Herbert Lottman, St. Augustine was, for Camus, "the 'bishop' of North African writers, whether believers or non-believers. Camus saw in this saint the artist with all the strengths and weaknesses of the 'African' Camus felt himself to be." Camus was especially taken by Augustine's searching inquiry into the problem of evil. Contrary to new atheists like Hitchens -- who suggests that religion is the carrier of plague -- Camus recognized that evil is a human problem. As Dr. Rieux remarked in Camus's superb novel The Plague, "each of us has the plague within him; no one, no one on earth is free from it." Camus, like Dr. Rieux, shared the same questions religious believers ask; he just couldn't accept their answers -- or their hope. He found consolation not in the faith of Job or the salvation of Christ but in Sisyphus: the prospect that, through rebellion and endurance, Sisyphus could be happy.

...
---
Response to Jim__ (Reply #2)
Sun Nov 10, 2013, 06:07 PM
edhopper (27,407 posts)
3. It was so much better
when atheists never challenged religion and just STFU.