Sun Mar 15, 2015, 12:41 AM
Dragonfli (10,622 posts)
New Democrats, The DLC and the Third Way [View all]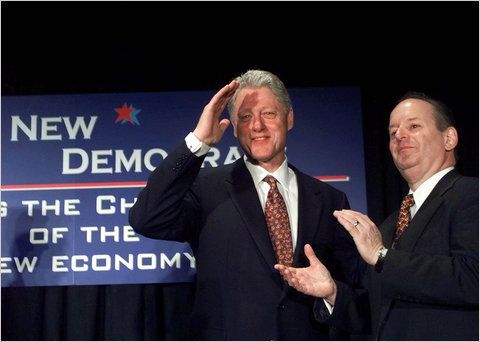 [font size ="1"]President Bill Clinton with Al From, president of the Democratic Leadership Council, at a conference in 2000.[/font size]
New Democrats, in the politics of the United States, are an ideologically centrist faction within the Democratic Party
 that emerged after the victory of Republican George H. W. Bush in the 1988 presidential election. 
They are identified with centrist social/cultural/pluralist positions and neoliberal fiscal values.
 They are represented by organizations such as the Democratic Leadership Council (DLC), the New Democrat Network, and the Senate and House New Democrat Coalitions
After the landslide electoral losses to Ronald Reagan in the 1980s, a group of prominent Democrats began to believe their party was in need of a radical shift in economic policy and ideas of governance. 
The Democratic Leadership Council (DLC) was founded in 1985 by Al From and a group of like-minded politicians and strategists. They advocated a political "Third Way" as a method to achieve the electoral successes of Reaganism by adopting similar economic policies
(Reagan Democrats and Moderate Republicans would provide burgeoning new constituencies after adding these new economic policies and politicians to our tent they contended) While hoping to retain, woman, minorities and other social issues allies with long ties to the party. Such would be their new Democratic coalition forged between fiscal right and social left under the "New" Democratic banner. The DLC disbanded in 2011 during an apparent re-branding of the New Democrat movement when money ties to the Koch bros. and Koch representatives placed on the DLC's board embarrassingly became common knowledge among the Democratic left. The DLC is survived by the Third Way, The New Democrat Coalition, and Al From's Progressive Policy Institute among other corporate funded groups that continue to sell their Economic-Right/Social-Left brand of "Centrism" to America.
The term Third Way refers to various political positions which try to reconcile right-wing and left-wing politics by advocating a varying synthesis of right-wing economic and left-wing social policies
.
Third Way was created as a serious re-evaluation of political policies
within various center-right progressive movements
in response to international doubt regarding the economic viability of the state; economic interventionist policies that had previously been popularized by Keynesianism and contrasted with the corresponding rise of popularity for neo liberalism and the New Right. In a sense, 80s Moderate Republicans are almost identical to "Third Way" Democrats.
I strongly believe it's time for a serious re-evaluation of political policies
within various center-left progressive movements
in response to international doubt regarding the economic viability of the neoliberal corporate policies previously popularized by Reagan and Thatcher! For thirty years we have all but abandoned liberal solutions to economic problems, chasing instead the snake oil of supply side economics, austerity and neoliberal trade policy. These right wing policies have failed miserably, and rather than learn from the New Democrats failed experiments, the center-right faction of the democratic party has chosen instead to double down on failure with more free trade and austerity measures (to include cuts to Social Security).
In the face of a new gilded age of extreme wealth contrasted by an exponentially growing rate of poverty,  a rapidly shrinking middle class and the emergence of an elite class of  bankers, politicians and other predatory behemoths that are held firmly above the law and enabled to steal the remaining crumbs of wealth held by the masses without repercussion, it is not only time to return to Democratic principles of old that created the strongest most prosperous middle class in our history, it is time to reverse the damage done by the
right
 thinking "New" Democrats and their failed policies with a new populism based on the needs of the people over the elite.
We do not need a "Fourth Way" to accomplish this, all we need is a return to the fundamentals of Keynesianism, a strong commitment to labor, increased spending on social programs (rather than cuts), progressive taxation, and an end to the cancer of privatization that would reduce the commons and the basic needs of the populace (such as health care and drinking water etc.) into the cash cows of profiteers of human suffering
Time to dump the "Third Way" for the unquestionably effective "Democratic way" made successful by the New Deal, The Great Society, and civil liberties. Our party can not serve two masters, the choice is clear, they must serve the financial elite, or the economically struggling populace
My choice has already been made.
67 replies, 21794 views
Replies to this discussion thread
66 replies
Author
Time
Post

New Democrats, The DLC and the Third Way

[View all]

Dragonfli
Mar 2015
OP
whereisjustice
Mar 2015
#1
LiberalElite
Mar 2015
#30
daleanime
Mar 2015
#2
Warpy
Mar 2015
#3
stillwaiting
Mar 2015
#21
RufusTFirefly
Mar 2015
#4
NBachers
Mar 2015
#5
blkmusclmachine
Mar 2015
#6
merrily
Mar 2015
#27
aspirant
Mar 2015
#7
mother earth
May 2015
#49
ReRe
Mar 2015
#8
Populist_Prole
Mar 2015
#9
hedda_foil
Mar 2015
#10
JDPriestly
Mar 2015
#11
cui bono
Mar 2015
#12
DeSwiss
Mar 2015
#13
peacebird
Mar 2015
#39
Joe Shlabotnik
Mar 2015
#14
truedelphi
Mar 2015
#19
Enthusiast
Mar 2015
#24
djean111
Mar 2015
#15
truedelphi
Mar 2015
#18
Enthusiast
Mar 2015
#23
bvar22
Mar 2015
#34
djean111
Mar 2015
#36
840high
Apr 2015
#44
stonecutter357
Mar 2015
#16
L0oniX
Mar 2015
#26
stonecutter357
Mar 2015
#29
rhett o rick
Mar 2015
#32
Dragonfli
Mar 2015
#33
stonecutter357
Mar 2015
#37
Dragonfli
Mar 2015
#40
BeanMusical
Mar 2015
#17
Scuba
Mar 2015
#20
Enthusiast
Mar 2015
#22
L0oniX
Mar 2015
#25
GoneFishin
Mar 2015
#28
cascadiance
Mar 2015
#31
bvar22
Mar 2015
#35
peacebird
Mar 2015
#38
TheKentuckian
Mar 2015
#41
antigop
Mar 2015
#42
Khaotic
Apr 2015
#43
LondonReign2
Apr 2015
#45
rbnyc
Apr 2015
#46
merrily
May 2015
#47
Dragonfli
May 2015
#48
Cosmic Kitten
May 2015
#50
leveymg
May 2015
#51
Dragonfli
May 2015
#52
leveymg
May 2015
#53
polichick
May 2015
#54
mother earth
May 2015
#55
cui bono
May 2015
#56
woo me with science
May 2015
#57
Catherina
Aug 2015
#58
LWolf
Aug 2015
#59
Octafish
Aug 2015
#60
Mnemosyne
Jan 2016
#61
chknltl
Feb 2016
#62
Ferd Berfel
Feb 2016
#63
Baobab
Mar 2016
#64
LoganOneNation
Nov 2016
#65
polichick
Dec 2016
#66