Page: 1
Emrys
Emrys's Journal
Profile Information
Gender: Do not display
Current location: Scotland
Member since: Mon Sep 7, 2009, 12:57 AM
Number of posts: 5,975

Journal Archives
Theresa May Personally Insisted That The Words "Ending Of Free Movement Of People" Be Added To The First Page Of Her Brexit Deal
...
May demanded the specific drafting through the UK's Brexit negotiating team, who let it be known the prime minister was insisting that the terms be added in a prominent position in the text.
Such an unusual and personal intervention on a mostly decorative detail — in the middle of delicately balanced negotiations packed with technical and complicated issues — was viewed in Brussels as a clear sign of the top issue that drives and defines her Brexit.
Terminating free movement has been May's unshakable guide throughout the Brexit talks, ultimately shaping the overall agreement negotiated with the European Union now on the table — and it goes to the heart of how the prime minister interprets the 2016 referendum result.
...

But EU sources have noted that the prime minister's enthusiasm for putting an end to free movement has not
always been matched by an equal dose of frankness
when it comes to clearly spelling out to voters and MPs that the right to freely work, live, and retire anywhere in the 28-country bloc to is a two-way street that will see Britons lose those very same rights after Brexit.
https://www.buzzfeed.com/albertonardelli/theresa-may-ending-free-movement-first-page-brexit
This struck me when I saw May give the TV address announcing her Brexit deal (well,
proposed
deal at this stage). She very heavily emphasized the words "
freedom of movement will END
", and a chill ran through me. I wasn't surprised that the most rabidly hardline of Home Secretaries (in a post that seems to turn even quasi-reasonable politicians into rabid hardliners) would come out with this, but the bluntness and relish with which she announced it hit home hard. She seemed to think it a great selling point.
It's not as if I'm among those groups living in the UK who are and will be directly targeted and suffer from the results of this obsession. I'll no doubt suffer indirect consequences only too plainly when staffing our hospitals is even more inadequate etc. I'll also miss some of the interesting people from the EU who've settled temporarily for work in our community, and feel sad for friends whose kids have married EU citizens and moved abroad, as such a change increases the sense of distance and can only complicate those families' futures that looked so rosy just a few years ago.
It's not as if I've travelled abroad that often in the last couple of decades. But the feeling that I could visit EU countries with great ease, even on a whim, if I wanted to - and had the option of trying to relocate there if I could muster the gumption - was something I valued.
May's words sounded like a judge pronouncing a sentence.
But then I'm obviously not Theresa May's target audience. She's made it very clear she doesn't give a fuck what I think or want.
Source:
The Guardian
Conservative MPs have triggered a vote of no confidence in Theresa May, plunging the Brexit process into chaos as Tory colleagues indicated they no longer had faith in the prime minister to deliver the deal.
Sir Graham Brady, the chair of the 1922 Committee, has received at least 48 letters from Conservative MPs calling for a vote of no confidence in May. Under party rules, a contest is triggered if 15% of Conservative MPs write to the chair of the committee of Tory backbenchers.
A ballot will be held on Wednesday evening between 6pm and 8pm, Brady said, with votes counted "immediately afterwards and an announcement will be made as soon as possible".
...
The prime minister will now need the backing of at least 158 Tory MPs to see off the Brexiters' challenge, and her position would then be safe for 12 months. However, the prime minister could decide to resign if votes against her were below the threshold to topple her, but significant enough in number.
Read more:
https://www.theguardian.com/politics/2018/dec/12/brexit-chaos-conservative-mps-trigger-vote-of-no-confidence-theresa-may
---
From the 2017 general election campaign:
The case was brought by a collaboration between English QC Jolyon Maugham and some Scottish politicians before a Scottish court (we have our own legal system up here) because the yellow media like the Daily Mail in England would have gone apeshit calling the judges "enemies of the people" etc. etc. all over again, and nobody needs that clouding the water. It was eventually referred to the ECJ, and an advisory opinion released a week or two ago was borne out by this judgment. It's just confirming what was already strongly suspected, as Lord Kerr, who drafted Article 50, has always insisted unilateral withdrawal of it was an option.

It doesn't really suit the EU itself - its line has been that Article 50 can be withdrawn only with the consent of the 27, not least because it doesn't want any other member states going through the motions of leaving in future as a bargaining ploy without any penalties attached. I expect the future Article 50 process to be reviewed to take account of this development at some point.

The decision does at least cut away one excuse from the Brexiters - it's mindboggling that exploration of all the options wasn't carried out by the UK government and civil service - but I'm afraid it's unlikely to change anything. It just confirms that sticking by Article 50 is a political decision, not a legal one.

May seems intent on running out the clock on Brexit until the end of next March and having the UK leave with no deal (perhaps not coincidentally, that might protect some of the UK's major dark money interests from some of the ramifications of the EU's crackdown on tax evasion and moneylaundering), and all this running around in pursuit of impossible incoherent deals is probably just for show. Little else makes sense of the cack-handed way this whole debacle has been dealt with, though sheer incompetence can't be ruled out as a factor.

A while back, Parliament granted the government a wide range of autocratic powers ("Henry VIII clauses" ), supposedly to smooth the transition period when a lot of legislation might need to be changed and passed very quickly without time for full parliamentary scrutiny, and soon that's going to come home to roost, under another prime minister if not May. The refusal - so far, at least - to allow MPs to vote on May's deal when it looks certain it would be defeated is just the beginning.

At the moment, Labour's leadership seems content to see all this happen while making half-hearted noises of opposition, and is in no hurry to attempt a no confidence motion that might trigger an election before then - it's very unlikely they'd have the numbers anyway, the Tories would likely circle the wagons (for fear of losing their seats), the DUP kingmakers probably wouldn't want to deal with Corbyn, not least because of his past support for Sinn Fein and dealings with the IRA, nor a Labour government under anyone else, and the opinion polls aren't favourable despite the governmental mess.

Corbyn's idea seems to be to wait till Brexit comes about, then go for an election, after which we're all set for a spot of disaster socialism.

I'm sure that will work out well.
The European Court of Justice has ruled that the UK can unilaterally stop Brexit by revoking its Article 50 notification.
Judges in Luxembourg decided that the UK can stay in the EU "under terms that are unchanged" if it decides to change its mind on Brexit "through a democratic process".
It comes on the eve of a crucial vote in the House of Commons on Theresa May's Brexit deal. Scottish politicians who brought the case said "a bright light has switched on above an 'EXIT' sign" that meant a second EU referendum was "closer than ever before".
Issuing its judgement, the EU's top court said that "when a member state has notified the European Council of its intention to withdraw from the European Union, as the UK has done, that member state is free to revoke unilaterally that notification."
https://www.scotsman.com/news/politics/brexit-uk-can-revoke-article-50-unilaterally-eu-judges-rule-1-4841642
This is developing amid strong rumours that tomorrow's Commons vote may be delayed - three government statements will be made later this afternoon:
https://twitter.com/bbclaurak/status/1072095308333625345
Laura Kuenssberg
✔
@bbclaurak

Two cabinet sources tell me vote being pulled - not, repeat not, yet officially confirmed
There are also questions about whether May can do this without Parliament's agreement:
https://twitter.com/bbclaurak/status/1072121925227438080
Laura Kuenssberg
✔
@bbclaurak

Not trying to make your head explode, but there is a possibility that the govt might not actually be able to pull the vote - at least not without an enormous parliamentary row - (checks Erskine May)
'This turned into the Tommy Robinson show': Cracks begin to appear after far-right unites with Ukip for Brexit march
'We can't be reasoned with, we don't feel pity, or remorse, or fear, and we absolutely will not stop, ever, until we get hard Brexit,' says one speaker, quoting 'The Terminator'
Revolutions, it has been said, do not generally begin on Sundays. People have to be up for work the next morning.
Perhaps something similar applies to right-wing political rallies. It could explain why Sunday's so-called Brexit betrayal march – a joint Ukip and Tommy Robinson demonstration, which claimed to speak for the 17.4 million people who voted leave in 2016 – attracted a crowd of little more than 2,000 people to Whitehall in central London.
Robinson – the English Defence League founder who was considered such a star turn he spoke twice at the event – called the gathering a "beautiful" sight.
But even he may have cringed at the lack of numbers because nearby, separated by a thick police presence, a 10,000-strong anti-Fascist rally dwarfed his own.
https://www.independent.co.uk/news/uk/home-news/brexit-betrayal-march-tommy-robinson-ukip-attendance-figure-far-right-protest-a8675246.html
It seems to have been quite a colourful day.
"Robinson" tried to sign up as a UKIP member onstage using his mobile phone - and failed.
Another guy climbed on top of a bus stop and tried to set fire to a EU flag using lighter fluid - and failed (those dratted EU regs).
One Laukan Creasey brought a portable gallows, Theresa May for the use of.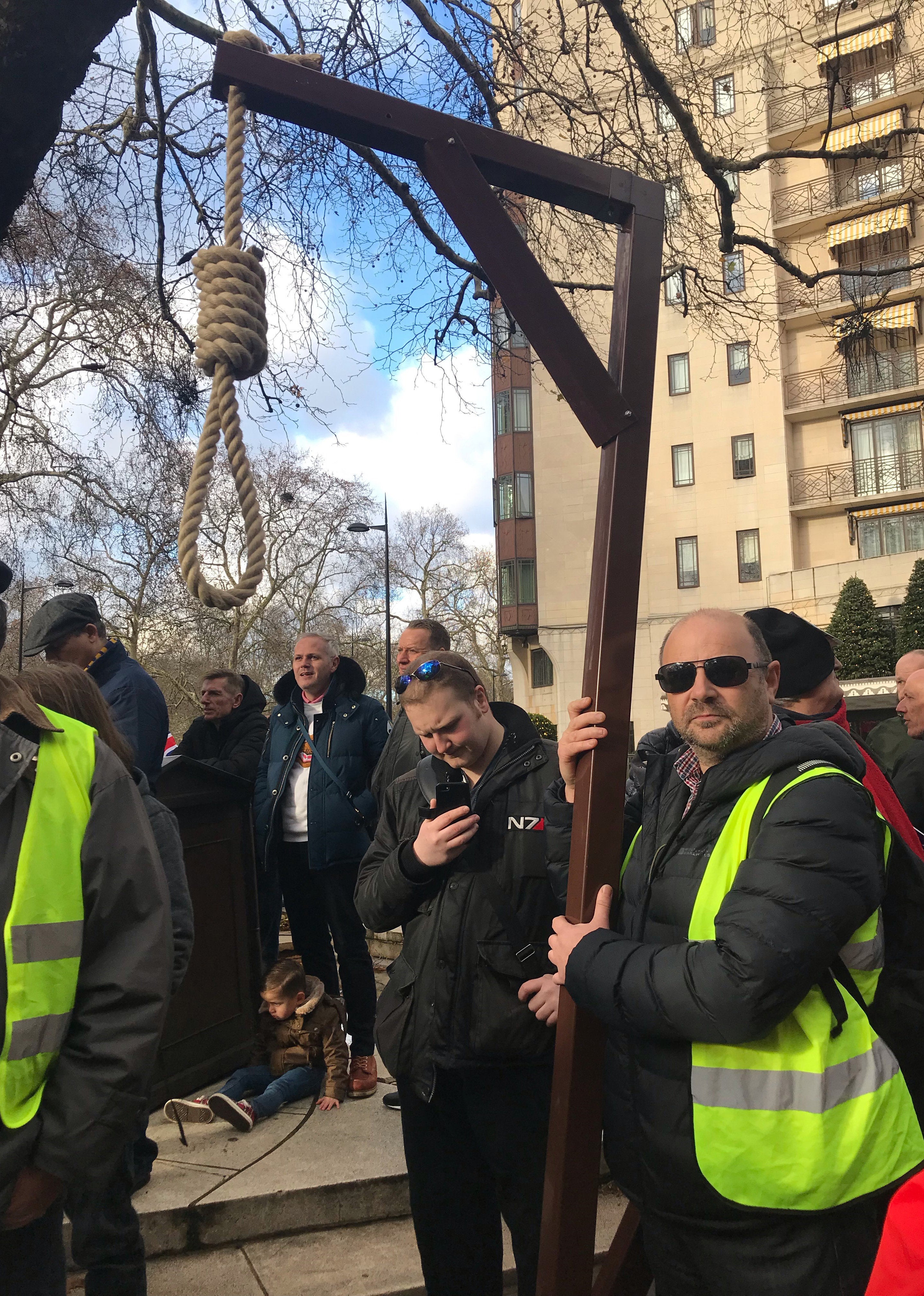 There were three arrests at the anti-fascist rally, and none at the "betrayal march", among a very heavy police presence.
Here's a few of the signs from the anti-fascist rally (
more here
):
People who fill threads on an OP about a tweet with endless complaints about the fact the OP has a tweet in it.

It's not as if the OP's content could have come as much of a surprise, given the title.

If your secondary gripe is that there's no commentary on the tweet, then that undercuts your dismissal of Twitter as a concept: "The food was terrible - and such small helpings!"

What a waste of everybody's time and energy.

If you're not interested or don't like it, why not do what any number of us do on any number of OPs we end up not being interested in and don't click on them if it's evident they're Twitter-based in the first place, or if you've clicked in and been disappointed, just click out and get on with your day and leave others who just might be interested in having a discussion about the content of the OP get on with theirs?


I'll try to address your points without getting too long-winded (wish me luck!).

On how general elections are triggered, that changed when the Tories and Liberal Democrats formed a coalition government (there was no such thing as a fixed term of government before then), and this explains it better than I probably could:



So there'll be too little time before Parliament's Christmas recess (20 December 2018-7 January 2019) for that schedule to play out this year.

A Tory leadership contest would be similarly long-winded. If May didn't resign but there were moves to depose her:



If that vote went against her, she'd be forced to resign.

In either case (resignation of deposition), if only one candidate to replace her comes forward, then he or she would be elected by the party without a lot more rigmarole, but:



The last time the Tories had a leadership election (when May was voted leader) was after David Cameron resigned. He did so on June 23, 2016 (when the Brexit referendum results were known), but remained in post till his successor was elected. There were multiple candidates, so the ballot process was initially planned to take from July 5 to September 9. Because of her strong showing in the first ballot and the rapid implosion of her rivals, May was elected party leader and therefore PM on July 11 - very quickly for such a contest - without party members having a vote, which could have taken a lot longer.

So if we're looking at a new Tory PM, it won't be till the New Year, even if one candidate emerges unopposed and it goes as quickly as last time.

There's a lot of noise from some politicians about a general election, but I'm not clear how much of that is bluff (nor whether it would get us a better government in terms of Brexit or anything else). Current opinion polls generally consistently put Labour at around 5% behind the Tories. In normal times (these aren't normal times), the way our electoral college works, Labour needs to be around 8-9% ahead to gain an overall majority of seats. Polls also show a very poor performance by Corbyn himself even against May.

For a general election to be held, there's that 14 days' wait after a vote of no confidence to see if another government can be cobbled together (there's talk of a cross-party alliance at the moment, but I can't see that happening), and if not, Parliament must be dissolved. Then the parties have to hold hustings to decide on each constituency's candidate, the campaign has to take place etc. etc. This usually takes around six weeks. Despite the shortness of time before Brexit happens in March 2019, shortening that by much would risk yet another set of uninformed decisions by the electorate. It would also be very rare to have an election in January-February at the best of times (these aren't the best of times), because of the weather apart from anything else.

As for Corbyn and Labour, probably best not to get me started (I'm in Scotland and in a general election I'd vote for the SNP, which has been entirely sane and adult about the whole Brexit issue right from the day of the referendum), but I'll try to restrain myself. Corbyn called for Article 50 to be triggered on the very morning of the result, and Labour's stance ever since can charitably be described as "confused/confusing". It's tried to have it all ways. It's run scared of UKIP "stealing" votes from it in seats which were once its heartland, but taken for granted those of its constituencies that voted Remain. Its membership (swelled, ironically, by the Corbyn wave, though that's dwindling somewhat) is overwhelmingly in favour of Remain. Labour shadow cabinet members contradict each other, sometimes on the same day, and I'd be hard put, even as someone who tries to pay attention to politics, to explain to you what their position is at any one time.

Here's Ken McCluskey (the main power behind Labour's throne) in today's Guardian:



So plenty of coherence among the opposition there ...

The fear of "the right-wing" is something that pisses me right off.

What are they afraid of? You don't win elections by saying that your opponents are right, so don't vote for them. You set out clear, principled positions and you stick to them (as the SNP have done). There's enough confusion and enough votes up for grabs right now that a clear anti-Brexit stance (however it has to be dressed up to make it palatable - May's current deal is unpalatable enough that they might even be able to attract some former Leavers) would quite possibly be a vote-winner. Certainly, if the polls are to be believed, Labour's current stance isn't working.

If they're afraid of civil unrest, well, that didn't seem to be a decisive factor during the miners' strike or any other struggle that's taken to the streets, and I'd expect any violence to be dealt with swiftly and firmly. Or do people like me in the Remain camp have to threaten violence before the 48% of us and counting have our wishes taken seriously?

I know the idea of a Labour government seems attractive to a number of people in the USA, but I'm afraid I can't muster much enthusiasm for the sort of doctrinaire and terminally muddled or downright incompetent government it looks like Corbyn might form even if Labour won.

Sorry this was so long, You were warned. Thanks and commiserations if you made it this far!