Page: 1
Emrys
Emrys's Journal
Profile Information
Gender: Do not display
Current location: Scotland
Member since: Mon Sep 7, 2009, 12:57 AM
Number of posts: 5,973

Journal Archives
I found some more to add to the mix earlier today (thought I'd add it here as these arguments come up time and time again), which is less wishy-washy than I was above.
Jean-Claude Piris is, to quote his Twitter bio, "French. Consultant EU law and International law. Former Director General of the EU Council's Legal Service from 1988 to 2010" (he's been a lot more, but it's a bit of a mouthful, so see below*):
https://twitter.com/piris_jc/status/962802993665101824
Steve Bullock @GuitarMoog

I've always argued that withdrawing Art50 notification successfully was (unusually) primarily a political rather than a legal question 5/

JC Piris @piris_jc

But it is legally possible to!nobody could expel the U.K. if it decided to remain according to its constitutional practice before 29th March 2019. Unilateral choice. The 27 cannot impose any condition
Juho Romakkaniemi, current Head of Cabinet for the Vice-President of the European Commission, chimed in:
https://twitter.com/Romakka/status/962816330926841856
Juho Romakkaniemi
@Romakka
Of course. If Britain decides and notifies before March 31st 2019 that it does not want to leave, that's enough: #Brexit van be cancelled by a single letter. It's in the end of the day a political, not a judical decision.
https://twitter.com/guitarmoog/status/962804603065700353
…
* "Jean-Claude Piris served as the Legal Counsel of the Council of the EU and Director General of its Legal Service from 1988 to 2010. He is an Honorary French Conseiller d'Etat, a former diplomat at the UN and the former Director of Legal Affairs of the OCED. He was the Legal Advisor of the successive intergovernmental conferences which negotiated and adopted the treaties of Maastricht, Amsterdam and Nice, the Constitutional Treaty and, finally, the Lisbon Treaty. He was also Senior Emile Noel Fellow and Straus Institute Fellow at New York University."
Not least because we may have triggered Article 50, but we haven't left the EU yet.

According to the guy who actually drafted Article 50, we can reverse the process, but then, what would he know, right?



There's much legal debate (usually focusing on whether the UK could reverse course unilaterally), and if it did happen, it would most likely require the consent of the other EU members (and no doubt a punitive quid pro quo to stop the UK any other member using such a declaration as a bargaining tool in future), and since there's no precedent, possibly decisions by European courts on the matter. Here's four legal opinions by European law experts:



This is also allegedly the finding of a controversial legal opinion the government's trying hard to keep secret because democracy and the Will of the People:



This is also the opinion of the European Commission:



Late last year, a Brexit Minister was forced into an embarrassing apology to the House of Lords for making a claim like yours:



In an attempt to clarify the situation, the EU Parliament drafted a resolution:


Anybody who makes claims like The Beatles "were the worst musicians in the world" can't ever have tried to actually play the parts they came up with, and does a grave disservice not just to their abilities, but to how influential what they did was to contemporary and later musicians (vastly more influential than Jones, I'll wager, but I'll try to steer away from getting caught up in pointless backbiting).
The Beatles were never slow to acknowledge their own influences - unlike some other bands, they were very respectful of black musicianship, having been steeped in it by exposure to early records imported via Liverpool docks, and also took a strong stand against racial segregation among audiences during their American tours - from classical music, jazz, showtunes or other bands and artists that were developing as the same time as them.
All of the components - the guitar parts, basslines, drum parts, vocal harmonies, and also the production techniques - were always in service of the song, not technical virtuosity or gimmickry for the sake of it, not least because they were generally working within industry- and self-imposed limits on song length (it didn't hurt that they generally started out with strong song ideas to dress up in various ways).
However, there was abundant technical virtuosity, nevertheless.
Harrison started out playing short rockabilly-like solos in the early years, drawing on influences like Chet Atkins. Later, he progressed to lyrical solos like those on "Something" and "Let It Be", which are works of art in themselves, and continued to expand on this when he went solo.
Contrary to what was written by somebody above, it wasn't that Harrison
couldn't
have played a decent solo on "While My Guitar Gently Weeps" (he was an excellent slide guitar player, with a unique tone he developed by detuning harmony strings), Clapton was a close pal whose chops he loved and respected, and the two influenced and sparked off each other. Harrison was typically unegotistical enough to hand Clapton the chance to shine spectacularly (I know a lot of people love Prince's live version of the solo, but to me it's extended cliched technical noodling to no great purpose, whereas the original solo was soaked in emotion and very concise).
Ravi Shankar certainly didn't seem to have any complaints about Harrison's musical abilities when he began his education in Indian music and sitar. Other bands (like the Stones) used the sitar as more or less an exotic sound effect, just playing standard Western musical lines, whereas Harrison took the trouble to learn about the hinterland of the instrument (and went on to groundbreakingly meld Eastern and Western musical ideas and theory in songs like "Within You, Without You").
Neither McCartney nor Lennon were slouches either (I'll focus on their guitar playing, but they also developed into competent self-taught keyboard players, and McCartney was a good enough all-rounder to play most of the instruments, including drums, on the album
Band On The Run
).
Lennon was, unusually for him, quite humble about his guitar abilities, but as a rhythm/lead player, he was up there with Pete Townshend (listen to the brief, searing solos on "Sgt. Pepper's Lonely Hearts Club Band", for just a few examples). He also developed, after tuition by Donovan, a decent clawhammer folk fingerpicking style, in evidence on songs like "Dear Prudence".
Here's Donovan recounting this:
Here's a take on Lennon's (and, under his influence, McCartney's) developments in fingerpicking style:
https://www.guitarplayer.com/technique/john-lennon-style-fingerpicking
And here's one technical look at some of The Beatles' guitar techniques:
McCartney and Starr are too well respected by renowned players of bass and drums over the years to need any serious defending, so I won't bother here, or this will be a very long post indeed.
None of them were classically trained, just self-taught, but this bred a humility that meant they were receptive to a wide range of influences and willing to learn from others, and they were blessed with excellent natural ears and sensibilities. They'd also happily bring in session payers when they'd add to a song (it's a great shame Billy Preston only joined them at the very tail end of their career).
Nevertheless, classically trained composer Howard Goodall has broadcast numerous times dissecting in awe The Beatles' composition techniques. If you can spare the time, any of his analyses online are well worth watching. Here's one:
Largely at McCartney's prodding, The Beatles embraced not just classical influences, but avante-garde ones, which came to spectacular fruition on "A Day In The Life", which I consider their masterpiece and listen to with fresh joy each time to this day. This then developed into still-startling songs like "I Am The Walrus", "Strawberry Fields Forever" and "Tomorrow Never Knows".
When you consider the musical and technical advances (and let's not forget George Martin's invaluable contribution to both those aspects) packed into a band recording career that didn't even span a decade, it's just ignorant to dismiss the important contribution of these musicians to all our cultures. And on past form, they were never slow to acknowledge that they were just one bunch of guys among many others who were stretching boundaries during that period.
It's a shame Quincy Jones apparently doesn't rate them. It's entirely his loss.
(A continuation of what has been described as
my preoccupation with the idea of Scottish Tory leader Ruth Davidson standing for UK Tory leader
. I also figured we could do with some light relief in these grim times, but didn't imagine I'd find it in the pages of the
Express
.)
RUTH DAVIDSON is an "attractive proposition" and the most popular senior Conservative in the eyes of the public who has "boosted her credentials" as a future leader of the Conservative party, a new poll has claimed.
...
WPI Strategy Director Nick Faith said: "All the other potential candidates - except for Ruth Davidson - are seen as more likely to drive support away from the Conservatives.
...
As a current member of the Scottish parliament, the senior Tory is unable to run for the position.
However, with veteran colleague Sir Nicholas Soames rumoured to be readying himself to stand aside as the MP for Mid Sussex, there could be an opportunity for Ms Davidson to make a move down south.
https://www.express.co.uk/news/uk/912246/Ruth-Davidson-Theresa-May-Brexit-general-election-Boris-Johnson-David-Davis-Amber-Rudd
The YouGov poll (commissioned by the Westminster Policy Institute Strategy PR consultancy) offers some lukewarm comfort to Theresa May, as it seems 41% of respondents thought she should stay put. Unfortunately, this seems to be because her suggested possible replacements are seen as even greater liabilities.
Respondents thought Boris Johnson and David Davis would each lose the Tories 9% of the vote and Amber Rudd would cost them 10% (for some reason, Brexit darling Jacob Rees-Mogg didn't figure in the poll). They thought that Davidson, by contrast, would equal May's performance in the last general election, which was such a roaring success for the party.
I hate to discourage this wave of excitement, but there are at least a couple of snags. Davidson's Tories' support in Scotland is sagging, and they've fallen back into third place behind Scottish Labour, as the latest
Survation/Daily Record poll
showed: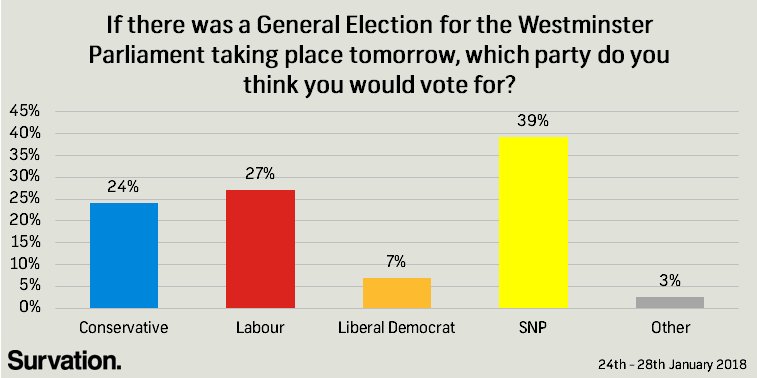 Then there's the question of Soames generously bequeathing his seat. There have indeed been recent persistent rumours in the right-wing press that he's ready to spark a by-election by resigning and retiring to the Lords. But most of those spreading the rumours haven't checked with the man himself. Well, until a couple of days ago ...
https://twitter.com/NSoames/status/958621334992547841
https://twitter.com/NSoames/status/958622248398618626
Tom Newton Dunn
✔
@tnewtondunn
Poll reveals @RuthDavidsonMSP is voters' front runner to replace Theresa May as the most popular senior Tory. Will @NSoames stand aside to give her a seat?
https://www.thesun.co.uk/news/5462108/ruth-davidson-now-voters-number-one-replace-may/
…
Nicholas Soames
✔
@NSoames
#Tomyouknowthststotalballsgetagrip
Tom Newton Dunn
✔
@tnewtondunn
Replying to @NSoames @RuthDavidsonMSP
It's a great rumour...
Nicholas Soames
✔
@NSoames
#butitsbollockslowgradebullshit